Caribbean expo emphasizes need for healthcare reform in Dominica
Members of the Boston Caribbean community danced, sang and celebrated this past Saturday in the 3rd Annual Caribbean Culture, Cuisine and Art Expo in Roxbury. Along with sharing music and food, the event took place to raise money for the Dominican Health and Education Initiative (DAHEI), an organization committed to health-related initiatives in the Dominican Republic.
The energy in the building was high as audiences were treated to a traditional drumming performance and could sample traditional Carribean food from local caterers. Jerk style chicken, fish cakes and fruit juices were the most popular at the event.
On display were handmade dolls by entrepreneur Widline Pyrame, founder of Fusion Dolls. The company seeks to create dolls to promote diversity around the world.
"Through my vision of inclusion for all children wanting to identify with something special to them, Fusion Dolls was created," Prayme writes on her website, FusionDolls.com. The dolls that feature traditional Haitian clothing were some of the favorites of the children attending the event.
There were many other Caribbean owned businesses at the expo such as travel agencies, jewelry makers and clothing designers.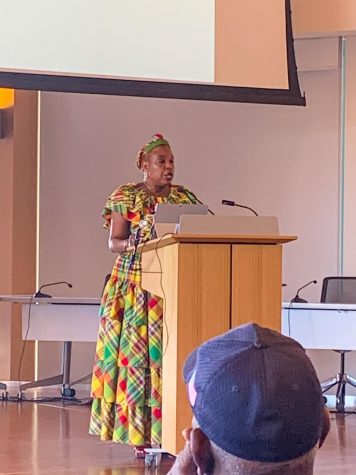 Gammy Moses, an artist who teaches music in New Haven, Conn. shared poetry centered around environmental issues and Caribbean pride. Members of the audience dressed in traditional Caribbean clothing like long dresses adorned with ribbons and lace and brightly colored head wraps.
Dr. Annette C. Fontaine, founder of DAHEI and a prominent oncologist from Albuquerque, flew in for the event to give the keynote speech. Fontaine started DAHEI in 2014 after seeing the lack of healthcare being offered on her home island of Dominica.
"We are facing a serious health crisis in my home of Dominica," Fontaine said during her presentation, "and it starts with a lack of access to healthcare." According to data collected by Fontaine, the Caribbean has the 3rd highest rate of death by prostate cancer in the world. Her initiative is focused on setting up cancer screening clinics in Dominica.
Her most recent project is a mobile mammogram bus program that brings cancer screening technology to those who cannot travel to clinics inside the city. She asked the audience not only to donate to the cause, but to offer any expertise that they might have to expand the program.
After the recent devastation caused by Hurricane Dorian in the Caribbean, donation tables were set up collecting bottled water, blankets and letters to those displaced by the natural disaster. Businesses like Fusion Dolls and clothing maker Ju Ju's Ideal Old Fashion Caribbean Treats commit a portion of their revenue to support the relief effort across the Caribbean.
Fontaine expressed that this was a true community-led effort, giving out her personal cell phone and email to those with specific medical questions.
The event ended a prayer and a song in which there was full audience participation. Halfway through, a technical difficulty caused the audio track to stop, but the audience sang regardless in harmony, proud of the culture the hold so dearly.