20 Somerset renamed after Suffolk alumnus
The Suffolk community gathered at Roemer Plaza on Friday to dedicate the Leonard J. Samia Academic Center, formally 20 Somerset Street, in honor of Suffolk alumnus Leonard J. Samia.
Samia, a Suffolk alumnus gave $10 million endowment to the university; a donation that President Marisa Kelly said is as sincere as it is historic.
"There aren't too many people who live by the idea in word and in deed that the money they made in life, they made to help other people. But that is the truth about Lenny Samia," said Kelly at the dedication. "I've gotten to know Lenny in the past few years a bit, and I have seen that ethic in action. He's wonderfully generous and I have heard him ask not infrequently, 'What is the purpose of making money if you're not going to do something good with it?' "
The donation is the largest gift given by a Suffolk alumnus in the university's history and will provide scholarships for students through the Bert J. Samia Scholars Program that was named in memory of Samia's father.
For the nearly 130 freshmen who are among the first group of Samia Scholars, the program has had an even more concrete influence on their education than the newly named academic building.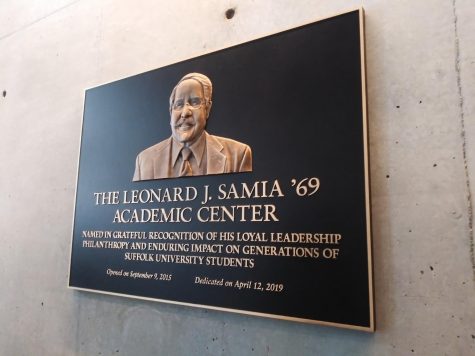 Jocelyn de Paz, a freshman biology major with a concentration in medical careers, said she might have been unable to afford college had she not received Samia's scholarship. Her younger brother was diagnosed with cancer when she started looking at colleges and her family was under a severe financial strain as a result.
"When I was admitted to Suffolk and told I was receiving the Samia Scholarship, that changed everything. I did not have to impose a financial burden on my father when he was dealing with the family crisis of caring for my brother," said de Paz to the audience Friday.
"I could go to a good school in the middle of Boston and now here I am, finishing my first year and having so many amazing experiences, being the first in my family to ever attend college and supporting my brother as he finishes his fight against cancer," said de Paz.
Other Samia Scholars at the event also shared how grateful they were for the opportunity Samia provided them.
"Being a Samia Scholar has really led the way for me coming to Suffolk and becoming a student here," said Dan Sokol, a computer science major, in an interview with The Suffolk Journal. "I'm putting myself through college so this is a really big step in me actually going to college and attending."
Kelly said Samia has a special connection with each of the Samia Scholars.
"I think Lenny sees a bit of himself in these students," said Kelly. "He rightly sees potential and the exponential good that comes when potential is supported."
Samia graduated from Suffolk in 1969 with a bachelors of science degree in business administration. He bought his first building on a Visa credit card for $500 and now owns more than 5,000 buildings as the president and CEO of The Samia Companies, his family-owned real estate company.
Both of Samia's daughters have attended Suffolk and he has previously made other donations the university. He also attributes much of his success to his time at Suffolk.
"I had great teachers [at Suffolk]," said Samia in an interview with The Journal. "That's what allowed me to donate $10 million to the school. "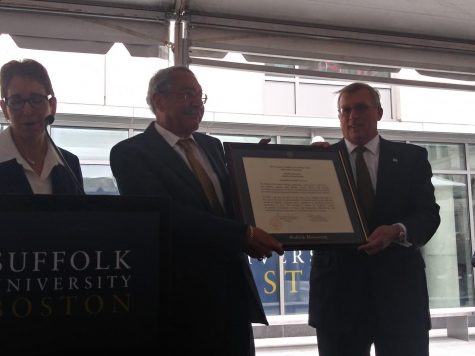 Kelly said the Samia Academic Center, which houses science labs, communication labs and classroom space, has become a vital part of campus life. Samia also donated to the construction of the building and many of the lobbies in the building are named after Samia's family members.
"[In the Samia Academic Center], students discover new ideas, new passions and new pathways that lead them toward career and life opportunities they might have never imagined," said Kelly. "How fitting it is that we name this building after a man who experienced firsthand the transformative power of a Suffolk education and who is so deeply invested in helping others to access those life changing experiences."
Massachusetts Speaker of the House Robert DeLeo, a graduate of the Suffolk University Law School, said to the audience that the location of the Samia Academic Center is another significant aspect of the building as it is only a street away from the statehouse.
"This is a real historic original site of the metropolitan district," said DeLeo. "It's amazing to see it be transformed into a spectacular place for students to study and to learn. And of course, most importantly, I have to recognize Lenny Samia whose contribution to the Massachusetts students is the reason we are all here today."
Trevor Rafferty, a Samia Scholar who is studying political science and a speaker at the event, said thanking Samia for his contributions to the school is not enough.
"Having this modern academic building named for Mr. Samia is another more permanent way for thanking Mr. Samia," said Rafferty. "Mr. Samia, whenever we are in this building, we will be reminded of you and your generosity to all of us."