Dr. Earle talks protecting oceans in "The World is Blue"
Over the past decade, biologists and oceanographers have discovered more than ever before about our oceans. The increased exploration of the ocean has led scientists not only to greater discoveries about what's in our seas, but also the garbage that humans have left there.
For National Geographic Explorer-in-Residence Dr. Sylvia Earle, utilizing established research and staying motivated is the key to protecting our oceans and ensuring biodiversity for the future.
This past Monday, Dr. Earle presented "The World is Blue" as a part of Boston College's Green Week series. Having spent nearly 7,000 hours underwater diving since the 1950s, Earle is considered a "First Hero of the Planet" by TIME magazine and has made it her life's mission to protect the oceans through documenting and reporting on her research.
"I'm a scientist. I love gathering evidence and exploring evidence, I can't sit still when I see this evidence, I want to be heard at this critical point in time," said Earle during the presentation.
Earle is the first woman to ever take on the role as the former chief officer of the National Oceanic and Atmospheric Administration (NOAA). Her work and dedication to science has paved the way for modern female scientists.
The evening was hosted by Boston College's Environmental Club, known as EcoPledge. The night began with a brief clip from the Netflix documentary "Mission Blue," a film capturing the life and work of Earle as a diver, marine biologist and environmentalist.
The clip captured Earle in one of her earlier diving experiences from the 1970s in which she traveled to the Virgin Islands with a group of four other women on the the Tektite 2 mission to live underwater for two weeks. This mission served as a profound moment not only for the women on the mission, but for women in science everywhere.
However, with the rise in carbon emissions and ocean temperatures, Earle explained that her dives today rarely look like they did decades ago. When water temperatures rise by even just a few degrees, ecosystems like coral reefs can be severely impacted. Earle said nearly half of all of the world's coral reefs have been wiped out since the 1950s, according to Earle.
"Coral reefs are not just about the corals, they are about the system," said Earle. "Take away the fish [and] the corals are stressed. Take away the corals and the fish are stressed."
Corals are a part of much larger ecosystem that functions based on a variety of mutually beneficial and interdependent relationships. Reefs support both small and large fish and are the primary food source for hundreds of communities around the world.
From overfishing to global warming, and from overproduction of plastic to industrial agriculture, Earle has found that the places she once loved to explore are quickly vanishing at the hands of the human race.
She recalled diving in one area of the Florida Keys where some of the coral reefs are still alive and thriving. However, that is far too often not the case in most areas around the world.
"It's because of the warming, because of the overfishing. We're taking too many lobsters, too many squids, too many whatever," said Earle. "We are taking too much life out of the oceans and putting too much trash into the ocean. Now we see these consequences coming back to affect us."
While humans have evolved and created more technology through the rise of industrialization, they have also produced astronomical levels of garbage that are now ending up in the stomachs of marine life and sea birds.
Earle expressed how important it is to be more aware of the fish and meat humans eat and where it comes from. She encourages individuals to ask more questions about where their food comes from.
"We need to get a lot smarter and a lot more mindful about what we see on the menu," said Earle. "Ask about how the fish was transported and what it ate and how old it was and where it came from. All those things we are putting into the ocean are coming back to us, like micro-plastics in oysters and clams and little fish."
While the impacts of global warming are vast and widespread, Earle explained how crucial it is that today's society should not become discouraged by the this issue, but rather motivated by it.
Technology and science have come a long way in the past few decades. Earle believes this is where the solution to global
warming may lie.
"The great thing at this point in time is to reflect on how you got to where you are," said Earle. "Most of the ocean, and most of the planet is yet to be discovered. [Global warming] is a trend that we can measure, we can define, we can publish papers on it, but what are we gonna do about it?"
Earle has found that her motivation for exploration comes from continually exploring the ocean and developing a relationship with the creatures within it. She looks forward to a day that technology will allow more people to be able to see the depths of the ocean first hand, potentially in mobile underwater crafts.
During the time she spent living underwater, Earle explained that she was able to go back and visit the same fish at the same time and place everyday. Developing this relationship with the animals deepened her appreciation for the ocean.
"Maybe you'll look at them with a different attitude, it doesn't mean you'll have to stop eating them, but maybe you'll eat them with greater respect," said Earle. "To take care of the world they live in is to take care of the world that we live in. We are sea creatures too. All creatures have that beautiful characteristic of being unique."
Through thousands of hours of exploration, Earle has founded Mission Blue: The Sylvia Earle Alliance—an organization that brings light to ecosystems that are vital to the health of our planet.
The organization has set up "Hope Spots" throughout the ocean that remain protected from fishing in order to help bring recovery and a resurgence of life back to the sea.
Earle is hopeful that today's society is capable of protecting the ocean. "It's about who we are and what we can make of our time here." she said. "We are the cause and we can also be the cure."
For Boston College senior and EcoPledge president Christopher Russo, Earle's story and work is inspiring and important in keeping the younger generations motivated towards solving the problems of climate change.
"This year for Green Week we really wanted to focus on the ocean," said Russo in an interview with The Suffolk Journal. "Based on our current political climate, it's important to focus on a woman who has done important work and Dr. Earle has contributed so much research to this topic so we thought it would be great to bring her here this week."
Earle's intrinsic love for the ocean has propelled her desire for exploration.
"It's really just doing what I love," said Earle in an interview with The Journal. "I think not getting distracted from the basic passion for exploration and science has kept me motivated. I'm staying on course with what I really love."
About the Contributor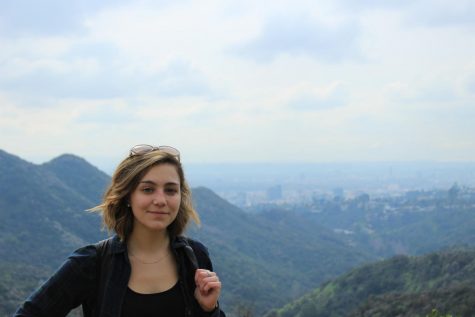 Amy Koczera, World News Editor | she/her
Amy has been writing for The Suffolk Journal since fall 2016. In addition to being the World News Editor, she is also the treasurer of the Suffolk Jazz Band, a Teaching Assistant, Resident Assistant, a member of The Journey program, and a Project Leader for the Center for Community Engagement. Amy is originally from Dartmouth, MA and studies Broadcast Journalism with a minor in Philosophy. When she's not in the Journal office, you can find her at the gym, the Esplanade or walking around campus wearing a backpack that's twice her size.
Follow Amy on Twitter
@AmyKoczera