Head of partnering international CUES program speaks on water conservation and security
Suffolk University's Center for Urban Ecology and Sustainability (CUES), strengthened its partnership with Shanghai's Fudan University on Tuesday, as Professor Xiangrong Wang discussed his exhaustive research on China's water systems.
Wang, the director for Fudan's Centre for Urban Eco-Planning and Design, has a vast research background on many subjects. He has worked on 80 research projects, 19 scholarly books, six Chinese patents and 130 academic papers.
The work that Wang discussed with students primarily concerned the study of Taiping Lake, a body of water that contains 25 million cubic miles of freshwater and  faces threats from pollution and geological detereoration.
"China is facing a water crisis," said Wang. "In 2018, the United Nations released a report that says when global warming exceeds 2 degrees Celsius, the number of people who are short of water will increase by 50 percent."
In order to understand the strengths and weaknesses of Taiping, Wang worked with more than 100 people to keep track of 100 different data points in 18 areas along the many rivers and small lakes that are part of the water system.
His team has been indexing information like the water temperature, pH, color, underwater radiation, cyanide level and 95 other points of data. Wang hopes to increase the ecological sustainability, protections and growth of China's water.
"I think a lot of the smaller water features like lakes and streams often get overlooked," said Dakota Ennis, a senior environmental science major who hopes to do this same kind of work after graduating. "I am from Maine, which is full of lakes and rivers and water systems. So it has always been of interest to me to work with a place that focuses on protecting the watersheds." Because the movement of water through a land as geologically varied as China can be unpredictable, Wang and his team are using 3D modeling to visualize how the water travels from mountain tops, through rivers and into lakes.
Understanding the path that the water takes can be key to identifying whether pollutants originate from specific areas like industrial sites, or less identifiable areas, like rural livestock zones or untreated sewage disposal points.
This was not Wang's first visit to Suffolk, as he attended Suffolk's inaugural workshop on ecological sustainability this past June, in an attempt to establish academic and research collaborations between Fudan and Suffolk.
These collaborations have been described as including joint research projects, student and faculty exchange programs, training, and potentially joint online courses, according to the Office of Public Affairs.
"I think it is very important that we work with schools from around the world on science issues like this," said Ennis. "Each country is in its own little bubble. While so much is happening here in America, people forget this is happening all over the world. I think when it all gets connected, it makes it easier for people to see and to address real science issues."
Their research comes at a time when most of the world has put a greater value on protecting natural resources and reducing pollution, while America has taken a few steps away from the global discussion.
"America and China are meeting in the middle with environmental policy right now," said Ennis. "But American policy may worsen over time. China is moving up with these issues, but America may start moving in the opposite direction."
Wang explained during his discussion on Tuesday that the success of his research shows what can happen when the national government supports pollution control measures that were not as popular just several years ago.
Wang's counterpart at Suffolk, Professor Patricia Hogan, director of CUES, agreed with the positivity of this step by the Chinese government.
"I think this is a great example that shows what happens if your government supports green initiatives," said Hogan. "If this happens, you can really start to make rapid change."
Leave a Comment
About the Contributor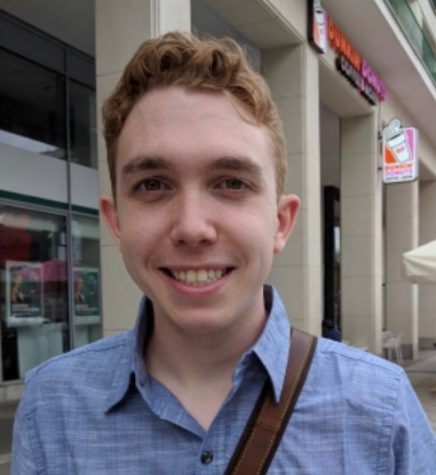 Kyle Crozier, Former News Editor
Kyle is a senior environmental studies major from Rhode Island, and has written for the Journal since 2017. When he is not covering science events in and around Boston, Kyle is working to pursue a career in urban sustainability and possibly attend Grad school. He loves animal facts, Poland, and animal facts.