Democrats anticipate a crowded 2020 primary field
With over a dozen candidates already throwing their hat in the ring, Democrats are expecting a crowded field this primary season.
Senator Elizabeth Warren (D-MA) is one of the most talked-about 2020 contenders. Warren, a former Harvard professor and chair of the Congressional Oversight Panel for the Troubled Asset Relief Program (TARP), has during her tenure brought a fierce populist message to the Democratic Party, which has been more than effective in rallying a strong base. A recent foreign policy speech raised eyebrows and had been seen by some as an indicator of a future bid for the presidency.
On the final day of 2018, Warren announced the formation of an exploratory committee. She announced her candidacy on Feb. 9, 2019, in Lawrence, MA — the site of the 1912 Bread and Roses Strike — flanked by fellow Massachusetts Democrat Joseph Kennedy III.
Perhaps the most popular candidate in the 2020 Democratic primary is Senator Bernie Sanders (I-VT). Sanders, the Democratic runner-up in 2016, is credited with inciting a political revolution that moved the party further to the left. Sanders announced his second bid for the presidency on Feb. 19, 2019. He has already picked up the endorsements of major party officials.
Announcement season kicked off unusually early this time around when U.S. Representative John Delaney (D-MD), a businessman, began his 2020 campaign in mid-2017. Delaney has already spent over $2 million in Iowa and given stump speeches in every early state.
Delaney is the founder of two banks he took public, and has been a member of Congress since 2012. He has visited Iowa 20 times since his announcement. There is some internal concern that his low name recognition could hinder his efforts, according to Politico.
In September 2018, New York businessman Andrew Yang announced he will make a bid for the presidency. Yang is the first Asian-American to run for president as a Democrat. Yang stated that he would be receiving endorsements "from about eighty techies," such as Y Combinator President Sam Altman.
U.S. Representative Tulsi Gabbard (D-HI), a retired Major in the Army National Guard and former Honolulu city councilor, was one of a handful of major Democrats in 2016 to endorse Bernie Sanders. On Jan. 11, 2019, Gabbard told CNN anchor Van Jones that she plans to seek the Democratic nomination in 2020.
Senator Kirsten Gillibrand (D-NY), remembered best for calling for Senator Al Franken's (D-MN) resignation after allegations of sexual assault and her steadfast approach to the issue, first served as a representative before being elected to the Senate. Her platform may include abolishing Immigration and Customs Enforcement (ICE), as well as a federal jobs guarantee.
On Jan. 12, just a day after Gabbard's announcement, Gillibrand formed an exploratory committee, which she announced on Jimmy Fallon's late night TV show.
Julian Castro (D-TX) started his political career as a San Antonio City Councilor before becoming Mayor. He served as the Secretary of Housing and Urban Development under Barack Obama. And Castro announced his candidacy on the same day as Gillibrand.
Senator Kamala Harris (D-CA), currently serving her first term in the nation's highest legislative body, is considering a presidential run. Harris came in fifth in a Politico/Morning Consult poll, behind Vice President Joe Biden (D-DE), Senator Bernie Sanders (I-VT), Representative Beto O'Rourke (D-TX) and Senator Warren. On Martin Luther King Jr. Day, Harris announced in a video that she's running for the Democratic nomination.
Less well-known is Mayor Pete Buttigieg (D-IN), mayor of South Bend, Indiana. He's openly gay, a millennial and a former Navy Reserve Lieutenant who served in Afghanistan. On Jan. 23, 2019, Buttigieg formed an exploratory committee.
Senator Cory Booker (D-NJ) announced his bid for the presidency on Feb. 1, 2019. Booker, former mayor of Newark, New Jersey and the state's junior U.S. senator, has persistently opposed President Trump's agenda, along with Warren, Gillibrand, Harris, and Sanders. Despite his past ties to Wall Street, Booker is refusing to take corporate PAC money.
Across campus, students voiced anticipation for what's sure to be a long primary season.
"I'm bubbling with excitement about the current presidential candidates," said junior Politics, Philosophy, & Economics (PPE) major Madison Mignola, secretary of the PPE Club, in an interview with The Suffolk Journal.
"Regardless of who wins the Democratic nomination, I hope that all the candidates will come together after the fact and help the elected nominee defeat Trump," said Mignola.
Matt O'Brien, also a junior in the PPE program, is encouraged by the Democratic candidates who have emerged so far.
"I remain hopeful that the 2020 Democratic Primary will be one focused on the issues that unite us, and not the prejudices that divide us,"said O'Brien in an interview with The Journal.
Students said they are being more careful in choosing their candidate after the 2016 election.
"As a woman and someone who was very invested in the last election, I'm taking a lot of time to research all the Democratic candidates – and there are a lot of them – and figure out which of their views align with my own," said Cat Protano, a junior print journalism major, to The Journal.
Senior Ben Chan, a global and cultural communications major, expressed excitement at the possibility of a younger progressive representing the party.
"We need a young, strong leader who will speak up in support of all constituents and who creates a plan that keeps everyone on track for the future and making the world a better sustainable place. A person of an older age, like Bernie Sanders is not someone we need. We need a presidential candidate with fresh ideas that will really shake things up in government in a good, sustainable way."
Leave a Comment
About the Contributor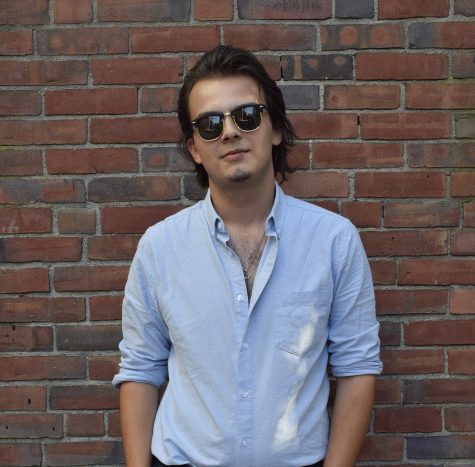 Nick Viveiros, Senior Staff Writer
Nick Viveiros is a senior majoring in Politics, Philosophy & Economics and Journalism. Born and raised in Fall River, MA, he began writing for the Journal in the fall of 2016.
Nick published his first book, the poetry collection this new world, during his first semester of college. His second book, Love Across the Zodiac, was released through his company, Quequechan Press, in mid 2019.
Follow Nick on Twitter @thenickviveiros 
or head on over to his website, nickviveiros.org