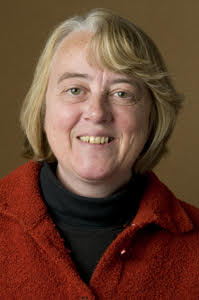 If there was ever a person who wholly embodied Suffolk's mission to provide a student-centered experience, it was Edith Cook.
Cook, who was known to friends and colleagues as 'Edie', began teaching at Suffolk in 1985. She served as the chair of the Mathematics and Computer Science Department from 2010 until the time of her death.
"She wanted to make sure that we provided students with the tools they needed to be successful. She was right in line with the university's mission, and not because it was the university's mission, but because that's who she truly was" said Jill Eisenberg, director of Tutoring and Success Services.
Eisenberg first met Cook as a student in Cook's Calculus 1 class.
"She was my first college class and I remember being a scared, timid freshman and she made it easier. I really grew to find her advice to be very valuable to me, both on an academic level and a personal level," said Eisenberg. "I started as her student and went on to become her co-author, confidant and friend."
Cook is remembered for her love of both mathematics and teaching.
"She certainly knew her stuff, she was very smart there was no question there, but she was able to break it down to a level where you could understand it. That was a part of her passion with teaching, to make math more widely accepted. She wanted students to understand why they were doing it and why it was important," said Eisenberg.
Zuoling Wang came to Suffolk in 2007 as an international student from China. She remembers Cook's dedication
"When I first came here, my language skills were not very strong, and I had never taken a math class in English before. She was my first professor and I could totally understand her," said Wang. "When she explained the material she was really straightforward and clear, in a really organized way. She was a great professor."
Wang took several courses taught by Cook and remembers her for her kindness, patience and unwavering support as she pursued her degree. Wang went on to become an instructor in Suffolk's math department.
Colleagues and friends remember Cook for her mission in making math accessible for all students.
"Long before we had the Center for Learning and Academic Success, she began the first math support center. She and a student started free math tutoring, basically in a closet, because she saw that students needed help and that was just the type of person that she was" said Eisenberg.
In 2014, Cook and Eisenberg began designing a new course together; Math 128 – Math for the Modern World. The course was created in response to the then administration wanting to get rid of the math requirement for students.
"It was basically our answer to the issue that a lot of Suffolk students needed to take two math courses because they weren't ready for the courses that we used to offer. We wanted to create this one-course solution to the problem, or rather Edie did. It was her creation," said Ben Deissler, an instructor in the Math Department.
Although Math & Computer Science is one of the smallest departments in terms of students studying the major at the university, it serves one of the largest populations of students because of the math requirement.
"She would tell me about how in her early days of being department chair, she was going to these faculty assemblies of 200+ people, and basically having to speak in front of them to fight for the survival of the department. If they got rid of the math requirement, we would struggle to exist," said Ben Deissler, an instructor in the Math & Computer Science Department.
In the interest of making the course both accessible and affordable, Cook and Eisenberg co-wrote the textbook, while Cook's daughter Michelle designed the cover art.
Around the university, Cook was well known for her PhD dissertation about the mathematics of soap bubbles.
"She had this cart that was basically a big thing for making bubbles, and she had these big wire shapes that she would use to give presentations," said Eisenberg. "I remember her toting that cart around as we went from building to building and office to office. I remember the math club had been a thing in the early '90s but we brought it back when I was a student and she was our first presentation."
Dr. Dan Stefanescu, an acting co-chair of the Math Department, worked alongside Cook for 28 years. He remembers her for her love and dedication to mathematics, the department and the Suffolk community as a whole.
"I fondly remember our chats about teaching and, in particular, those related to teaching techniques and topics in mathematics. I especially appreciated (and resonated with) Edie's lifelong interest in mathematics and ways to make it exciting and accessible to everyone," said Stefanescu.
Over the course of her time at Suffolk, Cook impacted the lives of countless people and left a lasting impression on everyone she met.
"She really was my biggest mentor here, in terms of how to teach, how to approach different courses and how to handle tough situations with students. She was the first person I would go to to ask those kind of questions" said Deissler.
"As a community, we extend our deepest condolences to Edie's family, colleagues, and to all who knew and loved her," said President Marisa Kelly in a statement to the university.
Cook leaves behind two daughters who many have noted were perhaps the only thing she loved more than Mathematics. The contributions she made to the university and the impact she had on the community will continue to make an impression for years to come.
"Edie truly remains in our hearts on so many levels," said Stefanescu.