SUPD officials say officers should be armed
Suffolk University's Chief of Security and Police Gerard Coletta and three other Suffolk University Police Department (SUPD) representatives said they believe that Suffolk should move to arm its police force. Their statements were made during a campus safety forum hosted by SGA in the Sawyer building on Feb. 7.
"I do believe the department should be armed," said Coletta during the forum. "We're really concerned about being able to protect the community, and for that matter, protect our [own] officers."
Although the forum was intended to address campus safety on a larger scale, many of the questions taken by the panel regarded whether SUPD should be armed or not, a question that has circulated around Suffolk in a time when more universities are arming their police forces.
Coletta appraised the arming of SUPD as a three to four month process that would cost around $100,000. On top of buying firearms and training the officers to use them, all armed officers would receive additional use of force and scenario trainings and would be required to undergo a psychological evaluation.
"As chief executive officer of this organization, I would have to be convinced that each and every officer, once the training process was done, is competent in the use of a firearm and knowing when and when not to use it," said Coletta.
Capt. Jim Connolly, SUPD's second-in-command, said the department would only look to arm its officers with handguns due to concerns that long guns, such as AR-15s, could shoot through walls or hit people on Boston's busy streets.
If a current SUPD officer was deemed unfit to be armed as a result of their psychological evaluation or failed to successfully complete firearm training and the certification program, they "would be relieved from police duties and would be terminated or allowed the opportunity to be employed with the department as an unarmed, non-sworn security officer or dispatch officer," said Coletta in an interview with The Journal.
In the past, SUPD has responded to stabbings in Downtown Crossing, the Boston Common and various surrounding areas close to Suffolk's campus. Panelists said that currently, SUPD officers can only respond to situations involving a lethal weapon by calling the Boston Police Department (BPD), which Coletta said usually has a response time of seven to nine minutes.
Like Suffolk, Emerson College  does not employ an armed police force. The Board of Trustees at Massachusetts College of Art and Design, or MassArt, voted last week not to arm their police officers, as reported by the Boston Herald.
Audience member and Suffolk freshman Matt Lewis, who had an armed student resource officer in his high school, said he was concerned about coming to Suffolk when he learned that SUPD is not armed.
"We would have to wait seven to nine minutes for Boston police to arrive, and SUPD would be much more immediate with the same resources [BPD has]," said Lewis in an interview with The Journal.
Jo'lise "Jello" Grant, a senior at Suffolk who works with SUPD to organize security for Caribbean Student Union events and regularly interacts with officers on campus, supports arming the department.
"
"As chief executive officer of this organization, I would have to be convinced that each and every officer, once the training process was done, is competent in the use of a firearm and knowing when and when not to use it""
— Suffolk Chief of Security and Police Gerad Coletta
"I am 90 percent confident that most SUPD officers would do a good job with a gun," said Grant. "There are very few that I am a little shaky about, some that I don't like, but other than that I don't see [arming SUPD] as a big issue, and that's me as a person of color and afro-latina."
During the forum, Grant expressed concerns she has heard from other people of color at Suffolk over the arming of SUPD.  
"For people of color, it's a bit different because they're not actively communicating with SUPD every day, and automatically their brain thinks, 'all right, a police officer with a gun on my campus. How do I feel about that?' because they see these active shootings where people of color are always dying from police officers that have guns," Grant said in an interview with The Journal.
Coletta said SUPD tries to interact with the community regularly to build trust between the department and students and faculty.
"We can't do enough to train our officers to recognize that there are people that may not respect and trust them, and [our officers] have to earn that respect and trust," said Coletta.
SUPD's Cpt. Ken Walsh said he wants students to inform him if an officer acts inappropriately, as he "recognizes that not every interaction [with students] is a positive one," and that "some of the time [SUPD] is wrong."
Yasir Batalvi, a SGA senator for the class of 2020 and candidate for SGA president, supports arming SUPD but thinks that officers should not have firearms with them at all times when the policy is initially instated. This way,  SUPD can "climatize Suffolk's culture to firearms," especially for students living in residence halls, said Batalvi.
"The dynamic between police officers and students [in the residence halls], especially who are involved in alcohol incidents and non-voluntary interactions with a cop, is that it creates a dynamic of what a lot of students have expressed to me as perceived intimidation," said Batalvi in an interview with The Journal.
"An alcohol incident is potentially volatile, so a trained police officer should respond to alcohol problems," said Coletta in response to Batalvi during the forum. "We can't discriminate between one type of situation and another. If an officer is armed, he is armed all of the time."
The panel also discussed the results of the campus safety study done by Margolis Healy, a campus security consulting firm. The results were released in late January specifically to members within the Suffolk community, as the executive summary can only be seen with a university login.
Coletta highlighted that Suffolk did well in most areas of the assessment, but addressed that more communication must take place between SUPD and the community. Many were also concerned about access control to buildings on campus, and why some buildings require a Suffolk identification card for access and others do not, according to Coletta and the firm's report.
"We're doing a good job of crime prevention and community policing, but what we're not doing is communicating what we're doing to the community," said Coletta. "So it's important that we do that, and we do that in a more efficient way."
The firm's study and President Marisa Kelly have not said whether or not they agree with arming SUPD officers. As of the publication of this article, Kelly and a Suffolk spokesperson have yet to reply to an email inquiry by The Journal for comments on Coletta's and other panelists' endorsement of arming officers.
"President Kelly recognizes, as do we, how important it is for the community to have us look into this, but she is also trying to get as much information about this as she can, about the process, and whether or not this department is well positioned and capable of being armed," said Coletta.
Bob Lamb, chair of Suffolk's Board of Trustees, said at an SGA meeting Thursday that he hopes the university comes to a decision on arming SUPD by the end of the academic year.
"One thing I have committed to do over the next few months- just me, I am not speaking for the board- is to hear from as many segments of the community as I can," said Lamb.
While the panel commended Kelly and the Board of Trustees for looking into the arming of SUPD, Connelly said that SUPD will continue to discuss the issue with the president and administration. They also said that although they have their own opinions regarding the issue, the decision is ultimately the Board of Trustees' and President Kelly's.
"[This panel's] recommendation is to keep you guys safe," said Connelly. "If we have to bring this up every week, every month, every year, then we'll do it."
Correction: an earlier version of this article refers to Capt. Jim Connolly as Tim Connolly. The online version has been corrected to Jim.
Leave a Comment
About the Contributors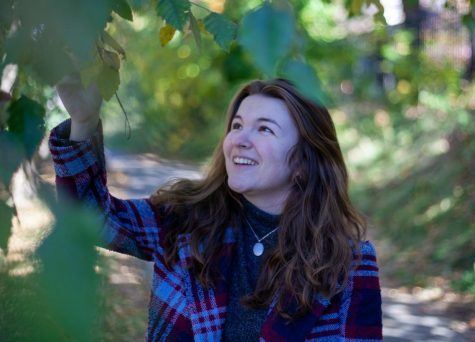 Caroline Enos, Editor-in-Chief | she/her
Caroline is a senior from Gloucester, Mass. She is majoring in print/web journalism and minoring in political science. Caroline was formerly a news editor for The Journal, is currently a correspondent at the Boston Globe and was also a correspondent at The Gloucester Daily Times. When she isn't stressing over deadlines, Caroline spends her time drawing and listening to good music.
Follow Caroline on Twitter
@CarolineEnos
Email her at
[email protected]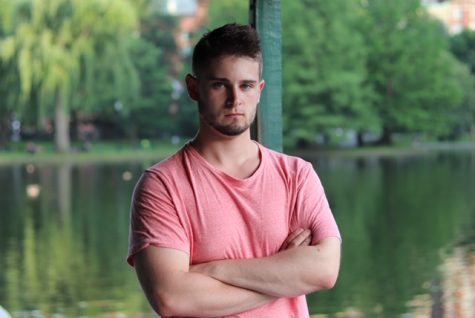 Ryan Arel, Former Senior Staff
Vermont native Ryan Arel is a former Arts Editor and former Opinion Editor for The Suffolk Journal. A print journalism major and economics minor, Ryan aspires to become a versatile writer who can cover any story of any topic that is worth telling.

Passionate about sports, photography, and history, Ryan also hopes to write and research in a way that makes complex issues easier for readers, and himself, to understand.

After leaving Suffolk, he hopes to work in the media field and stay in Boston, but he does not duck away at the idea of maybe traveling someday for work. When he isn't in the office, he can be found scream-typing homework assignments and stories, at the gym, watching "The Office" reruns or The Red Sox, his favorite sports team.

Follow Ryan on Twitter @ryanarel.