New women's volleyball coach looks to push for playoffs
As a senior in high school, volleyball was far from Scott Blanchard's mind, until an injury ended his season on the tennis team.
Unable to play, he instead decided to join his friends on the volleyball team as a manager.
Although he did not think much about it at the time, little did he know that volleyball would go on to shape the next 30 years of his life, leading to his current position as head coach of the Suffolk women's volleyball program.
"I love the game, to me volleyball is the ultimate team game," said Blanchard in an interview with The Suffolk Journal. "I like the fact it has a lot of strategy to it."
The Lady Rams have both improved their record every season for the last three years and have made the Great Northeast Athletic Conference (GNAC) Championship Tournament for the past two years, setting high expectations for Blanchard.
When Blanchard walked into his new office in the Ridgeway building, his focus was not on expectations, but on instilling his philosophy and culture into a locker room that included seven seniors.
After high school, Blanchard attended the University of Michigan at Dearborn, where he started on the path to becoming a head coach by working as a student assistant.
In a few short years he went from shagging balls to helping run drills and scouting high school players as a second assistant.
To continue climbing up the ladder, Blanchard headed over to Madonna University in Livonia, Mich. to be a first assistant, a position he held for three years. In his tenure there, the team managed to finish fifth in the country in the National Association of Intercollegiate Athletics in his second year.
Blanchard decided to move on from Madonna, and moved out east to be an assistant for Brown and Northeastern University for two years each.
After leaving Northeastern, Blanchard moved to Medway High School to be the head coach. He stayed at Medway for eight years, a time in which the team made it to two state championships, winning one. The team also accomplished the victory of an undefeated season, only losing a single set all season. In total, Blanchard won more than 83 percent of his games in his tenure at Medway.
Yet again, the itch to move on to a bigger and better project struck Blanchard, and he decided to move on from Medway to take a first assistant coaching job by returning to Brown. Blanchard described moving on from Medway as a tough decision.
When Blanchard returned to Rhode Island's Ivy League campus in 2008, he did not anticipate he would spend the next decade of his life in Providence. Yet in 10 years at Brown, the team managed to finish in the top four of Ivy Leagues, four out of the 10 years, and sent three players to Europe to play professionally.
This past year, Blanchard felt the need for a change and started the process of looking for his own program just as Suffolk had an opening for the head coach position. Making the change from Division I to Division III Volleyball, Blanchard cited the schedule of playing games during the week, not just on the weekends as a biggest adjustment for him.
The season has started off rocky for the Lady Rams, who own a 3-11 record. Blanchard attributed that to a harsh schedule and bad injury luck. This poor luck struck again when a few days ago as captain and senior Talia Lombardo was lost for the season with fractures to a vertebrae and a slightly slipped disc.
"The expectation coming in was we're going to put our best foot forward," said Blanchard. "We're going to go out there, show up every time and they're going to get our best match."
This start has not kept the team's spirit down, despite the feeling of "being a fastball hitter that keeps getting fed curveballs," as Coach Blanchard remarked. The team is still in great shape to qualify for the GNAC playoffs.
"In my eyes, as long as we continue to move forward and play hard, we'll continue to be successful, regardless of wins and losses," said Blanchard.
Leave a Comment
About the Contributor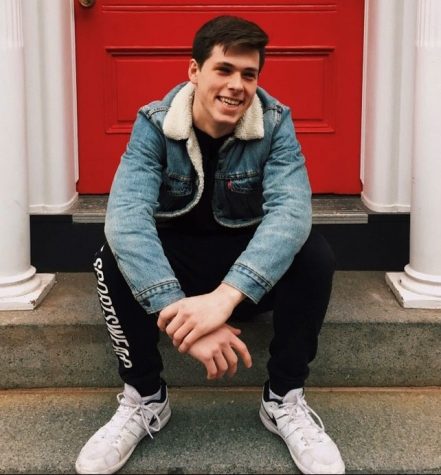 Andrew Laird, Assistant Opinion Editor | he/him
Andrew is a former New Hampshirite majoring in Journalism and minoring in English. When he's not reading or writing you can find him listening to jazz, going to museums and speaking passionately about his travels. One day Andrew hopes to obtain his doctorate in sociolinguistics.
Follow Andrew on Twitter
@The_AndrewLaird