Breaking the ice
The intimidation that comes along with building a program is tough on any seasoned coach, but for a first-time head coach, the pressure is felt even more. Taylor Wasylk walked into the athletics office in March of 2017 with the intention of becoming Suffolk University's first head women's hockey coach, knowing it was a challenge she would learn to love.
Challenge is nothing new to Wasylk, who was recruited by Boston College (BC) after winning the Michigan Women's Hockey State Championship in her AAA league all four years of high school. She also won a gold medal in 2009 with Team USA in the Under-18 World Championship. At BC, Wasylk won Rookie of the Week three separate times and helped her team make it to two conference championships, winning one.
Her Boston collegiate career put her on the path to becoming a head coach. After hearing about the head coach position from a friend, Wasylk jumped on the opportunity, taking on the strenuous task of building a program with the confidence of a veteran coach.
"I walked in and my white board was blank and I went, alright, I have zero players, it's me and that's it, I'm just [going to] go for it," Wasylk said of her first few days in an interview with The Suffolk Journal.
Go for it she did, spending her whole year attending showcases and tournaments around the country, recruiting 17 freshman and six upperclassmen. This is where Wasylk met freshman defender Madison Duff, coming from Novi, Michigan. Duff recalled being approached by Wasylk after a states game in Michigan over a year ago, telling her about Suffolk's campus, peaking Duff's interest. Duff committed soon after and spoke glowingly of Wasylk's communication.
"She kept me in touch throughout the whole process, which girls she was talking to and which girls she was interested in," said Duff in an interview with The Journal.
This transparency is something that drew players to Wasylk throughout her coaching career.
Before coming to Suffolk, Wasylk was an assistant coach at the State University of New York at Canton for two seasons. In her tenure there, she managed to bring Canton to the playoffs. At Canton, Wasylk met senior forward Tess Adams. The relationship between Adams and Wasylk is one of mutual respect.
"[Wasylk] was such a good coach; she would always pull me aside and help me out, give me little pointers like how to get around defenders, and it was nice having that," said Adams in an interview with The Journal.
As a junior at SUNY Canton, Adams had an excellent year, winning her conference's player-of-the-year award, tallying eight goals and three assists. "I noticed a big difference last year, when she wasn't there, it was kind of like I was missing something, so I signed a release form and contacted [Wasylk]," said Adams.
Despite the Rams' young age, the team is optimistic of their talent.
"We have a really good team I think, I've never seen so many good players on one team," sophomore goalie Kristen Caporusso said enthusiastically. The locker room is filled with excitement and nerves as the season opener at Nichols on Oct. 26 and the home opener on Oct. 27 approach.
The hype surrounding this team is palpable, as Suffolk President Marissa Kelly is scheduled to drop the puck for the first home game and much of the student body and athletic department will be making their way out to the Porrazzo Skating Rink in East Boston in support of the team.
Ahead of the opener, the team anxiously awaits the release of the New England Hockey Conference Preseason Coaches Poll. Wasylk said that she is interested in seeing where they rank.
"The [polls] might have us dead last, because we're a new team, and my girls would hang that up in the locker room and throw darts at it," said Wasylk.
Yet like all good underdogs, the underestimation of the Rams is the motivation that fuels the teams competitive spirit. The team calls themselves "The Golden Knights of Division III Hockey" said Caporusso and like the Vegas Knights the Lady Rams hope to compete in the championship this year.
Last year, Norwich University was able to win the championship and when asked about Norwich, who was undefeated in conference play last year, Duff ecstatically declared, "They're definitely going to be defeated soon."
With a chip on their shoulder pads and a locker room that is growing closer everyday, when the Lady Rams take the ice for the first time, it will not only be history, it will be must-see hockey.
Leave a Comment
About the Contributor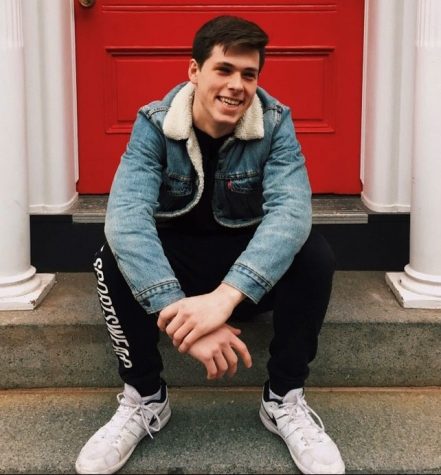 Andrew Laird, Assistant Opinion Editor | he/him
Andrew is a former New Hampshirite majoring in Journalism and minoring in English. When he's not reading or writing you can find him listening to jazz, going to museums and speaking passionately about his travels. One day Andrew hopes to obtain his doctorate in sociolinguistics.
Follow Andrew on Twitter
@The_AndrewLaird