Despite the spotlight, darkness shines
At some point, the opportunity presents itself where years of study, research and hard work meet and the time comes for virtual reality to become reality. For some, this means taking a project off of a screen and launching it into the three-dimensional world. For others, it means taking thoughts and images from within the confines of the brain and having them take on a physical appearance through the means of a painting or a piece of writing. For senior theater and english double major Ariana Sergany, it meant taking her senior thesis and sending it off into the theatrical world of creativity and life.
In "The Universe In You," five individualized cases of mental illness were portrayed within the Sullivan Studio Theater. Each illness took on a human form – not only render down what each may look like from an outsider's perspective, but to also open up and allow outsiders to delve into the confines of each person's body and mind to play witness to a mental illness and what it is like to continue living with one.
Heavily armed with a myriad of trigger warnings for viewing parties, the audience was befallen with a profound kind of silence. The kind of muteness that comes straight off the shelves of a library containing books with rich histories and stories waiting for the chance to be told. The dramatic pauses were loaded with restless breathlessness and the existentialist mindset established early on was enough to anchor the rest of the performance in a way that allowed for an intellectual viewing of the show.
Though it was not a particularly negative silence, those who witnessed what occurred on stage seemed to sit back with a sense of perplexed interest. The plotline followed the broken path of mad scientist Doc and his assistant Frog as they try to find the cure for sadness. The plan becomes foggy as the play then jumps back and forth from an initial discussion regarding test subjects to present-day with a group of people appearing to attend a house party.
The individuals come to represent specific mental illnesses and how they are perceived. Sergany did an excellent job of portraying her research, as well stigma surrounding the various afflictions.
Doc, portrayed by junior theater major Kaleigh Ryan, continuously broke the fourth wall, presenting the ongoing experiment to the audience in a way that seemed similar to that of someone asking for grant funding for a research project.
Factual and straightforward, the presentation of each "subject" being tested was showcased in a way that dehumanized the individuals. What was not initially made clear in the show was that these individuals were created by Doc to exist with these mental illnesses. Assuming they were either born into affliction or developed it over time, the individuals were allegedly subjected to a lifetime of coping.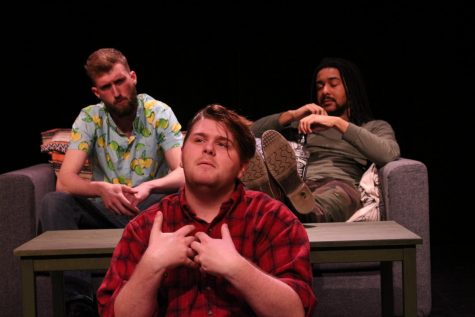 The five individuals, Jasper, played by junior public relations major Sam Witts, Zane, played by junior theater major Rory Lambert-Wright, Anna, played by junior theater major Amanda Hackney, Charlie, played by Suffolk alumnus Dylan Amerena, Olive, played by former Suffolk student Rebecca Klein and Riley, played by sophomore theater major Stephanie Coyle, are all friends who coexist in, almost, harmony, despite their afflictions. Though, it doesn't seem to appear that any of the friends know about each other's respective illnesses, something that seems out of place in an average societal gathering. Especially in a college campus setting, it seems odd that none of the friends felt comfortable or safe sharing intimate details of their lives, despite a picturesque friend group that allowed for free flowing ideas and conversation.
Jasper, who initially set the stage with an optimistic view of the universe, proclaimed that everything exists due to a set amount of balance in the world. Good cannot exist without evil, positivity cannot exist without negativity and health cannot exist without sickness. Juxtaposed with the idea to rid the world of sadness a la Doc's experiment, this comes as a factual truth – but seems to be unobtainable. Jasper acts as the anchor to the rest of the friends. Though he is the first to be presented to the audience, he is the last to be shown in terms of affliction for the experiment. Shown with undiagnosed schizophrenia, Jasper's life has become exasperatingly difficult due to the abandonment he experienced with his parents and his untreated mental illness, ultimately succumbing to the voices in his head and taking his own life.
Zane, showcased bipolar disorder, specifically bipolar II which is a milder form of mood elevation, involving less severe episodes of manic and depressive states. Depicted as an abuser of "uppers," like the common drug Adderall, and "downers," like alcohol, the play showed how symptoms of mental illnesses like bipolar disorder are heightened with the use of drugs and alcohol.
Anna, Olive and Riley depicted post-traumatic stress disorder (PTSD), body dysmorphic disorder and obsessive compulsive disorder, respectively. The three are initially shown together, drunk-girls-in-a-bathroom-bonding style, hyping each other up to stand up for themselves and encouraging self confidence and bravery. Anna, seemingly small and defiant, is first shown working up the courage to break up with her boyfriend, Nick, who she describes as verbally and emotionally abusive. It's not until later that it's announced by Doc that she suffers from PTSD and originates from a background that elicited trauma's like rape, aggression and abusive behavior – something she came to understand as normal behavior.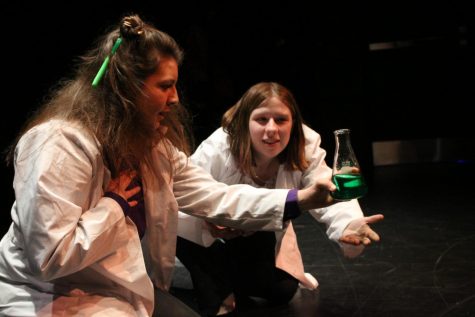 Olive, hiding body dysmorphic disorder from her friends, struggles with body image which is characterized by persistent negative thoughts with a predetermined appearance. Over the course of the show, Olive and Riley confess feelings for each other and develop a relationship, despite their mental illnesses. Riley is shown to suffer from OCD, which has taken over her life in a way that is both crippling and debilitating.
Details regarding each mental illness are revealed to the audience via therapy sessions with guidance counselors once the friends are brought together after Jasper's suicide. Painful and stagnant silence seems endless as each individual describes an average day living with both the stress of losing a friend and coping with their own mental illnesses. Shocking, heart-wrenching and raw, these intimate exchanges are what audiences and people everywhere need to hear so as to gain an understanding as to what it's like living with a mental illness.
At one point, Zane addresses the audience, shattering the fourth wall with the line, "is it more believable because we're fiction?"
This rings true for multiple reasons. It's seemingly easier and gives individuals a "way out," so to speak, to treat theater-imitating-life as a work of fiction, rather than to face the rising stigma surrounding mental illness in real life. This stalemate that society has worked itself into regarding mental illness is tense, debilitating to those who continue to cope and suffer, but it also can be treated as an opportunity to change the way mental illness is talked about. The reality of the situation is that the world needs to change. If performance art is going to be the first domino to fall, then so be it.
Leave a Comment
About the Contributor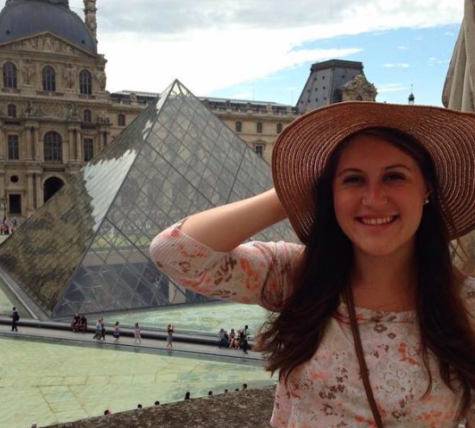 Felicity Otterbein, Past Arts Editor
As a member of the Best Friends of Friendly's Ice Cream Club, Felicity enjoys not taking life too seriously. She appreciates all walks of life and accepts all those who are willing to share a smile. 
As the Arts Editor, she enjoys uncovering new music and discovering the hidden gems of the Boston and Suffolk arts communities.  She enjoys supporting both her friends and university by attending and reviewing Suffolk-based art by featuring the array of talent that can be found on campus.
She prides herself on her uncanny ability to document every waking moment of her dog, Shadow, and can most always be found with an iced coffee in her hand. If you're looking for her, she's usually at her desk inside of The Journal office watching SNL reruns or galavanting through the Isabella Stewart Gardner Museum.