Staging the stigma, senior thesis tackles mental illness
Some of the most prominent issues in society are those that we cannot see until they are dragged into the spotlight. Quite literally staging the stigma, senior english and theater double major Aria Sergany is putting forth a production geared toward mental health awareness – or the lack thereof. As her senior thesis, Sergany has been researching mental illness for the last two years, originally inspired when a childhood friend who was diagnosed with schizophrenia committed suicide.
"I mean, I think the biggest thing for me is just that I don't necessarily hear the conversation happening enough," said Sergany in a recent interview with The Suffolk Journal.
"The Universe in You," follows a scientist, Doc, and their assistant, "Frog," as they try to find the cure for sadness. On their quest, they conduct experiments on five college students suffering from various mental illnesses – using Doc and Frog as anchors to continue the plotline.
Sergany said that when she initially started writing this production, she knew she wanted to talk about mental illness and suicide in particular.
"I just wanted to do something and I couldn't stop thinking about it. And I just started talking to people and I was honestly shocked at the fact that people wanted to talk to me," said Sergany in reference to how she first got started on this production.
Sergany told The Journal that she didn't think anybody wanted to tell their personal story, but she quickly realized that many of the people she reached out to ended up sharing far more than she could have imagined when starting the writing process. Her only regret is that she wishes she could share every story that was told to her.
"
I mean, I think the biggest thing for me is just that I don't necessarily hear the conversation happening enough."
— Aria Sergany, Director
Though, perhaps what's the most interesting aspect of Sergany's production is the criss-crossing concepts within it. Combining scientific research with performance art is not unheard of, but seems difficult and nearly impossible. Taking topics like body dysmorphic disorder and schizophrenia seems to be easily represented on the stage due to the fact that directors and playwrights can write off scenes as "art."
However, in Sergany's case, she has spent the last two years conversing with licensed cognitive scientists, psychiatrists, law students and faculty, psychologists and college students affected by various mental illnesses in ways that allow her to present stories in an intelligent yet theatrical way.
Sergany decided to use college students as part of Doc and Frog's experiments due to her extensive research leading up to the performance. She said that most of the people she interviewed who experienced mental illness were around her age, including some who she considers friends. These interview subjects ended up acting as the inspiration for the characters in her production and she said that she's tried to stay as true to their stories as possible.
"Especially, I feel like [mental illness] might happen but like amongst people my age, but as soon as it's intergenerational or like even like two generations above us, nobody wants to talk about it because it's uncomfortable and I think that just like telling these stories is worthwhile," she said.
"The Universe in You" opens this Thursday at 8pm in the Sullivan Studio Theater on the 11th floor of the Sawyer building and will run Apr. 18-22. Tickets are free and can be reserved online http://tiny.cc/universeinyou.
View Comments (1)
About the Contributor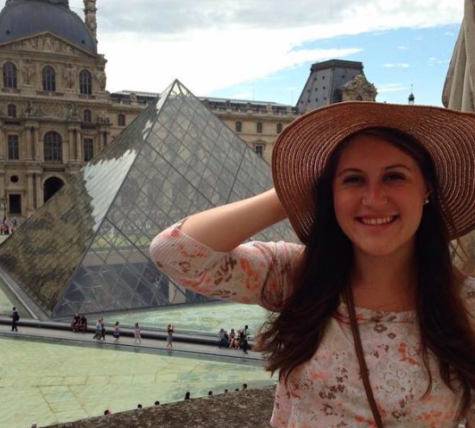 Felicity Otterbein, Past Arts Editor
As a member of the Best Friends of Friendly's Ice Cream Club, Felicity enjoys not taking life too seriously. She appreciates all walks of life and accepts all those who are willing to share a smile. 
As the Arts Editor, she enjoys uncovering new music and discovering the hidden gems of the Boston and Suffolk arts communities.  She enjoys supporting both her friends and university by attending and reviewing Suffolk-based art by featuring the array of talent that can be found on campus.
She prides herself on her uncanny ability to document every waking moment of her dog, Shadow, and can most always be found with an iced coffee in her hand. If you're looking for her, she's usually at her desk inside of The Journal office watching SNL reruns or galavanting through the Isabella Stewart Gardner Museum.