Rookie honored, again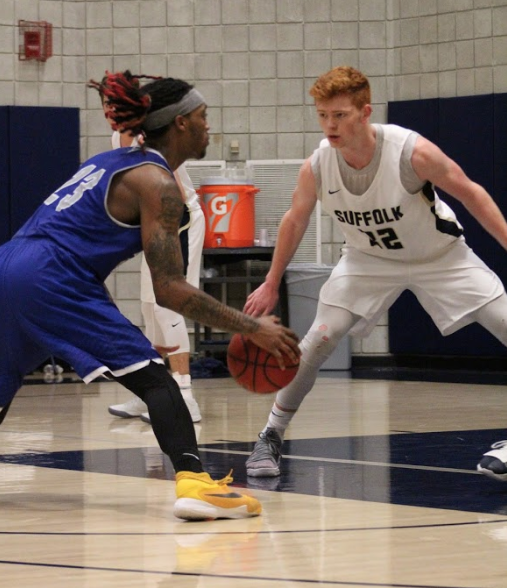 Hang on for a minute...we're trying to find some more stories you might like.
Last week, Suffolk University's men's basketball freshman Brendan Mulson was named the Great Northeast Athletic Conference (GNAC) Rookie of the Week for his fourth time this season.
Mulson is the youngest member of the Rams leading trio with Michael Hagopian and Thomas Duffy. He stands as a member of the trilogy with about 12 points-per- game.
During his latest three- game stretch, Mulson averaged more than 23 points and nine rebounds, while shooting 57 percent from the field.
At the start of the season, it took the freshman time to find his footing. In his first five collegiate games Mulson averaged only six points per game, while playing 30 minutes per game.
Mulson's breakout game this season came in a win against St. Joseph's College on Dec. 2. The freshman recorded 15 points and a team-high of five steals, while he shot 60 percent from the three-point line. The win sparked a five-game winning streak, which propelled the Rams to jump over .500 where they have stayed all season. Mulson earned his first GNAC Rookie of the Week honor after his performance against St. Joseph's.
"As the season went on, I naturally became more comfortable playing with the guys and with the speed of the game. I'm very grateful to be part of the starting lineup and look to get better and better everyday," said Mulson in a recent interview with The Suffolk Journal.
During the winning streak, Mulson earned his second GNAC Rookie of the Week honor after the Rams defeated University of Massachusetts Boston 79-69 on Dec. 12.
Being the only freshman in the Rams starting five has not stopped Mulson from continuing his aggressive play-style. The forward has put up the third most shots on the team and leads the Rams in rebounding.
"[Mulson] not only is an offensive threat, but is also one of the team's best defenders," said sophomore guard Cam Powers in an interview with The Journal. "He's normally guarding bigger players than him and he does a great job of bringing toughness and grit to our team."
Mulson makes up for his lack of height by being able to stretch the floor on offense. Suffolk's head coach, Jeff Juron, has been impressed with the freshman's ability to play on both the offensive and defensive side of the ball.
"[Mulson's] versatility on offense allows him to score in different ways," said Juron in a recent interview with The Journal. "He's also been reliable to defend and rebound on most nights."
The next chance to catch the Rams in action is Saturday against Lasell at 7 p.m.