Venture capitalizes on 50 plus years
Five decades ago, in the midst of war and government resistance, Gregory Wayland was just another student at Suffolk University. While horrific events were filling up television broadcasts throughout the nation, Wayland sat quietly, scribbling his opinions and poetry down in a notebook. His private thoughts quickly made a lasting mark in the school's history when Wayland and some of his friends successfully launched Venture, Suffolk's first literary and arts magazine.
This year, Venture is celebrating its 50th anniversary as an annual student run publication.
Venture began in 1968, a time of political scrutiny when the United States was in the middle of the Vietnam War and students across the country were rebelling and protesting. Today, also in the midst of controversial times, the magazine serves as a creative outlet that allows students to  voice their thoughts and opinions through visual art, poetry, short stories, nonfiction and cross-genre writing. The magazine has grown and currently receives dozens of submissions from a wide variety of students on campus.
"I'm hoping to get as many voices as possible in this edition to show how far the student body has come through the years," Editor-in-chief of Venture, senior English major Sofia Ohrynowicz said in a recent interview with The Suffolk Journal. "To celebrate our diversity; celebrate what we all have to say and what we still have to fix in the world."
The 50th anniversary of Venture is meaningful to those involved in the club, as they have recognized that the magazine has the power to connect students from all walks of life by giving them a platform to publish their work and gain exposure that they might not have otherwise.
"When everyone starts to submit, then you start to feel there is this art community on campus and it's really cool to see people come together and have this evidence of a book to show what Suffolk has to offer students," said Ohrynowicz.
The magazine editorial staff hopes this year's edition will give students the opportunity to speak out about what they are passionate about, as well as show off their artistic abilities to the rest of the university. All students on campus, regardless of major, year or previous experience, are encouraged to submit their work the Venture.
"The magazine is a cool product to have to show what students from every part of Suffolk can create on their own. We have math majors doing art. We have government majors who write a poem,"  said Ohrynowicz. "It's just really good proof of how creative and diverse students are. You're not just a government major. You also make things on your own."
For this landmark edition, the magazine has planned to implement some new twists. Venture has never had an e-book before, but with some help from the Sawyer library they are contemplating releasing one this year. Also, for the first time, Suffolk alumni members are allowed to submit work in addition to current students.
Venture is divided into three sections: poetry, prose and visual art. A team of people work together to go through each submission and decide whether it should be published, needs additional edits or gets rejected. Most tasks the magazine completes, including editing submissions and figuring out the layout of the book, are done as a group.
"It's never a good thing to be a writer and have someone kind of intervene in your voice, [or] in your approach. So it's important that it's a collaborative process," graphic designer of Venture, senior english and art history major Scott Kayhan, said in an interview with The Journal.
In addition to publishing an annual magazine, the club also hosts open mic events where students can share and listen to poems and stories. Sophomore journalism major Catarina Protano participated in some of Venture's open mics last year. She said in a recent interview with The Journal that since it was a relatively small group so no one felt pressured to read and it was fun. The next open mic event will be co-hosted by Venture and the Black Student Union on Feb. 13 in celebration of black history month.
Students have said that one of the reasons they enjoy submitting and working with Venture is because once the magazine is finished, they have tangible evidence that their effort and talents were put into something that everyone on campus can read and enjoy.
"I still smile every time I go into the library inside 73 [Tremont street] and see the poster. It's just a great feeling seeing your work on display and seeing people appreciate it," said Kayhan, referencing the poster he designed that is on the second floor of [73], encouraging students to submit pieces to the magazine. "I think it's going to be a similar effect when the actual publication comes out."
The submission deadline for Venture magazine is Feb. 11 at midnight and it will be officially released at Venture's launch party on April 20. The location and time of the launch party are not known yet.
Leave a Comment
About the Contributor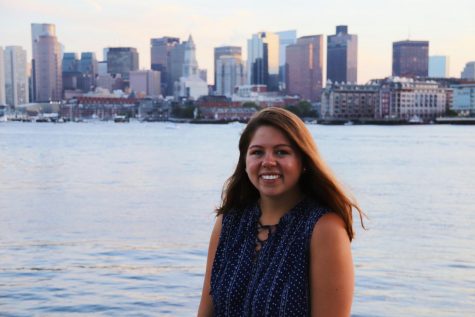 Morgan Hume, Arts Editor | she/her
Morgan is a native of Troy, New York and the Arts and Culture Editor for The Suffolk Journal. She is a rising majoring in print/web journalism and minoring in history. When she isn't scribbling into a notebook, she can be found drowning herself in cups of coffee, singing too loudly in the shower and exploring Boston, the historic city that has quickly become her home.
Follow Morgan on Twitter
@morganmhume