Meet Your Orientation Leaders: Kelsey Trenti, 2011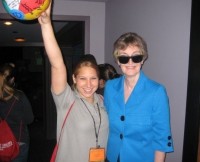 Article by: Angela Bray
"I wanted to be an orientation leader from the time I left my orientation because I loved the environment, staff, and Suffolk," said Kelsey Trenti, who is returning as an orientation leader for a third time this summer. "The staff and job itself is what keeps me going back each summer," she said. "Not to mention the leadership qualities you gain from the job; over the past few years, I have gained insight on my overall strengths and weaknesses that have allowed me to further develop and improve them."
Trenti, who is from the Rockport/Gloucester, MA area, chose Suffolk mainly because of its location and the Sawyer Business School.

As a member of the 2011 class, Trenti is an Orientation Scholar and has a double major studying Business Management and Marketing. In addition to being an orientation leader over the summer, Trenti stays involved during the academic year at Suffolk. She is Vice President of Program Council, Orientation and New Student Programs Manager, and Finance Committee Liaison.
"The connections you make and people you meet are great, and I can confidently say this is one of the best jobs I have had in terms of balancing fun and work."
When asked for memorable story of something occurring at an orientation session, Trenti said there are numerous, yet she drew a blank. "The only one I can think of was after the Pie in the Sky ended (during an early arrival session). I, for some reason, thought it would be a great idea to throw a pie in Karen Phillips' face," she said, referring to her boss and Director of Orientation and New Student Programs. "I had to, she dared me that I wouldn't do it with the exact quote, 'Do it, you won't.'" Trenti was put on 7a.m. duty for the following three orientation sessions. "Glad she doesn't hold grudges!" she added.
"Before that session, on my way there, I tripped and took down an old guy and his "junk" with me. That's a story for another time…"