Marijuana future in MA still hazy
Hang on for a minute...we're trying to find some more stories you might like.
A cross section of marijuana smokers, activists and curious residents packed into the first floor function room of Sargent Hall Thursday morning for an information-packed and at times contentious forum on the process of legalizing and regulating recreational marijuana after voters approved legalization of recreational marijuana last November.
Two members of the newly formed Massachusetts Cannabis Control Commission, Kay Doyle and Jennifer Flanagan, were joined on the panel by Boston City Councilor Timothy McCarthy, Yes on 4 Communications Director Jim Borgansani, and DJ Napolitano, a member of the State Senate Majority Leader's staff.
"Everybody was against this," said Jim Borgansani, speaking about the ballot initiative that his group, Yes on 4, worked to pass. "Most elected officials. When we started our campaign in 2015 with the signature collection process, the Governor, the Attorney General, the Mayor of Boston, the House Speaker, most elected officials, most mayors were against this," Borgansani added. "But people don't take their cues from them."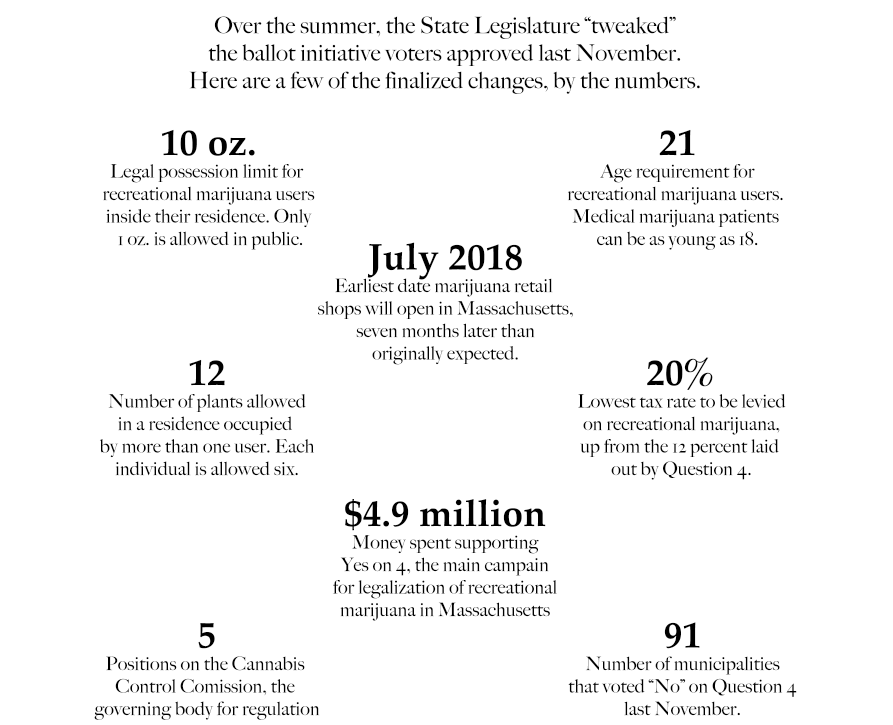 A number of new regulations promulgated by the Massachusetts Cannabis Control Commission, the governing body for the regulation of marijuana use and sales, have been drafted to help safely translate public opinion into law. Commission member Kay Doyle, Deputy General Counsel for the Massachusetts Department of Public Health, clarified some of the key changes coming to marijuana policy in Massachusetts.
"We now have two distinct groups in the state, patients and consumers," Doyle said. "The healthcare provider can vary how much patients can have, because some conditions call for a greater amount of marijuana to treat them."
Medical marijuana patients enjoy the benefits of a higher possession limit specified by a doctor, tax-free purchasing, as well as being able to register a caregiver as a grower. Consumers who elect to use recreational marijuana are only permitted to have one ounce on their person at a time. While the medical marijuana program, which appeared on the ballot in 2012, was approved by all but two Massachusetts municipalities – Mendon and Lawrence – the vote was far more contentious this time around. Former State Senator and current Cannabis Control Commission member Jennifer Flanagan expressed the concern that the "no" side had over legalization.
"I will tell you that I am not a fan of ballot questions," said Flanagan. "I think it's the epitome of money in politics, which I was criticized for the entire time I was on Beacon Hill, but it seems to be when people bring a ballot question forth and millions of dollars are thrown into it, it's okay, it's socially acceptable."
Boston City Councilor Timothy McCarthy, who represents Hyde Park and Roslindale, voted against the ballot measure. McCarthy echoed many of Flanagan's sentiments.
"I don't hesitate to tell everybody in the room that I was adamantly opposed to the ballot measure," said McCarthy. "I believe we need to all be realistic. Ballot initiatives are not instruments of public policy."
McCarthy compared Massachusetts' program to the one he saw in Colorado during a three-day informational visit focused on the state's marijuana program.
"We're getting this out of the gate a lot quicker than it needs to be. Meeting with all the people in Denver, not a single person disagreed with the [approval of] recreational marijuana because it's so much more restrictive than medical," McCarthy said. While he disagreed with the outcome, McCarthy clarified that he did accept the results of last year's ballot measure.
Napolitano, staff member for State Senate President Stan Rosenberg (D- Hampshire, Franklin, Worcester) and Suffolk graduate student, touched on how the Senate and House worked to turn popular opinion into law.
In the ballot question, both the regulatory structure and implementation of legalization would have been under the treasurer's office, he explained.
"We felt that the ballot initiative set the tax rate too low, around 10 to 12 percent," said Napolitano. "In the compromise bill, we set it at a minimum of 17 percent."
As the summer 2018 creeps closer, questions still remain unanswered. The one place of agreement for the panelists: health and safety.
"The reason [testing protocols] are important is that marijuana is like a sponge. It soaks up contaminants from the environment that it grows in," said Doyle. "It's terrible for people who are buying marijuana illegally because goodness only knows what is in that plant that you're either ingesting or lighting on fire and sucking into your lungs."