Suffolk Theatre department explores intricacies of shared grief in Anton Chekhov's "3Sisters"
A timeless story with contemporary themes of love and loss, a performance bursting at the seams with emotion and talent, Suffolk students and faculty delve into the minutia of human interaction.
Disappointment, despair and discovery- a play written over a century ago by Anton Chekhov has been reimagined by director Robert Kropf. The Suffolk University Theatre Department has worked diligently to bring Kropf's adaptation of "3Sisters" to life.
The play follows the story of three sisters in the wake of tragic loss and disaster. "3Sisters" was reimagined in a post-apocalyptic world, where the characters take refuge in a library after an abundance of catastrophes and suffering had occurred.
The group discovers Chekhov's play, which enlightens them with hope and will to move forward.
Although "3Sisters" was written more than 100 years ago, the messages interpreted from this story are not only appropriate, but beneficial for current society to reflect upon.
"What is alluring about this show is how contemporary some of the topics within it are, despite it being a 117-year-old play. The story really goes to show how much history actually does recycle itself," said sophomore theater major Liam Grimaldi in an interview with The Suffolk Journal.
Grimaldi played the role of Baron Tuzenbach, a baron and an acquaintance to the three sisters. Tuzenbach, a captivating character who radiates joy and loyalty, falls in love with the youngest of the sisters, Irina.
"Bringing Tuzenbach to life is rewarding because of how optimistic and honest he is," said Grimaldi.
Robert Kropf rejuvenated this story with his adaptation of Chekhov's masterpiece.
"Setting it against a dystopian backdrop changes how the play resonates," said Kropf. Creativity is an art form to Kropf which translates on the stage, and it is most prevalent when the audience is able to reflect upon society as a result.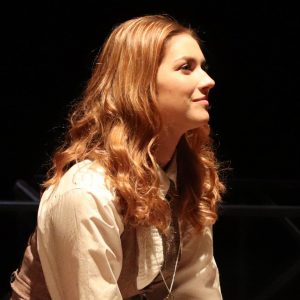 "There's something about the notion and relevance of the creative act and its significance, which raises questions about the importance of art in a decaying society," said Kropf.
Kropf told The Journal that he believes "3Sisters" is an emotional play, which will inflict heavy-hearted feelings. Yet  the play is also humorous, which he expressed that he tried to embrace and heighten in his versions.
"This play holds up a mirror to nature better than any play I know, and the characters are flawed, but they fumble forward regardless," said Kropf.
The story of "3Sisters" is relatable and impactful and shows that while the human spirit can certainly relate to feelings of hopelessness, this play explicitly shows how people can channel their disappointment and propel forward.
"3Sisters is a play about how disappointed everybody is in life with the cards they've been dealt and how trapped they feel in their own despair," said Director of the Suffolk Theatre Department, Dr. Marilyn Plotkins.
This play is touching and emotionally compelling because each individual can connect to a feeling of loss of hope or loss in general. What is impactful is how the characters are able to carry on, despite their grievances and circumstances and that is what Plotkins capitalized upon.
"What I find so moving is at the end of the play, when everybody becomes aware of all that they've lost and how they must carry on; how they must have hope." said Dr. Plotkins.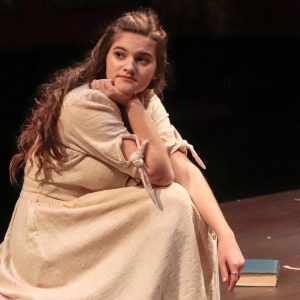 Plotkins feels as if the story of "3Sisters" is a lesson on how to cope with pain and losses, but also uses storytelling components to show how to find ways to keep moving in the world and be hopeful.
"An immense amount of effort is put into the production. Thankfully, the cast is excellent. The level of support amongst everyone involved is unlike anything I've experienced before." said Grimaldi.
"3Sisters" will be performed at the Modern Theatre on Nov. 16-18. Tickets are $10 for Suffolk students and members of the Suffolk community, and $15 for general admission.
Leave a Comment