Senior captains shoot for final title
The Lady Rams' basketball program look to take a step further than what the team built upon in the 2016-17 season. This years campaign will be led by Georgia Bourikas and Alex Nagri, both seniors and veteran members of the team.
Last year, the team played extremely well, where they boasted a 17-9 overall record and a 12-4 record within the Great Northeast Atlantic Conference (GNAC).  At home, the Rams won seven games while only falling three times.
With consistent scoring from Bourikas year in and year out, she explained how she is within distance to record her 1,000th point this season. Bourikas mentioned that the personal accolade would not matter as much to her as winning the GNAC championship, something both captains have agreed on as their season goal.
The development of underclassmen on the team will loom large for the Lady Rams this season, as explained by Nagri.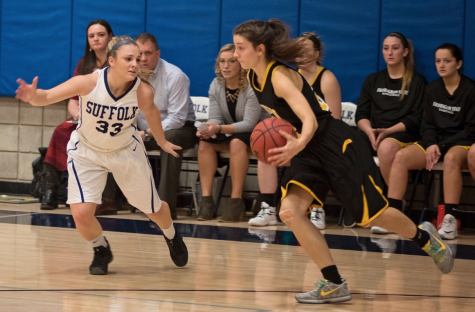 "We are predominantly a freshman and sophomore team," said Nagri in a recent interview with The Suffolk Journal. "We need everyone to buy into the system and gain as much experience as they can early on."
As a result of this youth movement, both captains agree that team familiarity will be a massive factor heading into the season.
"The most important aspect of the game to me is chemistry, on and off the court," said Bourikas in a recent interview with The Journal. "The earlier [the young players] learn to gel on the court together, the better the team is going to be down the road."
Nagri said something similar, claiming that team chemistry will only help the Lady Rams get to where they want to be by the end of the season quicker.
The Lady Rams seem to be in good hands, as Nagri and Bourikas are both seen as great individuals and great teammates by their players.
Junior forward Shannon Smith had nothing but kind things to say about both captains, discussing just how important the leaders are to the Lady Rams.
"They're like our team's rock, [but] this year especially, with most of the team being underclassmen," said Smith in a recent interview with The Journal. "We all can go to them for just about anything."
Smith also said how Nagri and Bourikas are the perfect leaders to show a young team the ropes and help them become the best players they can be.
Bourikas explained that her main expectation this season consists of coming prepared to play on the mental side of the game, day in and day out.
"This a long season and a huge mental game, sometimes we play three or four games in a week and it can be exhausting, so all that we expect is that you prepare yourself for practices and games," said Bourikas.
Bourikas also stressed that her teammates enjoy the game while they're on the court.
"We're not here because of an athletic scholarship, we're here because we love the game," explained Bourikas. "It's important to remember why we come to practice everyday and what our goals are."
Nagri expects that every player comes in and gives it their full effort daily. A key to maintaining a hard effort will be to keep focus on every situation according to Nagri.
As the season is set to begin Nov 15, Bourikas and Nagri look to lead the Lady Rams to a successful season in their final stand as collegiate athletes.
About the Contributor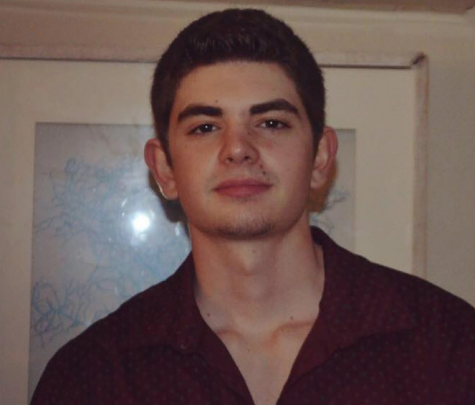 Joe Rice, Former Assistant Sports Editor
As a Staff Writer for The Suffolk Journal, Joe Rice aspires to have his own sports radio show someday. As a junior who is currently seeking a degree in Broadcast Journalism, he devotedly follows the Boston Bruins, but is also always keeping up with the sports realm as a whole. Rice has found a life in the city of Boston and plans to continue his future in journalism there. If you are trying to find him, he is likely the individual in the crowd with a Red Sox cap on, unless he is fresh of a haircut.