Back in action
Rams tip-off for turn-around season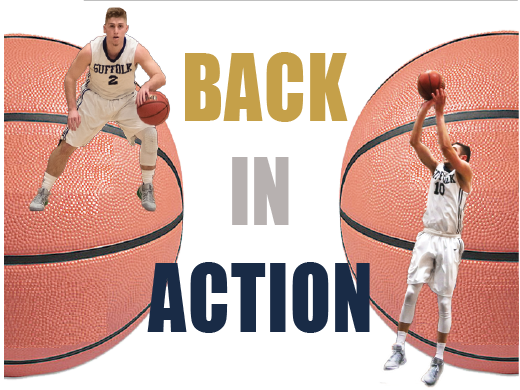 Hang on for a minute...we're trying to find some more stories you might like.
As basketball season inches closer, the Rams will unveil an unconventional roster on opening night. After only carrying one senior last season, the men's basketball team now has a 17-man roster filled with juniors and sophomores.
Last season, the Rams finished 7-19 under head coach Jeff Juron. For the 15th straight season, the men's basketball team failed to finish with a win percentage above .500. Despite this record, Suffolk went through many obstacles last season and has much to look forward to.
Junior center Steve DiPrizio averaged 13 points and eight rebounds per game before going down with a season-ending foot injury. The loss of the 6-foot-6 big man left Suffolk undersized and depleted. With no one else on the roster above 6 feet 4, the Rams struggled to find a replacement at the five position.
"It was tough for everyone to see him sidelined last season. This year, he will have a leadership role on and off the court," said Juron in a recent interview with The Suffolk Journal.
With DiPrizio ready to go, the Rams look to improve on both the offensive and defensive glass as well as defending the paint.
"I'm back at full strength. Our goal is to win the [Great Northeast Athletic Conference] GNAC Conference this year," said DiPrizio in a recent interview with The Journal.
If the Rams hope to succeed, it will have to start with DiPrizio getting back to form down low and junior guard Michael Hagopian continuing to connect from up top. One point that became very evident last season was Suffolk's ability to score. No one from last year's team averaged more than 2.5 assists per game, showing Suffolk's inability to pass the ball around the court. With a plethora of point guards on this year's roster, coach Juron has many different options to run the offense.
"It's a constant battle, but a good problem to have," said sophomore point-guard Cam Powers in a recent interview with The Journal.
Powers is one of 10 guards listed on the 2017-18 roster. With solid depth at the guard position, the Rams may be forced to play a type of small ball.
"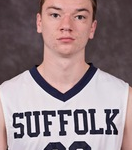 Everyone's going to be fighting to get minutes and earn the respect of the coaching staff"
— Conor Reynolds
"A lot of our guys are in similar positions. Everyone's going to be fighting to get minutes and earn the respect of the coaching staff," said sophomore guard Conor Reynolds in a recent interview with The Journal.
Juron and his staff brought in a freshman class that will help with the lack of size. Alex Jacovides, Brendan Mulson and Nate Ilebode, all 6 feet 3, look to add size to the forward positions in the Rams' rotation. With increased size and experience, members of the Suffolk team believe this is more than just a rebuilding year.
Although the team is young, the Rams believe they can be a serious contender. Carrying a young team, Juron was able to work most of the freshman into the rotation.
"Last year was our rebuild. This year we have much more experience. We can definitely make a run at the [GNAC] Championship," said sophomore forward Jamal Fiin in an interview with The Journal.
Other names to look for are Thomas Duffy and Jim Djema. Duffy, a sophomore, shot 45 percent from three-point land and was a constant name in the Rams starting lineup last season. Djema, one of the few juniors on the team, led the Rams in assists per game last season. He will be fighting for starting minutes alongside the many other guards on the Rams' squad.
Sophomore guards Jonathan Eng and George Grillakis will also look to build off strong freshman seasons. Both were able to insert themselves into the Rams' lineup last season.
Eng made an impact defensive end, averaging a steal per game, which was tied for the team lead. Grillakis shot over 46 percent from the field, which was one of the highest totals on last year's roster.
The men's basketball season will begin on Nov. 15, with a home game against Brandeis University. Although it is early in the season, many members of the team pointed to opening night when asked about important games on the schedule.
"It's a new season. We need to make a statement right away," said Powers.