Lubofsky opens eyes to scientific journalism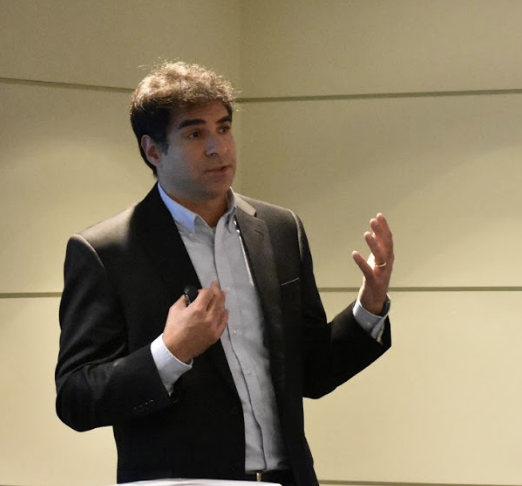 Bridging the academic fields of environmental science and journalism, the science-writer and Massachusetts resident Evan Lubofsky captivated a room full of science and journalism students while speaking at Suffolk University about his profession, as a science writer and what some of his favorite experiences have been working in his field. Lubofsky also discussed why some students may want to pursue this specific area of journalism and and what first led him into the field.
Having started off his career as a writer for technological publications such as "Sensors Magazine" and "Plumbing and Mechanical Magazine," Lubofsky gained an interest and connection to the sciences, more specifically marine sciences.
He currently resides in Cape Cod, MA, and freelances most often for "Hakai Magazine," "Oceanus" and "Frontiers in Ecology" which have all won numerous awards for their publications. "Oceanus" has existed for over 60 years, and began as a place to explore information about oceanographic exploration. "Frontiers in Ecology" works closely with the Ecological Society of America and intended to be broad and accessible for readers who are not necessarily scientists themselves.
Without a science background, Lubofsky has traveled to the Bikini Atoll, where the United States detonated 23 nuclear weapons in the 1940's and 50's. Lubofsky also traveled to Northern Israel with scientists studying a unique species of lobster that was being observed to identify how climate change was affecting the crustaceans. These two story profiles presented were what gave the name, "Weird Lobsters and Bikinis" to the event.
"For me, just the experience of going with a science team and being immersed in that for the better part of a week is just tremendous," said Lubofsky during the talk.
In an interview with The Suffolk Journal, Lubofsky discussed what role science-writing plays for the scientific community. "It can be used to help make scientific discovery more transparent, [the articles] are pressing for scientists to peel back the layers on their findings and their assertions," explained Lubofsky.
Journalism is seen by some as a way to inform the public and prevent people in power from controlling the all dissemination of information. Lubofsky believes specifically that science writing has a role in making sure that anyone can read and learn about the work scientists are doing, and that the findings of the research have not been over or under-exaggerated.
Lubofsky said that for his work, he would like to possibly provide an alternate and truthful source for the general public to receive scientific information.
Lubofsky said that not being familiar with many of the topics he writes about can actually be more of a positive, as it forces his interviews with professionals to truly bring the discussions down to the basics. This has allowed his articles to be more easily read and comprehended by an audience who may not otherwise have a background in some of the advanced topics he discusses.
"[The scientists] are not always thinking about general audiences and how they're explaining what they're doing in a simple way," said Lubofsky.
Lubofsky explained this can also be an advantage for the scientists, as they are provided with an outlet where they can publish their findings and have them be read by people who may not previously have been exposed to the subject
Katherine Lawlor, a junior at Suffolk University pursuing an environmental science major, attended the event. In an interview with The Suffolk Journal, she expressed some surprise to hear Lubofsky did not have a background in science.
"I was a bit thrown off that almost anyone can be a science journalist and they don't have to have a science background. I like that people that people who don't have science backgrounds are interested in science," said Lawlor.
Lawlor continued, saying that she found his story about the nuclear testing in the Bikini Atoll to be very interesting. Also, that she could understand how it could prove useful in certain situations to have someone writing that needed to understand the basics of the topic, to make it more accessible for everyone to read about.
Citing his travels as one of the many perks of choosing science-writing over other topics, Lubofsky also presented the many opportunities that can exist for science-writing, including: a wide range of specific topics such as space, psychology and nature. This branch of journalism can also be lucrative, reaching an up to two dollars per word maximum for an article depending on the publication, although Lubofsky emphasized that this was not his primary motivation for entering the field.
One of his all-time favorite areas to write about has been marine archaeology, where he has examined research and studies surrounding a shipwreck from the civil war, concerns about damage to shipwreck locations by modern fishing trawlers and new technology to better research the ocean floor.
"I would like to do more feature writing on marine archaeology. I am just really developing a love for that intersection between science and history. If there was one area I have my eyes set on, it is doing more of that," said Lubofsky.
Leave a Comment
About the Contributor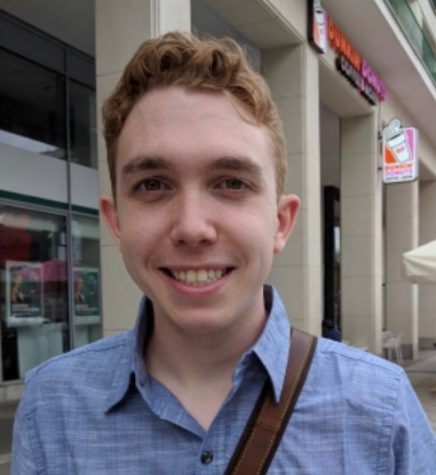 Kyle Crozier, Former News Editor
Kyle is a senior environmental studies major from Rhode Island, and has written for the Journal since 2017. When he is not covering science events in and around Boston, Kyle is working to pursue a career in urban sustainability and possibly attend Grad school. He loves animal facts, Poland, and animal facts.