Rams run the extra mile: Men's ice hockey competes to help cross-country team
Suffolk University's men's cross-country team had a small roster this season, but seven Rams, who are normally found lacing up their skates, decided to run the distance.
Head cross-country coach, Will Feldman, had multiple player injuries this season that allowed his roster to dwindle, but was able to compete in the Great Northeast Athletic Conference (GNAC) with the help of fellow Rams. Over the course of three meets, Feldman welcomed seven players from the men's ice hockey team to his roster.
Entering his 14th season as Suffolk's men's ice hockey coach, Chris Glionna did not require his team to participate in cross-country, but rather, the Rams volunteered. He compared informing his players of the opportunity to compete with the cross-country team to hearing about an internship or interview. Glionna explained how when he heard about a chance to be involved, he ensured that he advised his team about it.
"When the opportunity to run became available, [the hockey coaches] told the players as soon as possible," said coach Glionna in a recent interview with The Suffolk Journal. "It is very important to the Suffolk hockey team to be involved in many aspects of the university."
Sophomore hockey defensemen Bryan Etter was one of the seven Rams to join the cross-country team this season. Etter ran in his first-ever 5k on Sept. 16, when the team competed in the University of Massachusetts Dartmouth Invitational. Etter finished with a time of 42:07, which was identical to teammate David Lappin, a forward on the men's ice hockey team.
"It was a lot further than I thought it was going to be and I wasn't really ready for it, but it was a fun experience for sure," said Etter in an interview with The Journal.
Ice hockey and cross-country are both varsity sports at the university, but both condemn different training styles. Etter explained how ice hockey is more sprints whereas cross-country relies on pacing for distance while having a strong endurance. Although ice hockey is more of an obsession and lifestyle for Etter, he said if he was asked to run for the cross-country team again he would.
"The cross-country team has a good group of people there so it was fun to be around, not just for the race part, but for the whole meet itself," said Etter.
Cross-country is deemed as an individual sport because an athlete is running on his or her own throughout the course, whereas playing ice hockey is more team orientated in the sense that every member on the ice needs one another. Although the two are different sports, forward Brian Patterson, who also participated in the cross-country race, explained that they do have some similarities.
"The motivation before and congratulations after [a meet] is very similar to how hockey goes," said Patterson in a recent interview with The Journal.
Most of the members of the ice hockey team never had the intention of playing another collegiate sport, but when the opportunity presented itself the Rams stepped up to help their university and fellow athletes.
"I believe playing multiple sports is very important in an athlete's development," said Glionna. "Just because they are at college doesn't mean we are stopping the development."
The men's cross-country team looks to compete in their final race of the season at the GNAC Championship in Bristol, Rhode Island on Oct. 28.
Leave a Comment
About the Contributor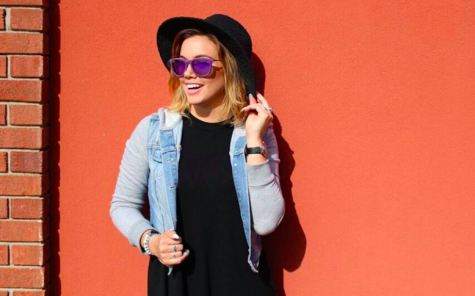 Brooke Patterson, Past Sports Editor
As a senior majoring in Journalism Print/Web, Brooke Patterson strives to not only bring a positive light to her stories, but also those around her. Despite the fact that her sports career has ended, Patterson remains involved with her love for athletics through The Suffolk Journal as the Sports Editor. She is currently exploring life in the city of Boston and will never hesitate to stop to pet a dog as they walk by her. Although Boston will forever be her home, Patterson hopes to explore and use her degree in other cities, such as New York and Los Angeles.