Suffolk backs Obama action while DeVos ponders rollback
Just days after suggesting changes would be made to Title IX in a George Mason University speech, Secretary of Education Betsy DeVos rescinded the "Dear Colleague" letter on Sept. 22, which has caused a reaction from college campuses across the nation, including Suffolk University.
"While we wait for the U.S. Department of Education's [DOE] process to be finalized, Suffolk will continue to foster a safe and inclusive campus community that is free of sex discrimination, sexual harassment, sexual violence and relationship violence, while continuing to provide a fair and equitable process for all, including resources and interim measures," said Suffolk's Title IX Director Sheila Calkins in a statement emailed to the university.
Calkins, in the statement, noted that Suffolk's policies are in line with state and federal laws and regulations.
The "Dear Colleague" letter, put in place in 2011, during former President Barack Obama's administration backed Title IX and affirmed the protections of students from all forms of sexual harassment. In place of the previous procedures under Title IX, the DOE issued interim Title IX guidance on Campus Sexual Misconduct, as well a new set of interim questions as the DOE repealed the "Questions and Answers on Title IX and Sexual Violence" as well.
The guidelines recently set for universities and colleges to follow until procedural changes take place offer the ability for those educational institutions to provide feedback to the process of adjusting campus sexual misconduct procedures.
"It seems the language [the DOE is] using now seems to be less procedurally focused and more focused on fundamental fairness for all," said Dean of Students Ann Coyne in a recent interview with The Suffolk Journal. "That's one of the things that we at Suffolk are interested in. We want to be fair to our students. We want to have policies and guidelines that are clear that tell students what behaviors are expected of them and what behaviors have no place in the University."
Coyne said Suffolk wants students to be informed, and that many schools are now waiting until new resolutions are adopted. At Suffolk, Coyne said in order to comply with government standards, changes may have to be made, but is very comfortable with policy that is "fair and impartial and clear" to students.
"Our commitment is to be sure that we are supporting victims and treating all members of the community fairly. That is the underpinning of our approach and will continue to be," said Acting University President Marisa Kelly in a statement to The Journal on Tuesday.
Leave a Comment
About the Contributor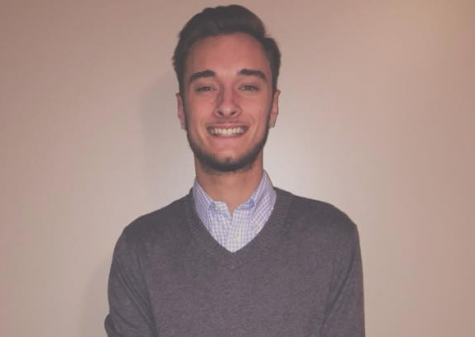 Chris DeGusto, Past News Editor
As someone who truly has no idea exactly what he wants to do in life, Chris' desire is to help those he cares about achieve their dreams. Chris welcomed a role that he never envisioned himself in; one that drives him insane.
Chris loves to tell stories, hence his passion: writing. If he's not in The Journal's office, you can find him catching up on the Sox or Celtics, studying the stock market or (unfortunately) riding the T to his favorite place in the world, Boston.
One day Chris hopes to write a book, well, actually finish a book he has already started. With a plan to travel the world and provide insight about his life experiences through his writing, Chris will always be attached to the city he calls home. And while he loves Boston more than anything, one reason why his book is not finished is because it doesn't have a suitable ending; he has a hunch that one day life will lead him to the west coast, to write him a new story.