Suffolk places in national ranking system, twice
Suffolk places on 'Best National Universities' list for second year, however hits lower bar for 'Most International Students'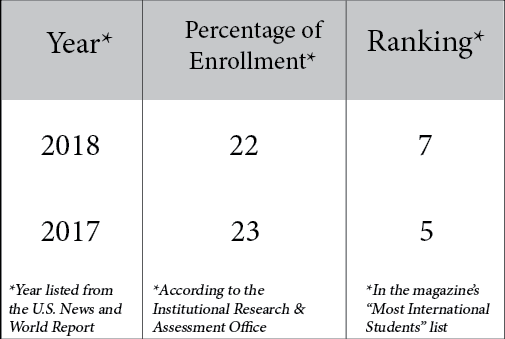 For the second year in a row, Suffolk University had clinched seventh place as an institution focused on global experience and education, according to the 2018 U.S. News & World Report's Best National Universities list.
Suffolk, which rose seven spots in the category from the 2017 list for its considerable international student population, classroom sizes and academic excellence.
The university sealed the 181st spot on the list for the top level institutions to offer expansive choices of majors, master's and doctoral degrees.
Suffolk fell two spots from the previous year in the Most International Students list. U.S. News and World Report relies on reported data from the previous academic year, according to a university spokesperson. For the 2017 list, Suffolk topped the region with 22 percent international students among undergraduate enrollment. For the 2018 list, Suffolk fell one percent in the number of international students, which dropped the university to seventh place.
Boston University ranked fifth in this same category and Northeastern University ranked behind Suffolk in tenth place. Emerson College did not rank on the "Best National Universities" list nor the "Most International Students" list, according to the magazine's website. Emerson, however, did place on the Northeastern regional list, a list that Suffolk used to rank on before being considered for the "Best National Universities" list.
"It's our incredible diversity that sets Suffolk apart, and it's great to see so many international students choosing Suffolk as a place to share their amazing experiences and learn from those around them," said junior economics major and Vice President of the International Student Association, Charles Tang, an international student from Guangzhou, China to a Journal reporter on Sunday night.
Alongside a large international student population and offering undergraduate and advanced degree programs in more than 60 areas of study, Suffolk is said to have ranked due to smaller class sizes compared to other schools. Forty-eight percent of classes that were offered last year had fewer than 20 students and .2 percent of classes offered had less than 50 students per class, according to a press release by Suffolk's Office of Public Affairs.
"The latest U.S. News rankings recognize the excellence of a Suffolk education and the strength of our academic programs," said Acting President Marisa Kelly in a press release.
Suffolk recently partnered with INTO University Partnerships, an independent organization that recruits and expands higher education opportunities to students across the globe. Acting Provost Sebastian Royo, who has been a key player in bringing INTO onto Suffolk's campus, hopes that INTO's efforts will eventually enhance the university's rankings that are based on international student populations and creating a diverse campus.
"The numbers have been going down for the last couple years which is consistent with the national trend," said Royo in an interview on Monday. "Some of it has to do with what is happening in their countries of origin. It's harder for families to fund the immigration of students abroad. The hope is that with the partnership with into, we can not only stabilize the numbers, but grow."
"They have an outreach that we don't have," said Royo.
Suffolk also ranked in the High School Counselor and Business Programs list by the magazine for 2018.
Leave a Comment
About the Contributor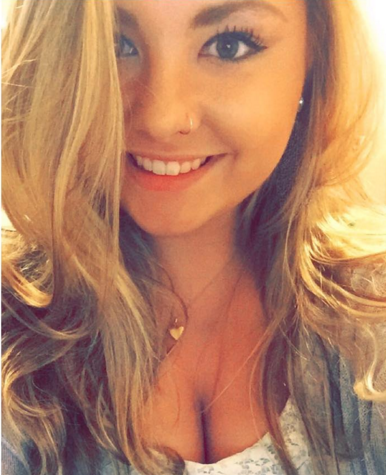 Alexa Gagosz, Previous Editor-in-Chief
Former Editor-in-Chief of The Suffolk Journal, fighter for equality and former World News Editor. Most likely found in The Journal's office, getting lost in the Massachusetts State House or frolicking around Boston Harbor. Thrives off of investigation pieces that consume her.