Suffolk's tuition hike continues up the hill of higher education
Since the 2011 fiscal year, Suffolk University has increased the cost of undergraduate student tuition by $5,274. Students scheduled to attend Suffolk in the fall of 2017 will be charged $35,440, an increase of 4.85 percent from this current fiscal year.
This increase of $1,640 will be be the largest incremental increase since the 2012 fiscal year of 4.8 percent. Suffolk has been, and over the next two fiscal years will be, one of the least expensive private institutions in the Boston area.
"As we look at these tuition increases, we look to balance those things we want to bring to the enhancement of the students," said Suffolk's Senior Vice President for Enrollment Michael Crowley in an interview Tuesday night with The Suffolk Journal.
Suffolk's 4.85 percent tuition increase for the upcoming fiscal year is one of the largest supplementations of Boston-area universities; Boston College, Boston University, Brandeis University and Tufts University all have planned to raise their tuitions at a rate below four percent, according to The Boston Globe. A neighbor to Suffolk, Emerson College, has planned to raise their undergraduate tuition cost from $42,144 to $44,032, which is a 4.47 percent increase, according to the university's website.
Senior Vice President for Finance and Administration and Treasurer Laura Sander explained in an interview with The Journal that revenue gained from the increase in tuition will be put toward the extension of the university's strategic plan, by funding projects and areas such as full-time faculty and staff resources, the Center of Community Engagement and the collegiate athletic departments.
A team of senior leadership within Suffolk's administration, the finance committee, as well as the Board of Trustees, have worked and deliberated to ensure that the dollar figures going forward lineup with both the strategic plan and the university's budget explained Sander. According to Crowley, the allocation of revenue is based upon what the university needs.
Both Crowley and a university spokesperson echoed that although the best interest of the students are in mind when tuition prices are discussed, attending Suffolk is a significant "investment for students and their families."
Some students in the Suffolk community are not entirely satisfied with the rising price of tuition and although beleive there is a rationale, in the future would like for funding to be drawn from other sources rather than increasing tuition costs.
"The thing about a tuition increase is that it absolutely does put an extra financial burden on students, that I believe are already burdened by the costs of Suffolk," said Student Government Association (SGA) Treasurer-elect Logan Trupiano in an interview with The Journal late Tuesday night. "It is my hope that the administration gives a detailed explanation of where this money goes, and why they're asking students for more money. And for the future, I hope they can find a different route for the extra funds, instead of from the students."
One student, SGA Senator Jonathan McTague, a government and economics major, believes that the tuition hike is inevitable and is happy with the results that have been welcomed onto campus. McTague said in an interview with The Journal late Tuesday night he personally believes an increase of student aid should be implemented to combat the rising tuition cost not only at Suffolk, but across the country. He said the benefits from having paid Suffolk's tuition price have shown in the form of the 20 Somerset building and renovations in both 73 Tremont and the Sawyer building.
"Although students and families never like to see an increase in tuition at anytime through their educational careers, it is inevitable," said McTague. "For that reason I'm happy to actually see results with new buildings, facilities, technologies and programs as our tuition continues to rise. The dollars we spend on a great education at Suffolk can be visibly seen day in and day out."
One factor that Suffolk allots a portion of its revenue to is the marketing of the university in order to recruit new students. As part of the extended university strategic plan through 2019, Suffolk has planned to partner with an international student recruitment firm– this has not been an influence in obtaining the conclusion of next year's 4.85 percent increase according to a university spokesperson. The price increase has been directed at fulfilling the projects Suffolk in in the process of completing, as well as the plans that have been proposed in the strategic plan.
"We're definitely investing in the Suffolk Experience and the academic opportunity," said a university spokesperson.
With the tuition set to increase by 4.76 percent for the 2018 fiscal year, some students are more concerned about their long-term finances and overall cost of attending the university– regardless of the beneficial resources the university has provided.
"[The cost of attending Suffolk] too high. Even if you [have] a scholarship it's still going to keep you in debt for a long time," said freshman accounting major Audra Cook. "The fact that you can rent an apartment in Boston for less than it costs to just stay in a dorm on campus should show that [Suffolk is] too expensive."
Leave a Comment
About the Writer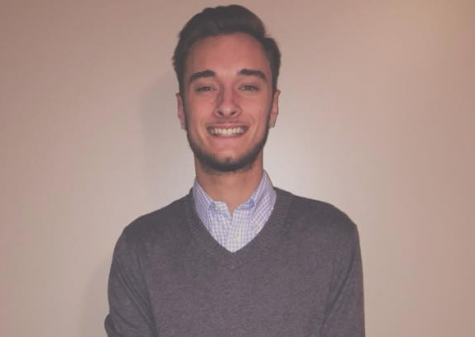 Chris DeGusto, Past News Editor
As someone who truly has no idea exactly what he wants to do in life, Chris' desire is to help those he cares about achieve their dreams. Chris welcomed a role that he never envisioned himself in; one that drives him insane.
Chris loves to tell stories, hence his passion: writing. If he's not in The Journal's office, you can find him catching up on the Sox or Celtics, studying the stock market or (unfortunately) riding the T to his favorite place in the world, Boston.
One day Chris hopes to write a book, well, actually finish a book he has already started. With a plan to travel the world and provide insight about his life experiences through his writing, Chris will always be attached to the city he calls home. And while he loves Boston more than anything, one reason why his book is not finished is because it doesn't have a suitable ending; he has a hunch that one day life will lead him to the west coast, to write him a new story.