Iron Mountain's Abrams talks real estate experience
Sarah Abrams, the senior vice president of global real estate at Iron Mountain came to Suffolk University to speak about her experiences in the corporate real estate business and discuss the ways students can get involved in this industry.
Iron Mountain claims to be the "guardians of the assets most important to our customers and in securing their past, current, and future values." The company was founded in 1951 and has been growing ever since. In 2014, Iron Mountain converted to real estate investment trust in order to sustain their high return storage rental business. By doing this they were able to promote themselves in emerging markets as well as offer stockholders low risk growth. This in turn maximize the company's total returns. In 2016 they purchased Recall, their global competitor.
"Our business is about enabling the businesses of corporate America" said Abrams during her presentation.
Corporate real estate is the profession of providing and managing real estate that houses the protective or business activities of an organization which does not have real estate as its primary objective. Abrams discussed how the difference between corporate and commercial real estate depends on supply and demand. Commercial real estate provides a risk adjusted return to investors while corporate real estate supports the business function. The corporate faction has more layers and complications than commercial real estate.
Abrams discussed a professional association called CoreNet Global that students can pay $25 for per year in order to gain membership to. This group has over 10,000 members all across the globe with annual summits in North America, Europe, and Asia. The chapter based within New England has over 600 members and hold approximately 60 programs a year for its members.
At the end of her presentation she answered some questions that Suffolk students had for her. One student asked about what an entry level position in corporate real estate could potentially look like. Abrams explained that from a business analyst's side that could include examining variances to budgets, while from a transaction management position that would include reporting and checking with the field.
"Work has changed over time. It has changed from being a destination to actually being a series of activities that produce," said Abrams. "People don't think of work as a place you go, they think of it as a thing you do, a place where you can make something."
Leave a Comment
About the Writer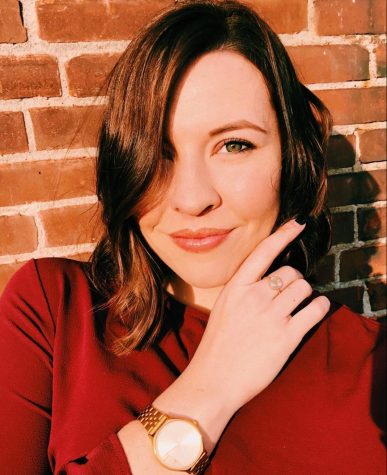 Haley Clegg, Editor-In-Chief | she/her
Haley is a senior majoring in broadcast journalism. Aside from writing, her main passions are photography and traveling. When she isn't in the Journal office, she is most likely to be found exploring Boston with her camera in one hand and a coffee in the other. After college, Haley hopes to be an investigative reporter or an international correspondent.
Follow Haley on Twitter
@HaleyClegg98