Sanctuary city experts speak at the Ford Hall Forum
As roots of the new Republican administration begin to grow and influence policy throughout the country, local and federal programs have been at odds properly defining the relationship between local law enforcement and federal immigration enforcement.
Local leaders on the subject met in Suffolk University's Sargent Hall to discuss their own views on sanctuary cities Thursday night. The event was moderated by Government professor Christina Kulich-Vamvakas, with Somerville's Mayor Joseph Curtatone and professor Dina Haynes of the New England School of Law.
"Leadership comes not from leaders, but from people like you," said Curtatone.
Curtatone also emphasized the work done by the Somerville law enforcement. He insisted that his police chief David Fallon was at the head of the efforts toward improving relations with undocumented community members
Kulich-Vamvakas asked the two speakers to comment on how they thought the narrative of sanctuary cities and immigration was changing, possibly into something on an entirely new level of divisiveness and negativity. Haynes gave her personal view on the subject, insisting that pushes from the administration "only make me want to fight more."
"It is important that we arm ourselves with the correct information, that we don't let the lie become the truth," emphasized Curtatone.
In 1984 the town of Somerville began its time as a sanctuary city, and the current mayor, Curtatone, has continued to advocate his support of this for all of his seven terms. With an estimated population of more than 80,000 individuals, Somerville boasts a foreign-born population of over 30 percent.
The Mayor said we have to start to see the anti-immigration movement for what it is, and is looking for motive in the recent actions on immigration policy by some members of the federal government.
"[The anti-immigration movement is] a twisted ideology, and it is racism at its core, and we can't be shy about saying that," said Curtatone
Also speaking on the subject, Haynes said she believes in empirical data, citing the numerous decisions out of Congress on immigration. Haynes said that there have been enough precedents set with federal overreach into state law enforcement, and at this point, "Congress is kind of hoisted on its own petard here."
Haynes explained that the decisions from Congress have defined proper interactions between state and federal governments regarding immigration and deportation. She described Congress's Brady Handgun Violence Prevention Act, or Brady Bill, of 1994, a piece of legislation that meant local law enforcement was to spearhead efforts toward enforcing background checks on firearm purchases.
Law enforcement brought the issue to the Supreme Court in the case of Prinzt v. United States, where it was decided that actions like these violated the Tenth Amendment, which secures the rights of states in creating their own legislation when dealing with issues outside those described in the Constitution.
Comparing the two, Haynes said the bill was, "trying to utilize local law enforcement to carry out federal objectives."
When asked more specifically as to where President Trump's immigration ban stands among the web of state and federal interactions, Haynes said "Only Congress has the authority to do that, not the president." Armed with this logic, Haynes said cities seeking sanctuary status can use the age old Republican mantra of "State's Rights" in order to choose for themselves how they will aid federal immigration authorities in their searches for undocumented immigrants.
Concerned about the economic risk of deporting the 11 million undocumented residents in the country, the Curtatone described locally administered programs funded through taxes taken by documented and undocumented citizens alike. The Mayor listed senior and veteran care groups, public schools, and community centers, as some of the many examples.
Curtatone also weighed in on the execution of the aforementioned executive order by the current administration, saying that, "If the executive order seems very vague, that's because it is."
View Comments (2)
About the Contributor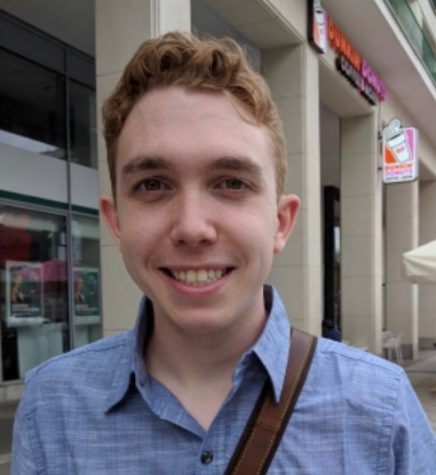 Kyle Crozier, Former News Editor
Kyle is a senior environmental studies major from Rhode Island, and has written for the Journal since 2017. When he is not covering science events in and around Boston, Kyle is working to pursue a career in urban sustainability and possibly attend Grad school. He loves animal facts, Poland, and animal facts.