Ford Hall Forum sparks discussion about gender in sports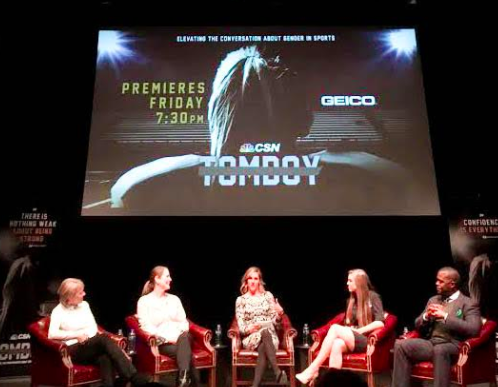 For many years women have fought for their rights in politics, the workplace and society as a whole. Today in the world of sports women still face the difficult task of being heard, hired and taken seriously for their hard work and commitment.
Monday night's Ford Hall Forum "Tomboy," hosted inside Suffolk University's Modern Theatre featured a conversation about the role of gender and the many challenges that women face on and off the field in sports.
Comcast Sports Net (CSN) anchor and moderator of the forum Trenni Kusnierek introduced four prominent members of the sports community.
The panel of speakers included Senior Vice President and General Manager of CSN New England Princell Hair, former Harvard Women's Soccer player Brooke Dickens, National Broadcasting Company (NBC) Sports Reporter Andrea Joyce and the Boston College Women's Hockey Head Coach Katie Crowley.
The forum not only discussed the topic of gender but showed previews of the new CSN documentary Tomboy which premieres Friday at 7:30 pm. The film puts the spotlight on many prominent female athletes such as USA Women's Hockey forward Hilary Knight and former professional tennis player Billy Jean King.
Kusnierek opened the conversation by asking the panel what they thought were the advantages of their gender in sports.  
"It was never that I really thought that being a girl hindered me or helped me it was just I am an athlete and I'm going to be out here competing and I'm going to demand that of the people that are playing with me," said Dickens.
The panel also talked about how language and vocabulary affects the perceptions of female athletes. A clip from the documentary showed how some women revealed what the word "tomboy" meant to them.  
"Saying tomboy and immediately inferring that she's not totally a girl is not only not helpful but it's kind of insulting," said author Caroline Paul.
Crowley talked about what she teaches her three-year-old daughter as she grows up with sports all around her.
"I want her to understand that it's not a male sport or a female sport. Anyone can play hockey and anyone can do anything they put their mind to," said Crowley
Dickens discussed her experience with the Harvard Men's Soccer Team targeting her team through inappropriate documents about aspects such as their physical appearance. She said that while it was upsetting to see this information about herself, it was even more upsetting to see what was written about her teammates.
"The 'boys will be boys' excuse is just not acceptable anymore," said Hair. "The way that we're going to affect any real change is with women getting into positions of power."
Joyce discussed how this change of power is starting to take place but not as quickly as we would like it to.
"When you talk about Serena Williams people have taken out the world female," said Joyce. "They are no longer saying the best female tennis player. They are saying one of the best tennis players on the planet."
The forum was opened up to questions where members from the audience sparked a discussion on the lack of coverage of women's sports, the importance of the Olympics being a level playing field for athletes and how to break into the sports industry.
"If you want to do more [than sideline reporting] you have to work towards doing more," said Kusnierek. "You're not going to get a job on the radio because you're cute and funny."
The forum ended with a $5,000 donation from CSN that was given to the Boys and Girls Club of Dorchester for sports equipment.
Suffolk University professor Richard H. Beinecke said that  his 26-year-old daughter Emily Beinecke plays on a women's football team called the Boston Renegades. The team is a three-time national championship winner in women's tackle football.
"Nobody knows that they exist. I blame the media in a big way," said Beinecke in a post-forum interview with The Suffolk Journal. "I think there's a bias that women shouldn't play tackle football."
Beinecke said that he wishes more people would recognize the team and attend their games because they fun to watch play. After viewing the forum, he explained that today we live in a sexist society that still needs to change.
"I'm a firm believer that people should be who they are," said Beinecke.
Leave a Comment
About the Contributor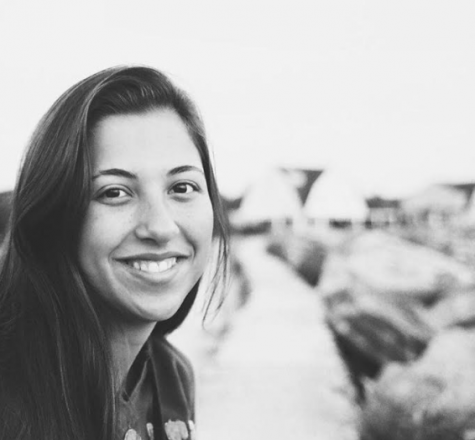 Hannah Arroyo, Sports Editor | she/her
Hannah Arroyo is a junior, the Sports Editor, and a Broadcast Journalism major who hopes to work in sports media someday. She passionately follows New England sports and can often be found exploring new spots in Boston. She enjoys going to Fenway Park, searching antique stores and pranking her friends. By writing for The Journal, she hopes to improve her journalism skills and eventually explore writing stories that differ from sports.