Rothchild recounts grim scenes from Gaza
For more than half a century, the people of the small independent Palestinian territory, Gaza, have been constrained to living under military rule in an environment that has been decimated by missile attacks from outside nations. Recently, Gaza has been besieged by Israeli assaults, forcing its citizens to survive in rubble and debris.
Dr. Alice Rothchild, an obstetrician-gynecologist, filmmaker and author whose book "Condition Critical: Life and Death in Israel/Palestine," was released Feb. 1. Rothchild has twice visited the territory, a notoriously difficult place to enter, on humanitarian trips.
In March 2015, Rothchild traveled with a delegation from Washington Physicians for Social Responsibility and in January, she was with a donor group, Grassroots International.
Rothchild recently recounted her 2015 and 2017 journeys to Gaza with an Israeli and Palestinian medical aid delegation to a group of Suffolk University students.
"It was just breathtaking to see the level of destruction," said Rothchild during her presentation.
According to Rothchild, Gaza has been under military rule since 1967 and had Jewish settlers, but in 2005, the settlers were removed because of a blockade of the strip.
Hamas is a Palestinian Sunni-Islamic organization that currently governs Gaza. Rothchild explained that Hamas took control in 2007 when they won the civil war against Fatah.
Since 2007, there has been a severe restrictive siege. For decades, Gaza faced rocket fire from militant groups and a growing, devastating humanitarian crisis.
Between 2008 and 2014 there were three massive assaults on Israel, including one in June 2014 where 30 rockets were launched from Gaza into Israel.
"Both times [I went to Gaza], we were invited by the Gaza community mental health program, which is an incredible mental health program providing psychiatric care," said Rothchild. "So I was doing things like providing services, interviews and mostly documenting facts from the ground."
The 2014 invasion led to many fatalities in Gaza and Israel. Specifically, 74 Israeli's were killed and 100 civilians were injured. In Gaza over 2,100 individuals were killed, including 500 children and more than 100,000 people were left homeless. Children were traumatized by the war and estimated about 370,000 were in need of psychiatric care, said Rothchild.
Rothchild displayed images of prominent buildings that had burnt down, such as the ministry of finance and mosques that she saw while "reporting from the ground" in Gaza, but Hamas was doing reconstruction on the mosques.
Sophomore journalism major Ryan Emma, watched as Rothchild gave her presentation.
"I consider myself an educated person," said Emma in an interview with The Suffolk Journal after Rothchild's presentation. "but to see her perspective on this was real eye opening."
The author showed images of Beit Lahiya, a city in Northern Gaza, which largely consisted of destroyed buildings. A majority of the city's infrastructure has been reduced to rubble.
"I kept seeing intact apartment buildings next to rubble that got bombed, so it's really a whim of faith whether you lived or died in this war," said Rothchild. Thirty percent of the 100,000 homeless individuals lived in bombed out homes in Beit Lahiya, she said.
In Beit Hanoun, a city in the northeast, Rothchild captured an image of a cat painted on a concrete wall by graffiti artist and political activist Banksy.
"His idea was that people will take pictures of a kitten much more than they will take pictures of a hungry Gazan child," said Rothchild. "It was a political commentary of that fact."
Rothchild continued, showing the students the eastern neighborhood of Shuja'iyaa. Like many places in Gaza, Israeli forces clashed with Hamas militants and Shuja'iyaa was heavily damaged by shelling in 2014. During the second Lebanon war, the Dahiya doctrine was developed in Shuja'iyaa after Israel destroyed the Dahiya district in Beirut. The doctrine stated that if a military group completely destroys an area, this doctrine will act as deterrence where confrontation will not be beneficial.
"The level of desperation and poverty was just appalling," said Rothchild about a man from Shuja'iyaa she met with two wives, 42 children and grandchildren and no home.
In Gaza City, although some parts were bombed, it still appeared to be  functional with cars and roads. Rothchild was able to see vegetables and fruits from across the city because it was so fertile.
But Gaza City has also faced a major problem of a lack of electricity. Rothchild witnessed donkeys pulling carts of fuel in order to provide energy to the city.
"People were really bombed back into a different century," she said.
The sewer system was impacted by the war. In some parts of Gaza, the sewer treatment plans were destroyed, causing raw sewage to flow into the Mediterranean Sea.
"You see people fishing in the water with the sewage in it and swimming and playing with their horses in the water with the sewage in it," said Rothchild.
After Gaza City, Rothchild showed images of Khan Yunis.
Showing a powerful image of a wedding in the bombed out city, Rothchild said, "You see people trying to do the best they can."
Rafah was next on Rothchild's visual journey for the students. In Rafah, more than 500 tunnels were bombed. The tunnels  hosted black market economic activity, she explained.
Rothchild emphasized that Gaza, though a small territory, is diverse and has a young population.
As of 2017, there are differences in Gaza since Rothchild's first trip in 2015. There are land restrictions so people can farm and there is some rebuilding. She said blocks of cement were equivalent to gold to a Gazan.
One of the most eye-opening parts of Rothchild's travels was when she visited the Gaza Community Mental Health Program, which offered training and mental health services for the community.
Dr. Yasser Abu-Jamei, the executive director of the Gaza Community Mental Health Program, lost 28 family members due to the 2014 war on Gaza. He told her about 51 days of intense fear and insecurity, the staff and families who died, and the mobilization of the staff to care for the population. He used the term Post-Traumatic Stress Disorder to describe many of his patients, but explained the trauma is lifelong.
"I cannot offer a patient something I cannot have for myself," said Abu-Jamei.
When Rothchild visited schools in Gaza she noticed the children's drawings depicted death and destruction. They drew what they knew, and sadly death and bombings were a common theme in many Gazans' lives, she said.
"This is what their realities are as their lives as children," said Rothchild.
Regardless of all the trauma and destruction Gaza has undergone over the years, the people still manage to remain as one. They survive and live their lives through the rubble.
"Gaza is not only a place, it is two million people," said Rothchild.
Leave a Comment
About the Contributor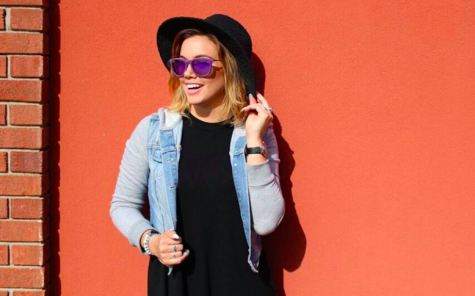 Brooke Patterson, Past Sports Editor
As a senior majoring in Journalism Print/Web, Brooke Patterson strives to not only bring a positive light to her stories, but also those around her. Despite the fact that her sports career has ended, Patterson remains involved with her love for athletics through The Suffolk Journal as the Sports Editor. She is currently exploring life in the city of Boston and will never hesitate to stop to pet a dog as they walk by her. Although Boston will forever be her home, Patterson hopes to explore and use her degree in other cities, such as New York and Los Angeles.