Local activists lead National Day of Jewish Action for Refugees
Hundreds of Americans in cities across the country braved the weather on Sunday to take a stand for refugees in light of President Donald Trump's actions centering around immigration.
A Boston rally was held at the base of the New England Holocaust Memorial near Boston's Faneuil Hall Marketplace. The rally was hosted in part by Boston District 8 City Councilor Josh Zakim, and was organized as part of a larger effort known as the National Day of Jewish Action for Refugees, a day of protest organized by HIAS (formerly Hebrew Immigrant Aid Society), a Maryland-based refugee advocacy group.
"Our new President's executive orders fly in the face of the timeless American tradition of welcoming the stranger, the immigrant, the refugee, the oppressed," said Zakim to open the event. "We are here today to stand for the proud tradition of love, against discrimination and hatred. Right now, people are fleeing from war and famine; we're facing the greatest refugee crisis since after World War II."
The rally comes after a scrutinized first month in office for Trump, who has made headlines for a number of executive actions. On Jan. 25, Trump signed a series of executive orders that will permit the construction of a border wall between the United States and Mexico. Just days later, on Jan. 28, Trump signed Executive Order 13770, which barred immigration from seven Muslim-majority nations and set off a firestorm of criticism and protests from academics, foreign policy experts and human rights activists alike. The order also halted the Syrian refugee resettlement indefinitely.
Fred Manasse, a survivor of the Holocaust and refugee advocate, was one of the advertised speakers at the event. During an emotional speech, he told of the horrors his family faced in Poland.
"While HIAS was able to save me and my brother, they were too late for my family," said Manasse. "America had the same attitude then about Jews as they do now about Muslims. [Those Jews] were victims of the same kind of policy Trump seems to be espousing."
While Manasse, now 81, was able to make it out of Europe, his family wasn't so lucky. His parents died in Auschwitz in the early 1940s after Cuba and the U.S. denied them access as a refugee.
"My father was on the last ship out of Germany, the Saint Louis," said Manasse. "Even Franklin Roosevelt did not step in, so the ship went back to Germany, and my father died in Auschwitz in 1942."
Just six at the time, Manasse and his brother were hidden in France. In 1945, the two brothers finally made it to the US. He urged lawmakers to rethink the ban and refugee policy. Speakers at the rally acknowledged that while a recent court ruling struck down the ban as unconstitutional, there is still more work to be done.
"While we can be encouraged by the recent court decisions that have halted some of the President's anti-immigrant and anti-Muslim actions, this administration's animus towards refugees continues," said Zakim. "The recent federal immigration raids across major American cities makes today's actions even more important and more timely. It's always the right time to do the right thing."
Local leaders representing nearly all major religions – and some representing none at all – spoke at the event. Rabbi Claudia Kreiman of Temple Beth Zion in Brookline, who is a native of Santiago, Chile where her father was the chief rabbi of the nation, spoke at the rally. Growing up under the dictatorship of Augusto Pinochet, she has been an activist her entire life, and said the executive order flies in the face of Jewish values.
"I'm here today as a Jew, as an immigrant, and as a new American citizen," said Kreiman. "The judge who welcomed us reminded us that immigrants make this country great. The Jewish community is standing up with a strong and united voice to say that America must not close its door on refugees."
In a sign of unity, Imam Faisal Khan of the Islamic Center of Boston, Wayland, spoke directly after Kreiman, to show despite longstanding tensions between the Arabs and Israelis, on this issue, they were in agreement.
"Your solidarity in this cause, showing up at airports and at rallies, has given hope not only to those on shores far away praying for a better life, but also to the Muslim community here in Boston, those who work and live with you. You have given us hope."
Leave a Comment
About the Contributor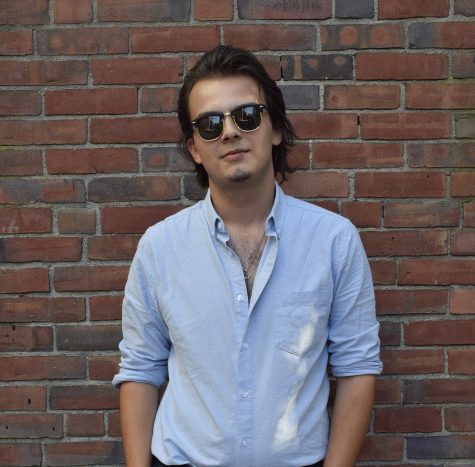 Nick Viveiros, Senior Staff Writer
Nick Viveiros is a senior majoring in Politics, Philosophy & Economics and Journalism. Born and raised in Fall River, MA, he began writing for the Journal in the fall of 2016.
Nick published his first book, the poetry collection this new world, during his first semester of college. His second book, Love Across the Zodiac, was released through his company, Quequechan Press, in mid 2019.
Follow Nick on Twitter @thenickviveiros 
or head on over to his website, nickviveiros.org