'Our Suffolk' makes moves toward Labor Board
The "Our Suffolk" organization of staff members took a symbolic and monumental march from the front doors of 73 Tremont to Acting President Marisa Kelly's office to present a letter that explained that the organization had filed to have an election with the National Labor Board last Tuesday.
"We're asking them to give full faith and credit to our ability to negotiate with the university and the National Labor Relations Board in order to form a union," said Meri Power-Ayer of Suffolk University's Political Research Center. "We are asking them to not expend precious university resources trying to hold up or in any way disrupt our legal right to have a union election."
With staff members who have fought tirelessly for the creation of the union as well as both undergraduate and graduate students in attendance, the group had traveled up to the 13th floor to hand over the letter that beared 24 signatories from across Suffolk. Kelly, who was in meetings throughout the morning, wasn't able to receive the letter from the union leaders, but instead did so from her assistant later that day.
"Today we have filed a petition with the National Labor Relations Board toward the goal of uniting together to form a new union with Service Employees International Union Local 888," the letter started. "It is our sincere hope that university management will not spend its limited resources to prevent us from having a respectful and fair election. In turn, we the workers and the community that supports us, will continue to uphold the mission of the university we all work so hard for every day."
In order to file the election, the union had to show the Labor Board that Suffolk had interest in forming a union. In order to do this, at least 30 percent of the eligible workforce had to sign union cards to display that the organization had the minimum percentage to file an election. Our Suffolk succeeded in finding the 30 percent interested. After the Labor Board has gone through the process of reviewing the union cards, the Board will then work with the university to set an election time and place, according to an "Our Suffolk" member.
"We've been working a long time, we've been working really hard to make sure our support is spread across campus," said Power-Ayer. "We have a real coalition of support and we're hoping to make this a great place to work like we know it can be."
Library Circulation Assistant Jim Alexander of the Mildred Sawyer Library said that from his perspective, it's about the stakeholder's voice.
"This university is a community and communities are built on engagement and people actually participating. I think Suffolk really needs a boost on that," said Alexander. "That's what we're trying to do."
Esther Anastasia, of the physics department, explained that much like the women's march that was formed after newly inaugurated President Donald Trump was sworn into office, it's important for Suffolk to give power to the people.
"[Power to the people] makes it a better country like it makes [Suffolk] a better place to work," said Anastasia. "I think that collective bargaining and giving Suffolk staff a voice will make Suffolk a better place."
The letter had outlined goals from "Our Suffolk" that explained that they looked to collaborate with the entire campus, including the administration.
"We are proud of Suffolk and have great respect for your leadership," the letter read. "On behalf of the faculty, students and staff who support our right to form a union, we ask you to honestly and diligently consider our request."
Leave a Comment
About the Contributor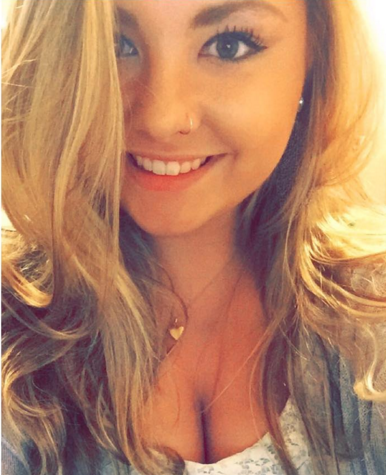 Alexa Gagosz, Previous Editor-in-Chief
Former Editor-in-Chief of The Suffolk Journal, fighter for equality and former World News Editor. Most likely found in The Journal's office, getting lost in the Massachusetts State House or frolicking around Boston Harbor. Thrives off of investigation pieces that consume her.