Gazzani stays true to campaign promises
VP remains humble since win last year, gains confidence in Suffolk's future
A year ago, Daniel Gazzani was the only international student to run for an executive board position of the Suffolk University Student Government Association. He won the election and now the Venezuelan native reflects back on his campaign agenda and promises to the Suffolk community of representing all students on campus regardless of their background.
He vowed to ensure that more international students would become increasingly involved on campus and in SGA, while he simultaneously collaborated with Suffolk's administration to tackle issues that are important to the student body.
In an interview on Tuesday night, Gazzani told reporters of The Suffolk Journal that going forward, SGA would need dedicated and relentless board members in order to facilitate change at the university.
"We need passionate people to take these roles on if you want to see the job done right," said Gazzani.
More than six months after he assumed office, his objectives have remained the same as the day he launched his campaign.
"I can't promise you I'm going to get everything done, what I'm going to promise you is that I'm going to try my hardest and push the administration as hard as I can so that they deliver," he said.
As vice president, Gazzani had set out to include more international students in SGA, a point he made by tabling at international night in the fall, as well as attending every international student orientation session. Gazzani also said many of the new senators that were elected this academic year were international students and there continues to be a peak of interest for diversity within SGA.
In the spring of 2016 when Gazzani was elected vice president, he said that Suffolk garnished its highest ever voter turnout. He said that with the number being around 600 out of a few thousand undergraduate students, and a usual voting rate of 10 percent, Gazzani explained that another one of his ambitions was to work toward an increased turnout. One of Gazzani's roles last semester was to conduct the fall SGA elections.
"Usually [fall semester elections] has around 200 to 250 voters," said Gazzani. "This year, we had over 550."
As a motivated and diligent member of SGA, Gazzani is not afraid to step on others toes to get things done.
"But there is also no shame in calling other people out for their mistakes," he said.
Looking toward his upcoming time as a member of SGA, Gazzani envisions a bright and optimistic future for the university.
"I think we are all on the right track," said Gazzani. Hopefully we will have a lot of passionate people involved next year. I can see good things happening."
*** Editor's note: In the original version of this story, it had reported that SGA Treasurer Cam Viola had said that voting turnout was thanks to efforts by Vice President Daniel Gazzani. This was reported by the source but was not confirmed with Viola.
Leave a Comment
About the Contributor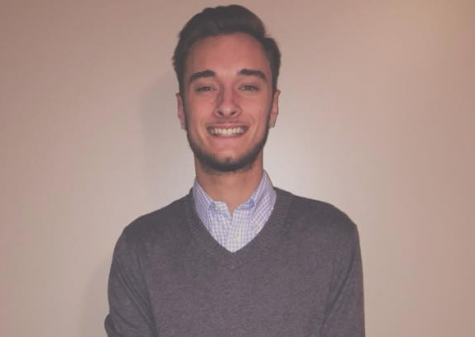 Chris DeGusto, Past News Editor
As someone who truly has no idea exactly what he wants to do in life, Chris' desire is to help those he cares about achieve their dreams. Chris welcomed a role that he never envisioned himself in; one that drives him insane.
Chris loves to tell stories, hence his passion: writing. If he's not in The Journal's office, you can find him catching up on the Sox or Celtics, studying the stock market or (unfortunately) riding the T to his favorite place in the world, Boston.
One day Chris hopes to write a book, well, actually finish a book he has already started. With a plan to travel the world and provide insight about his life experiences through his writing, Chris will always be attached to the city he calls home. And while he loves Boston more than anything, one reason why his book is not finished is because it doesn't have a suitable ending; he has a hunch that one day life will lead him to the west coast, to write him a new story.