Lady Rams fast break into new year
Suffolk University's women's basketball team rang in 2017 by defeating nine out of the 10 teams they played. The Lady Rams took advantage of the clean slate January brought them when they went on an eight-game win streak, improving their record to 14-6.
Before they approach the playoffs, beginning on Feb. 21, the Lady Rams look to compete in their final five regular season games, one being senior day against Emmanuel College on Feb. 18 at their home court, Regan Gymnasium.
"We went into winter break knowing that the most competitive part of our season started when we got back at the end of December," said junior guard Alexandra Nagri in an interview with The Suffolk Journal on Monday. "I think we all bought in as a team and everything clicked. We are a well-rounded team with a deep bench which makes us very hard to match up to. That stretch was a huge part of our season and we knew if we kept working hard in practice the results would come, and they have."
The only loss for the team during the new year was on Jan. 26 when the Lady Rams fell short to Johnson & Wales University with a final score of 54-49. Suffolk had the advantage come intermission, but was unable to keep it throughout the second half.
"We knew what we were doing, but toward the end of the game we got hectic and started panicking," said freshman forward Katelyn Rourke in an interview Monday with The Journal. "We tried to speed them up and press them, but they were getting three pointer after three pointer. We should've closed the game when we had our lead, but we took it for granted and lost ourselves."
The Lady Rams chose not to dwell on their loss and immediately started to focus their attention on the next game against the University of St. Joseph on Jan. 28. The outcome of the game added to the team's winning record.
"We took baby steps by keeping everybody's focus right in the present and not thinking ahead," said senior captain and point guard Kelsey Schiebel in an interview Monday with The Journal. "We constantly talked about not having a lot of wins affect us mentally. We just tried to stay humble and kept coming to work everyday."
Schiebel also said the confidence the team developed had a major impact on their winning record. The team's winter break was cut shorter than most Suffolk students because it was "the heart of basketball season," she said.
The team hung out together over the break in order to make their chemistry stronger and did not let anything outside of basketball affect their vacation, said Schiebel.
"Overall, everybody has just done their job," said Schiebel. "What makes us such a good team is that we are so well balanced."
Rourke said the short time away from basketball gave the team time to re-energize and collectively get in a similar mindset.
"Coming into the season this semester we were more set on the mini goals rather than the big ones," said Rourke. "Just focus on the next game rather than three games ahead."
One of the most difficult things the team had to face this season was having a large number of girls who were unfamiliar with the program, explained Schiebel. The new year managed to bridge the age gap and allowed the freshmen to buy into what was going on with the team.
"The overall goal is with team and not with yourself," said Rourke, who was honored with her second Corvias Rookie of the Week on Jan. 23.
Rourke said the captains had a major impact on the team. She said they are good at keeping the team focused and united.
One of the three team captains, Schiebel, was added to the elite group of players with 100 game appearances in their college career.
"It didn't feel any different until after the game when everybody was like 'You've played 100 games,'" said Schiebel. "I feel thankful for the opportunity because not a lot of people get to play that many games in their career. Obviously, I am very happy that I have gotten to play so much over the last four years."
It was a bittersweet feeling for Schiebel as she explained this signifies her senior season is coming to an end.
Schiebel said the game plan for finishing the season was to "just play our all and everybody do what they're supposed to do."
"Not underestimating Lasell [on Feb. 2] or Simmons [on Feb. 11] is going to be a major key for us to win," said Rourke. "Any team can beat any team at any given time. We still have to play well and win."
The team has long-term goals, one being winning the Great Northeast Athletic Conference championship, but are still focused on the bigger picture of the entire season. Rourke said each week is similar to an entirely new season for the Lady Rams
"We still take it day by day, game by game but it makes the season a lot sweeter and more exciting when we are successful," said Nagri.
Leave a Comment
About the Contributor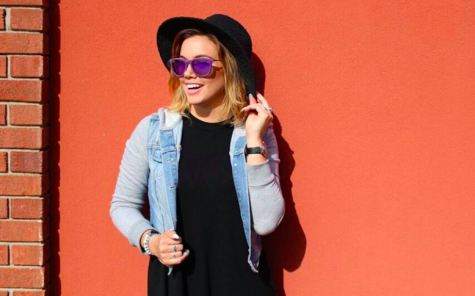 Brooke Patterson, Past Sports Editor
As a senior majoring in Journalism Print/Web, Brooke Patterson strives to not only bring a positive light to her stories, but also those around her. Despite the fact that her sports career has ended, Patterson remains involved with her love for athletics through The Suffolk Journal as the Sports Editor. She is currently exploring life in the city of Boston and will never hesitate to stop to pet a dog as they walk by her. Although Boston will forever be her home, Patterson hopes to explore and use her degree in other cities, such as New York and Los Angeles.