Outcome Capital and Business School partnership creates opportunities in life sciences and technology sectors
Outcome Capital and Suffolk University's Sawyer Business School announced a partnership with the goal of providing "real-world exposure" to students at the graduate and undergraduate level. This partnership will focus on exposure to life sciences technologies. Students will work with analysts, vice presidents, and senior bankers to assist in building market and revenue models and valuation, along with researching transitional structures according to a press release from Suffolk's Public Affairs office early Tuesday morning.
This partnership which was announced on Dec. 7 can in-part be attributed to a former history and english teacher as well as Suffolk MBA student Thom Busby. Busby is now a College of Arts & Sciences Alumni Board member and secretary, and advisor on the Sawyer Business School's Young Alumni Board of Advisors and  an Outcome Capital firm member.
According to Busby in an interview with The Suffolk Journal on Friday, his accounting professor Ariel Markelevich put Busby in contact with Eilon Amir, Outcome Capital's Vice President, during the second semester of Busby's MBA program. Busby said that he and Amir met, and the natural flow of the conversation between the two turned into an interview. This led Outcome Capital to offer Busby an internship for the summer between his first and second years of his MBA program.
Michael Behnam, PhD, Dean of Graduate Programs and Academic Affairs at the Sawyer Business School said in an interview with The Journal Friday afternoon that Busby's work during his internship impressed Outcome Capital enough that the firm decided to look toward Suffolk for other talented and determined students. Behnam discussed how Busby was a bright student, and managed to shine during his internship on top of his academic work.
"I don't know if you know anything about investment banking, but that is a full time job in itself," said Behnam.
As an intern Busby said that he "showed up every day early, worked late, soaked up every lesson with enthusiasm, and took on every project [he] could." He said that obtaining a job at Outcome Capital was the result of effort and attitude, and that his ability to apply "seemingly unrelated experiences to banking" stood out to the firm, influencing them to look toward working with Suffolk.
"As a teacher you come to realize how important formatting a lesson both in terms of language and design is towards your students understanding it. As a banker, I know that communicating effectively with clients and investors is vital towards our success," said Busby. "Bringing up these similarities I think is what prompted Outcome to seek out more talent at Suffolk. Also, I think the tenacity with which I approached the internship struck my colleagues – that's an important trait for any intern in any position."
Behnam said in his interview that originally the firm reached out to him after Busby's internship and that he met with Managing Director of Outcome Capital Ben-Joseph and Amir so that discussion could take place regarding a collaboration between Suffolk and Outcome Capital. He explained that this collaboration has already begun but will have greater impact in the spring semester. Behnam said that the idea is to have students assist with real cases for Outcome Capital that may address the needs of one of the company's clients instead of having students "sit in class and memorize a chapter of a book."
"There are all kinds of projects we have in mind and in place for future interns to work on," said Busby. "While interns will get experience in seeing how deals and clients are managed, there is also opportunity to assist with strengthening the Outcome brand through publications, refining internal procedures, and identifying trends in the life science industry."
Busby explained Suffolk and Outcome Capital have had major impacts upon him, equipping him with certain skill sets during his education and allowing him to recognize his potential as an investment banker.
"The collaboration between these two outstanding Boston institutions is important because it's my hope that other Suffolk students can have the same experience I had and grow personally and professionally," said Busby.
According to Ben-Joseph in Tuesday's press release, the hope for this collaboration is that the gap between academia and industry will decrease.
Behnam said in the press release that they are pleased with this collaboration effort with Outcome Capital in order to provide students with additional experiences within growing industry sectors.
"The Sawyer Business School has long recognized that students benefit greatly from getting early, real-world experience as a key part of their education," said Ben-Joseph, according to the press release. "Our team is passionate about what we do and excited to partner with Suffolk University to pass on to a new generation of business leaders the wealth of knowledge gained over our many years of advising and working closely with companies to enhance corporate value and implement the best path to success."
"It is the perfect fit with our redesigned MBA curriculum that focuses on experiential, collaborative learning focused on Boston's world-class clusters in biotech, health care, finance and high-tech," said Behnam.
During his interview, Benham talked about how he was not sure exactly what projects the collaboration will be focusing on, but stressed the importance of this real-world experience.
"This collaboration will deliver on our [university] promise that our students in our programs will have had the opportunity to get their hands dirty," said Behnam.
Leave a Comment
About the Contributor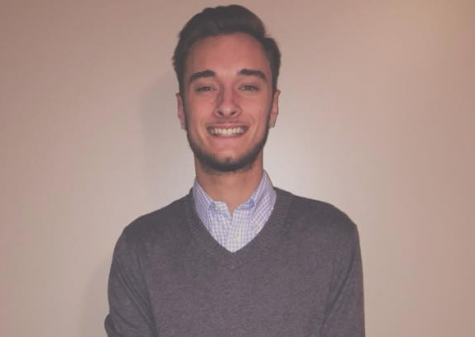 Chris DeGusto, Past News Editor
As someone who truly has no idea exactly what he wants to do in life, Chris' desire is to help those he cares about achieve their dreams. Chris welcomed a role that he never envisioned himself in; one that drives him insane.
Chris loves to tell stories, hence his passion: writing. If he's not in The Journal's office, you can find him catching up on the Sox or Celtics, studying the stock market or (unfortunately) riding the T to his favorite place in the world, Boston.
One day Chris hopes to write a book, well, actually finish a book he has already started. With a plan to travel the world and provide insight about his life experiences through his writing, Chris will always be attached to the city he calls home. And while he loves Boston more than anything, one reason why his book is not finished is because it doesn't have a suitable ending; he has a hunch that one day life will lead him to the west coast, to write him a new story.