Post-election protests continue, Boston officials receive demands
Hang on for a minute...we're trying to find some more stories you might like.
Chants of "the youth united will never be defeated" were repeated by a group of high school and college students standing on the front steps of the Massachusetts State House on Monday afternoon. An organized walkout labeled on flyers, "Boston Student Walk Out Against Trump" marched from the State House to City Hall, where protesters chanted outside of Mayor Marty Walsh's office for more than an hour.
The goal of this walk out was to deliver a list of demands to both Governor Charlie Baker and Walsh, which highlighted the issues the protesters wanted addressed based off both the election results that placed President-Elect Donald Trump in the White House.
Michael Jones, a high school student of the Boston area stood at the base of the steps inside City Hall reciting "spoken word" to his fellow protesters who sat, waiting for the remainder to clear security.
"We fight for our rights, fists in the air," said Jones. "We fight for the lands, fists in the air. We fight for our women, fists in the air. We fight for our future, fists in the air. We are the people."
Jones works with a climate team under the Boston Student Advisory Council (BSAC) and the Boston area Youth Organizing Project (BYOP), which he said are both under one coalition of youth coordinators. He said that this walk out not only was an effort to make Boston and Massachusetts "sanctuary" places, but to make the list of demands heard.
One of the organizing members of this walkout, Malik Saint-Juste, a student at South Boston High School explained to a reporter from The Journal during the protestors' march to City Hall that this was a joint walkout between mostly high school, as well as college students.
"After the election we knew that we needed to mobilize against Donald Trump," said Saint-Juste.
He explained that he began meeting with groups of roughly 20 people on Fridays for intervals of three hours, throwing around ideas. One idea that the group decided upon was this walkout, where Saint-Juste and other organizers led the march from the State House to City Hall. Saint-Juste, who works with BSAC and BYOP as well, discussed how each school has a small number of organizers and that most of the participants are high school students.
Luis Navarro, one student from Boston Day and Evening Academy was wearing a green, black and red flag running around with a megaphone enticing the crowd to follow suit with his chants.
Deputy Superintendent Bill Ridge was able to comment upon the protests to a Journal reporter while outside of City Hall.
"It has been very peaceful," said Ridge. "Technically, they need a permit, but as long as they're not blocking traffic we will let them exercise their first amendment rights."
Robert Gorman, a former homeless man holding a "homeless lives matter" sign followed the march to City Hall and spoke with a Journal reporter about how President-Elect Trump will effect him.
"I'm not sure what President-Elect Trump means for the homeless population, but I know it's not good," said Gorman. "What his slogan really meant was make America hate again. He says he's a business, but his head is empty."
Gorman also plans to protest the inauguration in Washington D.C.
One source, an "adult supporting the youth led movement" explained the demands to a reporter from The Journal while inside City Hall.
"There was a delegation of students that went into the state house to deliver the demands to Governor Charlie Baker's office," the source said. "We are in City Hall now and there will be a delegation that will deliver the demands to Marty Walsh as well."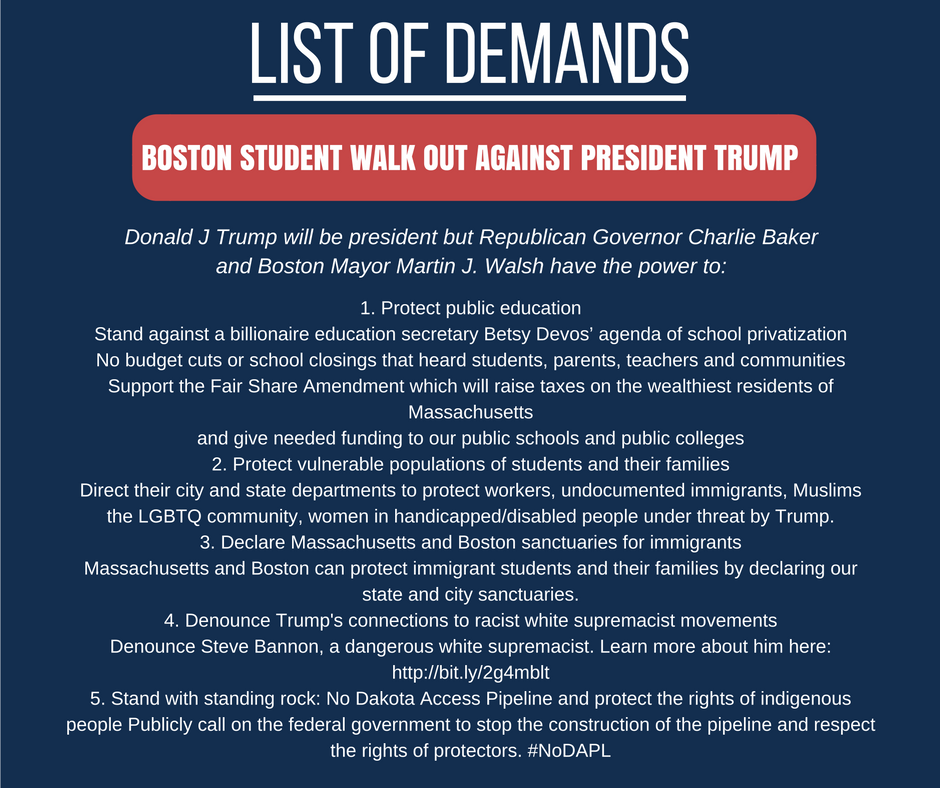 Walsh did not elect to speak to roughly 100 protesters that stood outside of his office. The Mayor's office sent Journal reporters  a statement from Walsh Tuesday afternoon on the matter.
"Every time there's an issue, students can't walk out of school. Many of these young people leaving class are going to be future leaders," said Walsh in his statement. "I think that the best way of advancing causes is to stay in class and continue to get a good education. I think there's going to be plenty of opportunities for us to work together and figure out how we move forward as a City and as a country. But right now, our children's priority should be getting an education."
Baker's office did not respond to communication with a Journal reporter on the protest as of early Wednesday morning.
Freshman Massachusetts College of Arts and Design student Kayla Marriott discussed how she believes a Trump presidency will affect her, and what this walk out meant.
"[This walkout is about] people standing up against our democracy that has ignored the demands of the people," said Marriott. "We want to show that when people stand together it makes change."
Contributor: Jacob Geanous

About the Writer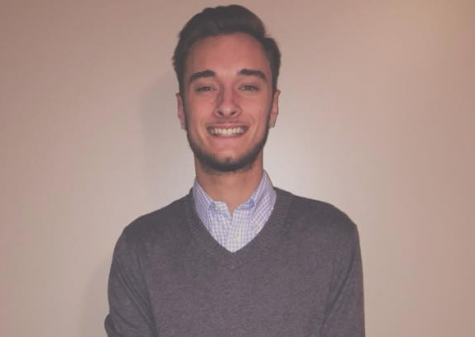 Chris DeGusto, Past News Editor
As someone who truly has no idea exactly what he wants to do in life, Chris' desire is to help those he cares about achieve their dreams. Chris welcomed...