Through the lens: Miller gives scoop of writing for journalism field
The field of journalism is one that receives both praise and criticism. Boston Globe political reporter Joshua Miller, who is based in the Massachusetts State House, spoke at a "Live Political Happy Hour" at Suffolk University on Dec. 1. The 30-year-old interacted with an audience in the Poetry Center of the Sawyer Library, fielding questions from students and providing insight to the challenges and benefits of the field.
"I got to tell you there's some pleasure in sticking it to politicians you catch in a lie," Miller said in a post discussion interview with The Suffolk Journal. "Or you reveal they are not living up to their promises, that's rewarding too."
Miller talked about how there are many rewarding aspects of being a reporter, but said that making a difference is the most important to him. In his discussion he spoke about how, as a journalist, not everything is going to go according to plan, and that a great deal of hard work and tedious effort is required.
"The worst part is when you spend two days chasing down a story and it doesn't come together, and you feel like you've let your editor down, let your readers down," said Miller. "But you can't report something you don't know."
He said that part of the newspaper journalism industry is that there's always a deadline that must be met, but a journalist has to "accept that every story is not going to be the best story ever."
Miller, who after graduating from Bowdoin College in 2008, worked at ABC News as a producer. He said his task list at times included writing questions that would be asked during presidential interviews, but discussed how a lot of the time he was doing "grunt work" such as compiling research and transcribing interviews. These simple tasks did not go away after he became a "real journalist."
One particular point he stressed to the audience was that being persistent can help to land a job.
"I think part of the reason I got the job at The Globe was because I was very relentless and tenacious in writing very polite emails to the people who did the hiring," said Miller.
He explained how he continued to email the hirers over the course of a couple of years, and eventually got "on their radar" in order to secure a position with The Globe in 2013 after being a reporter for the Capitol Hill newspaper Roll Call.
Junior public relations major Kaylin Riggs attended this event for a classroom assignment and spoke to a reporter from The Suffolk Journal in an interview after the organized discussion had ended.  While she talked of how she may not elect to choose a career as a political reporter to pursue, Riggs noted that she wants her future job to be something that she enjoys.
"As long as you're happy and do what you want to do, and as long as you sustain yourself, then it's worth it. I'd rather be doing something I love and not be paid as much than hate going to work everyday and wish I did something else."
He mentioned that the salaries in the field of journalism are not the best, but that is not why he chose to be a reporter.
"There's no way to sugarcoat it, journalism is not a good paying industry, but it's a deeply rewarding industry." Miller said while answering a question about the pay of journalists. "You could have spent 14 hours and not been paid very much, and feel like you've done really good work and helped people, and reveal some wrongdoing, and that's worth a lot."
In an industry that has seen declining number of print edition readers, Miller gave his opinion on what direction he envisions the industry heading.
"I still think there will be people that do the hard work of digging through numbers and figuring out the story and making a bunch of calls and giving the report of the best information they have at the time," said Miller during the discussion in response to a question from a Journal reporter. "I don't know what form [journalism] will take."
He mentioned that with autonomous vehicles being a mode of transportation that may integrate onto the streets in the future, a type of "podcast" may be one avenue that journalism takes. Miller described how he believes this method is popular, and could very well be one way that the reporting industry evolves in the future.
Leave a Comment
About the Contributor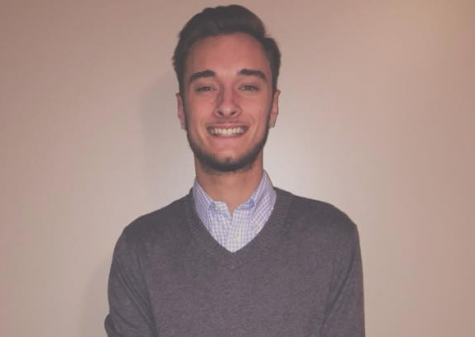 Chris DeGusto, Past News Editor
As someone who truly has no idea exactly what he wants to do in life, Chris' desire is to help those he cares about achieve their dreams. Chris welcomed a role that he never envisioned himself in; one that drives him insane.
Chris loves to tell stories, hence his passion: writing. If he's not in The Journal's office, you can find him catching up on the Sox or Celtics, studying the stock market or (unfortunately) riding the T to his favorite place in the world, Boston.
One day Chris hopes to write a book, well, actually finish a book he has already started. With a plan to travel the world and provide insight about his life experiences through his writing, Chris will always be attached to the city he calls home. And while he loves Boston more than anything, one reason why his book is not finished is because it doesn't have a suitable ending; he has a hunch that one day life will lead him to the west coast, to write him a new story.