Question 2 discussed at Ford Hall Forum
The Ford Hall forum became heated as battle lines were drawn for the divisive ballot question.
On Nov 8, registered Massachusetts voters will be able to vote to pass question 2, which, if passed, will approve of 12 new charter schools per year throughout the state. Suffolk University, along with New Leaders Council and City Awake, presented "Questions on Question 2: Charter Schools" during Forum on Thursday afternoon.
Mike Deehan, a state house reporter for WBUR News, was the moderator for the panel. In his opening remarks, he described the forum as a discussion of ideological differences between the two opposing sides. The two that support passing the question are Thabiti Brown, the Head of School for Codman Academy, and Shane Dunn, the Coalitions Director for Great Schools Massachusetts. The two that oppose the question are Tito Jackson, a Boston City Councilor, and Harneen Chernow, a parent of students that attend Boston Public Schools.
Before the panel began, attendees took their seats and nearly filled Modern Theatre. Many of the attendees discussed their opinions of the matter. There were some that had already made a decision on whether to vote yes or no, but there were still many who were still undecided.
Two seniors, Robert and Joanne Payone, were two attendees who were very passionate about the education system. Although they said they were undecided, the two attendees leaned towards opposite ends of the question. Their concerns dealt with the idea of funding and making sure there was enough money to grant underprivileged children access to education. They were also dismayed at the fact that upon entering Modern Theatre the only flyers handed out for the event were in support of passing the ballot question.
After the introductions, Deehan began the forum with the question of whether charter schools are harmful to public schools.
"Charter schools do have a place in the landscape of public education, but they are not the panacea. In a state where 96 percent of students go to public schools and only 4 percent go to charter schools, the real issue is about investing into public schools," said Tito Jackson.
"Charter schools are actually public school, and they have actually increased funding for education in Massachusetts" said Dunn.
Brown spoke on what makes his school successful and states that autonomy plays a large role in it. Autonomy allows his school to make adjustments as needed, such as hiring and firing staff and modifying schedules, which he said allowed students to prosper.
Chernow, being a former member of the Massachusetts Board of Elementary and Secondary Education, stressed the importance of schools meeting the needs of the different populations of students. She said that charter schools fail to comply with the wide variety of needs of their students.
The forum continued on with both sides debating the facts, history, and data regarding public and charter schools. According both sides the governing bodies that administer either public or charter schools are ineffective. Of the issues that arise out of this, high suspension rates, especially in charter schools, are something that needs to be addressed.
Jackson claimed that passing the question will hurt charter schools as well. The increased amount of schools will decrease the amount of students that attend overall and drive up competition. Funding would also be lost since there will be less investments from philanthropic avenues he states and funding should be focused on improving public schools.
When the audience was given the time to ask questions, they did not hold back. Many spoke out on their experiences with the education system. Because of their bad experiences with either type of school they wondered what would be done to fix issues that are important to the students. Their concerns dealt with the lack of wellness resources that help students who are disadvantaged because of a wide array of issues. These issues can also affect their grades, and low grades allows a charter school to push the student out.
The inability for the schools to provide for their students, such as the English language learners and students with developmental disabilities, leads to high attrition rates in charter schools. High attrition rates and high suspension rates needs a solution and Jackson believes backfilling would be the answer.
"Maybe if we required schools to backfill then we wouldn't even deal with the issue of the cap. Then we can focus on the issues that really matter to public school students and current charter school students," said Jackson.
The issue regarding funding was brought up by one audience member and Dunn was quick to respond by stating the money follows the students, meaning the 4 percent of funding goes to charter schools. He criticized the increasing budget for public school education despite there being no significant improvements.
Jackson and Chernow asserted that while Dunn's statement is true, the costs that public schools inhibit do not go away. With less funds to support these costs schools must take action by cutting programs, and if they cannot do that then districts must cut funding for other departments such as police and infrastructure.
The forum closed on a high note with an audience member forcing the two sides to look at compromise. They looked at the idea of sharing knowledge of what's best for the students.
They want competition to be minimal so that these different schools aren't fighting for funding or for students. This issue is what Jackson brought up, the idea of high performing charter schools having a "secret sauce" that they refuse to share with the rest of the education system.
Brown, in an interview with The Journal, disagreed with that notion.
"Being part of coalitions with other educators and other schools allows me to learn and improve my school. So I think the idea of the secret sauce is everywhere and the challenge is releasing it to benefit the students," he said.
In the end, the forum provided great insight into the very complex topic that is ballot question 2, giving voters a lot to think about on Nov 8.
Leave a Comment
About the Writer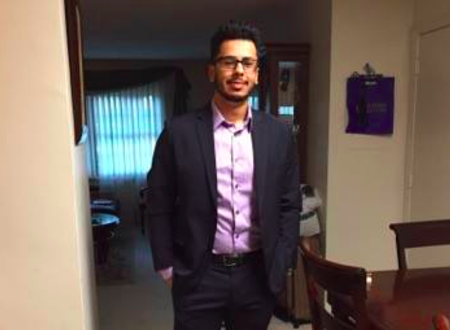 Nathan Espinal, Senior Staff Writer
Student pursuing a double major degree who's also writing articles for a paper with integrity. Usually stress eating in the library.