Women's basketball dribbles into new season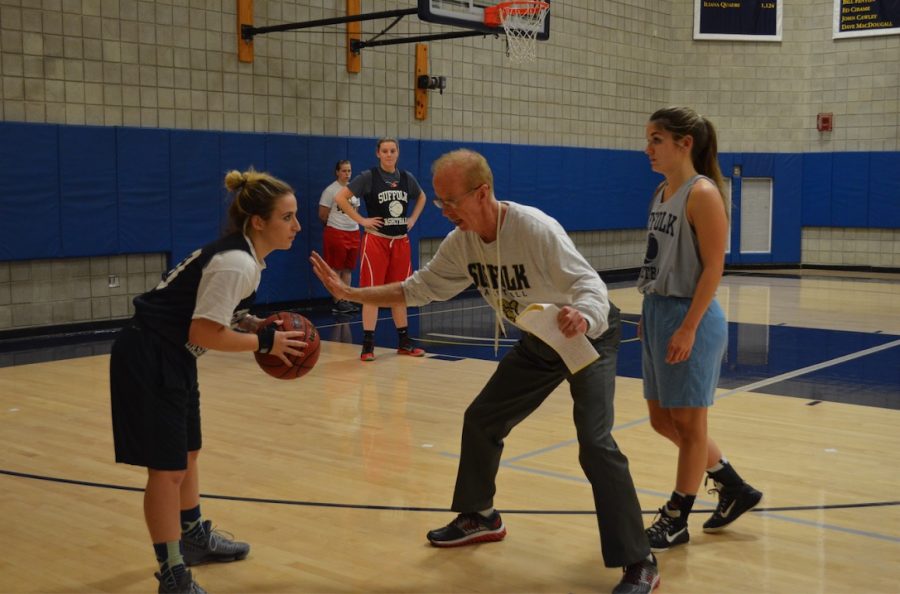 Basketball has been in Caitlyn Caramello's blood for the past 14 years that she has been playing the game.
Caramello, a junior, has played a total of 55 games in her two-year collegiate career with Suffolk University's women's basketball program and she will now head into her third year playing with the team.
Besides basketball, Caramello also participated in cross country at the university. During the beginning of the Lady Ram's preseason, she said she experienced pain on her knee that she had also felt in her freshman year. Caremello said that she tore her lateral meniscus and parts of her patella tendon and had surgery to repair her knee, a week before her first day of college. She said she has been dealing with the knee injury since then.
"When I received my results my doctor told me that my cartilage in my knee is old and abnormal and she advised me that I should stick to only one sport at Suffolk for my knee's sake," said Caramello in an interview with The Suffolk Journal. "So I had to give up cross country and I stuck to basketball since I've been playing for about 14 years."
Although Caramello's doctors advised her not to run for a fews weeks after the pain surfaced again, which put an end to her cross country season earlier this semester, Caramello said that she is ready to get back and compete this season. After doing physical therapy and buying a new brace, Caramello has recently been back on the court with her team.
The Lady Rams will open their 2016-17 26-game season on Nov. 15 at the University of Massachusetts Boston at 5:30 p.m.
Last season the Rams ended their year with an 17-11 record and a conference record of 8-3. The team advanced to the Great Northeast Athletic Conference (GNAC) Quarterfinals and defeated Norwich University 55-51. In the Semifinals, they dropped their match to Saint Joseph's University in a 74-58 loss.
Junior shooting guard, Alexandra Nagri reflected on the team's losses from last year.
"We definitely lost key players that were an intricate part of our success last year, but we also have experienced seniors who have the talent to lead us to be just as successful," said Nagri in an interview with The Journal on Saturday.
This year, the team has a roster of 15, seven of those players being freshmen. Head Coach, Ed Leyden named seniors Georgia Bourikas, Alexandra Clarke and Kelsey Schiebel as the team's captains for the season. Leyden, is in his 23rd season coaching the women's basketball program. He has been named Coach of the Year five times in his coaching tenure by the GNAC.
Sophomore forward, Shannon Smith, said that her coaches time and effort shows how much he cares about the team as a whole.
"He studies film, statistics and the competition more than any other coach," said Smith in an interview with The Journal on Friday. "It really shows how much he cares about us as a team, and just knowing that makes us a successful team."
Before Suffolk, Leyden coached at Revere High School, Reading High School and Tufts University. Leyden said that the team's chemistry last year was wonderful, like a true family and they were a "true representation of Suffolk."
"One of the nice things about sports is that every year is a brand-new year. " said Leyden. "I think that by the end of this year we're going to [have] a very dangerous year."
He said that this is a very enjoyable team and they hold productive practices in order to prepare for the season. Leyden explained that the team has worked a lot on defense, rebounding and individual development. He expects all of his team to play hard and be the ones that everyone has a tough time beating.
"I think we're a work in progress and we have a lot of work ahead of us," said Leyden. "We want to be a tough  team all the way through."
Senior captain, Alexandra Clarke, has been playing basketball since she was in elementary school. Clarke, who plays center, said that it is important to make everyone on the team feel important and involved. She said that her team has had quite an intense year so far.
"We would play pickup two to three times a week and have our conditioning trainer run 8 a.m. workouts for us every Sunday morning," said Clarke in an interview with The Journal.
Clarke added that it has been an adjustment for the team with such young players. She said that the team's biggest challenge has been getting used to everyone's individual playing styles. She explained that this has not stopped them from forming a chemistry needed to be successful. Clarke said she hopes that her team can once again make it back to the GNAC playoffs.
"We are able to bring the same level of play and competitiveness to this year's team and use that as a driving force to be successful this year," said Clarke.
About the Contributor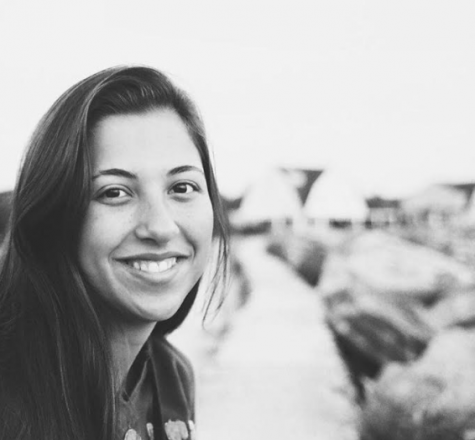 Hannah Arroyo, Sports Editor | she/her
Hannah Arroyo is a junior, the Sports Editor, and a Broadcast Journalism major who hopes to work in sports media someday. She passionately follows New England sports and can often be found exploring new spots in Boston. She enjoys going to Fenway Park, searching antique stores and pranking her friends. By writing for The Journal, she hopes to improve her journalism skills and eventually explore writing stories that differ from sports.