Faces of 73 earn airtime, gain experience in future field
NECN, Suffolk partnership creates opportunity for broadcast journalism majors
Confidence and experience with live reporting come with practice, and the girls of Studio 73 feel like their experience in Suffolk University's affiliation with New England Cable News has prepared them for real-life broadcasting.
Brianna Silva, a senior broadcast major believes that the journalism classes that Suffolk offers deliver the fundamentals, but the studio is where she has gained most of her experience. The majority of the shows produced by the studio are directed more toward self-development, rather than viewer ratings, according to Silva. Those students in the productions gain experience getting in front of or behind a camera and begin to understand the workings of producing an entire show.
"I was just a production assistant so I was just doing behind the camera stuff or audio, but I knew my main reason for coming to Suffolk was because I knew I wanted to be a reporter for Suffolk in the City," said Silva in an interview with The Suffolk Journal.
As an intern at iHeartMedia, a NECN reporter, a music intern for Dig Boston and a writer for Stage Rights Secrets, a member of the Theta Phi Alpha sorority on campus, as well as the Secretary for the Student Government Association, Silva was not afraid to take on the challenge of reporting for NECN.
"I'm putting in the work now so that come graduation I can't say, 'wow that was a waste of a major,' she said.
Delaney Facchetti and Erika Lynch, both senior broadcast students are transfer students who immediately got involved with the studio.
Lynch said that she visited the studio late in her first semester of her sophomore year and told the studio managers that she wanted to be involved in shows.
"I feel like as a broadcast student you really can't be shy, you have to just be willing to try and then the more you do it the better you get.You have to have the drive," she said.
Facchetti told The Journal that she got involved with the studio right away because she already felt behind in her broadcast experience. She immediately researched the studio and contacted studio production assistant, Courtney Colaluca.
"I went to the studio one day and talked to one of the studio managers and I got started by helping out on the first episode of Pop Voice," said Facchetti.
Pop Voice is one of the several student-run productions done through the studio. Colaluca, a senior double-majoring in English and Broadcast is the producer of the show which is an extension of the news and feature website, The Suffolk Voice. Pop Voice attracts around 50 to 100 viewers per show which is posted on The Voice's website. Both Facchetti and Lynch were involved with Pop Voice during their initial participation at the studio and were separately recruited to join the studio team by Colaluca upon arrival to Suffolk.
All three NECN girls claimed that they got involved right away and were okay with learning by doing the simplest of tasks. Facchetti said that her first job was just pressing buttons to assist one of the producers of Pop Voice, eventually being promoted to being a featured panelist. Pop Voice typically has about nine people on its production team, three people operating cameras, someone on a teleprompter, three to four panelists and two people in the control room, but the number of people participating in each show varies.
The shows filmed in Studio 73 are each hosted by various online platforms. Studio 73 doesn't have it's own show, according to Colaluca, it's more of a platform that hosts these student-run productions, some of which are posted on the studio's Facebook page. Pop Voice is linked to The Voice's website and is produced sporadically, while Suffolk University's Temple Street News and SU News are posted on the Communications and Journalism Departments YouTube channel.
"There are also some shows that are partnered with Studio 73 like 'Don't Retire Inspire' and Comcast Newsmakers that get posted on other platforms. Shows filmed in the studio aren't necessarily posted on a specific Studio 73 affiliated platform," said Colaluca.
Now, Silva, Facchetti and Lynch represent Suffolk as reporters for NECN and take turns reporting for Suffolk in the City, a segment of the news channel. Suffolk University is the only school east of the Mississippi that puts students on national television, according to Silva. NECN is the largest regional news station in the country, according to boston.com.
The reporter roles are highly competitive and each girl auditioned twice, succeeding in securing their positions their senior year.
"The more you work on it, the better you get," said Silva. "But you're never going to know unless you try."
All three girls were adamant about how easy it is to get involved with the studio.
"You don't have to be a broadcast major, you could be a math major and get involved at Studio 73," said Lynch. "They're welcome to everyone."
"I didn't get involved my freshman year and I think that's my biggest regret," said Silva. "I emailed the studio manager my sophomore year and [asked], 'how can I get hands on experience, how can I get in here?' A lot of people think that they can't get involved until they've taken classes for production and broadcast, but you're actually at an advantage in the classroom when you already know the basics."
"I like to think that the studio pretty much has an open door policy," said Colaluca. "Even if you don't have a work-study, there are several opportunities here for anyone looking to get involved."
Silva wants students to not be afraid to challenge themselves and try something new. She feels gratified because she's putting in work now so that she will be ready for a world after Suffolk.
"It's best for us come graduation, Suffolk in the City is definitely the best thing to do because it helps you build your reel and it's live. You're live on TV and you can't get a much better experience in college," said Lynch.
Leave a Comment
About the Contributor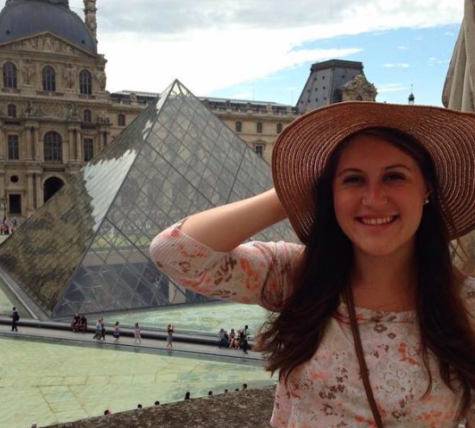 Felicity Otterbein, Past Arts Editor
As a member of the Best Friends of Friendly's Ice Cream Club, Felicity enjoys not taking life too seriously. She appreciates all walks of life and accepts all those who are willing to share a smile. 
As the Arts Editor, she enjoys uncovering new music and discovering the hidden gems of the Boston and Suffolk arts communities.  She enjoys supporting both her friends and university by attending and reviewing Suffolk-based art by featuring the array of talent that can be found on campus.
She prides herself on her uncanny ability to document every waking moment of her dog, Shadow, and can most always be found with an iced coffee in her hand. If you're looking for her, she's usually at her desk inside of The Journal office watching SNL reruns or galavanting through the Isabella Stewart Gardner Museum.