Ford Hall Forum talks women in workforce, investigative journalism
Hang on for a minute...we're trying to find some more stories you might like.
When people hear "investigative journalism" the first image that may come to mind is a reporter with their microphone in someone's face saying "gotcha!"
There is a stigma that the press is constantly trying to catch people up to no good. This past Thursday, three women in the field set out to discuss the realities of being a woman in the investigative journalism field by the Ford Hall Forum held at Suffolk University's Modern Theater.
Jenn Ableson is a Boston Globe reporter on the Spotlight team. Beth Daly is a senior investigative reporter at The Eye. Joan Vennochi is a Boston Globe op-ed columnist and a part-time faculty member at Suffolk. These women served as the forum's three panelists. Eileen McNamara, a Pulitzer Prize- winning journalist served as the moderator and asked the women a variety of questions, her first being, "Why is investigative journalism dominated by white men?"
Each of the panelists took their turns sharing personal stories about the challenges they faced while working in a male-dominated field. Each woman had her own experience by being the only one on the team of more than ten men, typically as a secretary answering phones or getting coffee for their male counterparts.
Ableson, the youngest of the three panelists spoke about how much the field has changed since she began, and is happy that women's voices are now beginning to be listened to more often than they used to.
In an interview with The Suffolk Journal, Vennochi also commented on Ableson's experiences and said, "It was especially interesting to hear how younger women view the workplace. Some of the challenges are the same, but there's also a lot of progress to celebrate."
Although a difficult task at times, Vennochi said, "You do have to be willing to get people angry. You do have to be ready to take on the power."
After sharing their stories, the panelists began discussing the difference between "good" and "bad" investigative journalism. The Rolling Stones article "A Rape on Campus: A Brutal Assault and Struggle for Justice at UVA" was briefly mentioned.
The story, published on Nov. 19, 2014 was said to be one of the biggest journalism failures of the decade. The article told the story of a University of Virginia student who was allegedly gang raped at a campus fraternity house. In the weeks following publication of the article, questions began to arise about the validity of the account. Rolling Stone officially retracted the article and issued apologies to everyone who was damaged by the article including members of the Phi Kappa Psi fraternity, UVA administration and students.
The panelists spoke about how devastating the report was, both for women who have been victims of sexual assault, as well as for the credibility for journalists everywhere. They said that the credibility of women making rape allegations may now be affected by the outcome of this article. Journalists too may be viewed in a different light as it became clear to the public that Rolling Stone failed to follow basic journalistic practices, according to the panelists.
As an investigative journalist, there is even more pressure for facts to be accurate: "For us the most important thing is getting it right," said Ableson.
Half-way through the forum, a microphone was opened up for the audience to come up to and ask questions. One man in particular began complaining about articles that Eileen McNamara had written several years ago. He criticized her for an article she had written, and for the stance she had taken in the opinion piece.
In an interview with The Journal, panelist Vennochi had a positive perspective on the audience member's commentary explaining, "He remembered her words from decades ago and they still got him mad. In its own way, that's a huge compliment."
Several other audience members took to the microphone to ask questions about social media, the presidential debate and data collection.
The panelists wrapped up their forum by sharing an appreciation for women who are successful investigative journalists. Beth Daly said, "They go where others are not, where no one is shining a light."
The next Ford Hall Forum at Suffolk University will be held on Oct. 20th, and will discuss Charter Schools and Question #2 on the November ballot.

About the Contributors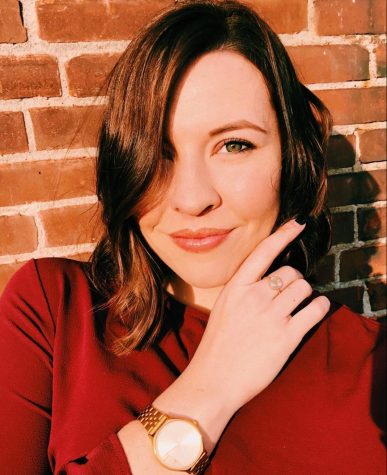 Haley Clegg, Editor-In-Chief
Haley is a senior majoring in broadcast journalism. Aside from writing, her main passions are photography and traveling. When she isn't in the Journal office, she is most likely to be found exploring Boston with her camera in one hand and a coffee in the other. After college, Haley hopes to be an investigative reporter or an international correspondent.