Final farewell to the irreplaceable
Hang on for a minute...we're trying to find some more stories you might like.
At the beginning of the Boston Red Sox's 2016 season and on his 40th birthday last year on Nov. 19, David Ortiz broke the city of Boston's hearts and announced that he would be officially retiring from Major League Baseball (MLB).
Ortiz's team and other MLB teams have shown respect for the slugger as he took the field for the last time at each stadium this past season. They have showered him in gifts including the phone from the Baltimore Orioles dugout that he destroyed in 2013 and a portrait given to him by the Los Angeles Angels. In his last series versus the New York Yankees, the crowd gave him a standing ovation. Just days before the series, Ortiz wrote a letter in the Players' Tribune to the city of New York. In the letter, he addressed rumors of what Yankees fans would do in his final send off. He also discussed looking up to players like Derek Jeter and Mariano Rivera when he first came to America. Most importantly, he thanked the Yankees for being a perfect rival for the Red Sox.
The most important goodbye came from the Red Sox themselves. In Ortiz's last regular season series at Fenway Park, the team planned to honor him every night. They decked Fenway out in banners with Ortiz's silhouette that said "Thank You." The center field grass was also cut in the shape of Ortiz's famous hand gesture to the sky when he hits homeruns.
Ortiz said in his article to The Players' Tribune that: "Boston is not just my team. Boston is my city. I consider myself a Bostonian, and it's the thing I'm most proud of in the world."
On Sept. 30, the team honored him with a video that showed all of the work that The David Ortiz Children's Fund had done since being established in 2005. The fund works directly with medical centers in the Dominican Republic and New England area that perform lifesaving pediatric surgeries. To this day the fund has helped to save the lives of 563 children, some of which got to walk the field that night. The video tribute showed just how big Ortiz's heart is. The city of Boston also plans to rename the bridge that carries Brookline Avenue over the Mass Turnpike to the "David Ortiz (Big Papi) Bridge." The team had an exciting 5-3 win in which Ortiz scored the go ahead two run homer to put the team on top of the Jays.
On Saturday, many athletes from the Patriots, Bruins and Celtics came out to honor their fellow athlete Ortiz. Bobby Orr and Ray Bourque, two iconic defensemen, represented the Bruins. Representing the Patriots were defensive back Ty Law and Hall of Famer Andre Tippett. The Celtics marched out their whole current team wearing Celtics jerseys with Ortiz's number on the back. Ortiz was also emotionally welcomed on to the field by three Boston Bombing survivors, Patrick Downes, Jessica Kensky and Jeff Bauman.
It was also clear that Ortiz's teammates will also miss him when he retires. Second baseman, Dustin Pedroia, has been playing alongside Ortiz since 2006. In a letter published by sports radio station WEEI, Pedroia wrote how much of an impact that Ortiz had on his playing career.
"David, you've meant so much. You're one of the guys that taught me to be a major leaguer, respect the game, show up and play to win every day. That's the reason you're so great. It's your preparation, and the way you show to work every single day. This has constantly inspired me," said Pedroia.
In Ortiz's JockBio biography, Ortiz's story starts in the Dominican Republic where he grew up watching his father play baseball in Dominican leagues. He learned to love the sports of baseball and basketball, both of which he was skilled at. Many people realized early on that Ortiz would become a great slugger, because of his strong and fast hands.
In 1992, the Seattle Mariners had an interest in Ortiz and signed him as a non-drafted free agent. At the time Ortiz was only 17. He worked his way up the minor league ladder and established himself as one of the team's rising stars. In 1996, Ortiz was with the Wisconsin Timber Rattlers, and in that August, the Mariners traded Ortiz away to the Minnesota Twins. On Sept. 2, 1997, he made his major league debut at Wrigley Field. Ortiz fought injuries and failed to play consistently with the team. The team released him in 2002.
The next part of his story became history. On Jan. 22, 2003 Ortiz signed as a free agent with the Red Sox. Ortiz went on to be one of the most legendary Red Sox players. He won three World Series with the team in 2004, 2007, and 2013. He was the World Series MVP in 2013 and a ten time MLB All Star. He became a six-time Silver Slugger Award winner, and just last year joined the 500 home run club. He continued to put up impressive stats throughout his whole career and became a Boston icon.
This year Ortiz proved that age does not matter as he continued to impress the MLB. He was intentionally walked 200 times in his career becoming only the 15th player of all time to do so. In August when Ortiz hit his 30th homer of the season, he became the oldest player to ever do so. He also broke a Red Sox record by reaching 100 RBI ten times in his career. Ortiz also became the 15th player of all time to reach 600 career doubles. Ortiz tied Barry Bonds and Hank Aaron 600 career doubles and 500 career home runs. .The Sox slugger is not done yet as his team is now the American League (AL) East Champions last Wednesday. They will open up their postseason on Thursday against the Cleveland Indians, which will be the Indians first playoff game in three years.
The Sox ended up losing 4-3 to the Jays on Sept. 30. Ortiz singled in the fifth inning, had Travis Shaw pitch run for him, and decided to leave the game due to rainy conditions. Every fan stood and cheered as their beloved DH exited the field.
In total, Ortiz ended his career with more than 8,500 at bats, more than 2,000 hits, and more than 600 doubles. Ortiz also finishes with more than 1,400 hits and over 1,700 RBI, according to  data provided by the Elias Sports Bureau featured on ESPN.com
Ortiz led the league in slugging percentage, on-base plus slugging (OPS), and doubles. The Sox had a disappointing end to the season last year. but are back in first place this season. Ortiz said his team looks to gain home field advantage going into the postseason.
One thing is certain as Ortiz reaches his final games: he is a player that will be remembered. Boston will never forget the memories, the laughs, the walk offs, and the history. While he may retire at the end of this season, Ortiz will always be a Red Sox player at heart. His last and final goal: to bring home the World Series trophy.

About the Contributors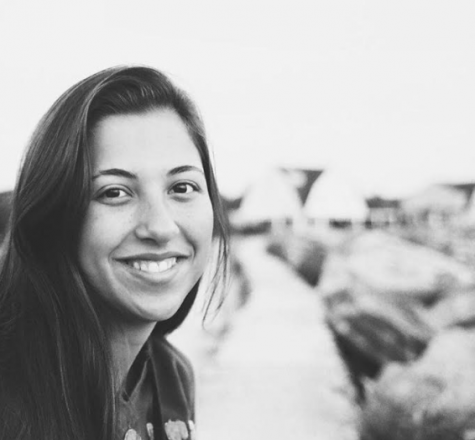 Hannah Arroyo, Sports Editor
Hannah Arroyo is a junior, the Sports Editor, and a Broadcast Journalism major who hopes to work in sports media someday. She passionately follows New England sports and can often be found exploring new spots in Boston. She enjoys going to Fenway Park, searching antique stores and pranking her friends. By writing for The Journal, she hopes to improve her journalism skills and eventually explore writing stories that differ from sports.