Suffolk hopes new chairman brings stability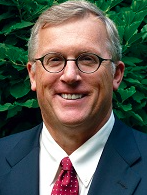 As the class of 2016 filled in for graduation after a year of unprecedented student rallies and media-wide controversy, eager faces welcomed noteworthy guests, President Margaret McKenna and recently announced Chairman Robert Lamb in his first public appearance.
Meanwhile and previously, a number of powerful names were thrown into the mix in the search for the next Chairman of the Suffolk University Board of Trustees in attempt to bring the school into a new era of stability.
Of the list were a number of Boston powerhouses nominated by current Board members and McKenna, but interestingly enough, all local requests were denied, according to the Boston Globe. Instead, the Board members ultimately decided to look beyond Boston and into New Hampshire, where a nominating committee chose former insurance executive Lamb as its top choice for the university and the Board, according to the Globe.
After tension unfolded between the Board and outgoing McKenna this year in a media frenzy, a coalition between students, alumni and staff was created as they rallied and demanded transparency from the Board, previously reported by the Journal. With a negotiation between former Chairman Andrew Meyer and McKenna reached resolution, in May Meyer left his post officially, opening up Lamb who hopes to transform the university.
It appears the Suffolk community has continued their strong support of McKenna, anxiously awaiting the implementation of the Board's recently updated bylaws.
"I'm encouraged by the steps the Board has taken recently and I'm really looking forward to putting behind the unfortunate circumstances of the last year," said Student Government Association (SGA) President Sean Walsh, the previous vice president who was deeply involved in last year's affairs and worked alongside former SGA President Colin Loiselle.
For the Chair of the Philosophy Department Greg Fried, another strong faculty voice in the spring, he, too, looks to ensure that the governance problems for the Board are put as top priority to fix.
Fried shared that he expects Lamb to make sure the new bylaws are adequate, modern and that they, "fit best practices of similar institutions." The next, Fried said, is to oversee the transition of the Board.
"There are vacancies up on the Board and we need fresh faces," said Fried in a recent interview with the Journal. "Not just the roles of governance, but the style of governance needs to change."
For Walsh, these roles of governance rely on Chairman Lamb's ability to adapt and reform the university.
"Really what we're looking for is an experienced leader who is going to take control of the Board. The new Chairman's top priority should be promoting effective governing practices," said Walsh. "In my opinion, Chairman Lamb needs to put a high priority on engaging students, professors, alumni, staff and administration in the Board and university's affairs."
"This sort of transparent engagement starts with the leadership of the Chairman," said Walsh. "If that leadership is applied, I am confident that the Suffolk community will be able to rebuild."
Insofar as members of administration speaking out on Lamb's recent appointment, retiring Dean Nancy Stoll's initial impression of Lamb is that he seems committed to learning about the university and its vast community.
"I expect that this approach will include outreach to students and probably through SGA, GSA and SBA as representative of student leadership," said Stoll. "I wish him well as he assumes this critical role."
As Dean Stoll ushered in a new graduating class as a commencement presenter of diplomas, the image of a new age for Suffolk beside McKenna and Lamb was profound. For department of Government professor John Berg, he seems optimistic of Lamb's recent appointment.
"I heard him give a talk at the commencement dinner and it was really moving. The connection he feels to Suffolk," said Berg.
Commenting on Lamb's alma mater West Point – a well-known military establishment – Berg shared that Lamb's background and family life, being one of seven children is admirable, especially given the financial support from Suffolk that enabled Lamb to do what he wanted to do.
"He's always remembered and always felt that Suffolk was a place that helps people like him," said Berg.
On moving forward, "I think it's good that he is not tied to the past leadership or the Board. It's a good thing that not many people knew who he was," said Berg. "I have high hopes."