Law professor to advise McKenna on diversity issues
Newly appointed advisor aims for opportunity, inclusion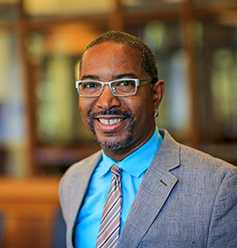 Frank Rudy Cooper, a Suffolk University Law School professor and President Margaret McKenna's Senior Adviser for Diversity, has been appointed to lead a task force to address diversity issues at Suffolk.
Having spent his career focusing on many different diversity topics, including race and masculinity issues, Cooper said he plans to use his experience to help make Suffolk more welcoming and inclusive.
On accepting the position, he recalled that the university was founded to support groups who had limited opportunities, something he strongly believes in.
"The legend is that [Gleason] Archer tried to get more Irish Bostonians into Harvard Law School, and when they said they weren't willing to do that in any significant way, he started his own law school," said Cooper. "So the law school, which preceded the university, was founded on the idea that we were going to give access to opportunity to groups who had historically been marginalized. So to me, the core of this position, and also of this university, is to expand opportunities."
Cooper grew up in Cambridge where, "from an early age … I was being taught a lot about the importance of diversity and inclusion and also equity, which is sort of equality along a number of axes, not just race but also gender, sex orientation, age, disability," he said.
That awareness led him to develop a concern for diversity and inclusion as a student at Amherst College and Duke University School of Law, where he was involved with the Black Student Union and the Black Law Student Association, respectively, and "friends of the gay, lesbian and bisexual community."
As a young man, Cooper knew of Suffolk, but had an impression that it was not a school for all of the city's students.
"When I was in my 20's, my impression of Suffolk was it was a great place to be a local kid of Irish or Italian descent to move up in the world and become involved in the politics of Boston, but maybe it wasn't such a great place for African Americans, for Latinos, for Asian Americans," said Cooper.
"That's an issue, because our mission tells us we should be, first of all, a place where there's access to opportunity for a variety of people … Not only in the sort of phenotypical looks in terms of race, but also in terms of gender, sex orientation, age, disabilities, whether people are originally from the United States or not," said Cooper. "Those are all axes along which we should look like the local community, especially because we are branding ourselves as 'Suffolk Boston.'"
Indeed, part of Cooper's task force's work will focus on making sure Suffolk is an inclusive environment and that the school's community reflects the demographics of the city around it.
"We should reflect some of the diversity of Boston," said Cooper. "Inclusiveness is welcomeness, so not just that we have a variety of types of people at this school, but that everyone feels welcomed in the community, welcomed in the classrooms, but also welcomed in the social spaces and the workspaces of the school."
Aside from the school's demographics, Cooper said he hopes to address complaints of insensitivity in classrooms across campus.
"Some issues that, anecdotally, I've heard about are students in classes making comments that show that they are naîve about the experiences of minorities — racial minorities, sexual orientation minorities, people from different countries," he said. "There's always a tension with offensive comments in that. We want people to speak up and share their views, but I always tell my students, 'You can and should attack ideas. You should never attack people.'"
Above all, Cooper said the school has an ideal opportunity to address these issues under a university president who has also focused on diversity throughout her career.
"We have a great opportunity at Suffolk right now. We have a president who is a civil rights leader who really cares about diversity, inclusion and equity," he said. "We need to take advantage of this window for making this a stronger place, a better place, a more welcoming place."