Suffolk hosts distinguished photographers
Ut, Harris talk technique, journalism, danger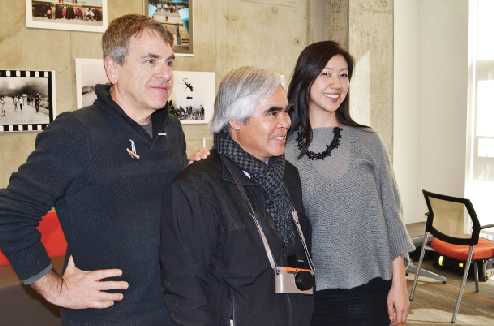 Nick Ut and Mark Edward Harris have spent their careers behind the camera. Nevertheless, when the two, escorted by Senior Lecturer Ken Martin, walked into Union Oyster House during their recent trip to Boston, they were immediately identified. A man at the restaurant's bar approached Ut, asking about his internationally-recognized photo of a young girl running, naked, away from a napalm bombing during the Vietnam War.
"Are you the man who took that photo in Vietnam?" Martin recalled him asking. The man shared that the photo changed his life and stopped him from joining the military.
Ut and Harris were Suffolk's guests early this week to discuss their careers as photojournalists and share their work. Ut, whose fame originated from the Pulitzer Prize-winning 1972 photo, worked as an Associated Press photographer during the Vietnam War and is now based out of Los Angeles, taking Hollywood photos.
"Nick would have been shooting the Oscar awards if he wasn't here," said Martin during one of three campus events featuring the photographers.
Harris, also based in Los Angeles, has published several books of his photographs, most notably from his time working in Iran and North Korea.
"Mark certainly goes off the tourist trail, to say the least," said Martin.
In response to whether or not he is ever nervous as a photojournalist on unfriendly terrain, at an event on Monday, Harris said the most dangerous places are usually within United States borders. Ut agreed, recalling that he has been mugged in Los Angeles in the past.
"People say, 'Aren't you afraid you're going to be arrested?' It doesn't work like that. If you're a Westerner and you follow the rules, you're in and you're out," Harris said.
During the event, Ut presented a slideshow of his photographs from his time in Vietnam, most depicting the life of Kim Phuc, the girl from the famous photo, then 9 years old.
Pictures scrolled past of Phuc now, photos of her scarred back and medical treatments juxtaposed with her smiling face with her husband and children.
Ut shared his personal thoughts of what he, as a photographer, went through when he saw young Phuc running from the napalm.
"Early in the morning, I saw Vietnamese refugees running through the village to Saigon," he said. "I look for my camera and finally saw, in the black smoke, the girl running naked. I didn't want to take any more pictures of her. I wanted to help her."
Ut also shared his more modernized photographs, mostly celebrity-themed.
"I took pictures of napalm, and 35 years later, I take pictures of Paris Hilton in jail," he said with a laugh.
Technique, Harris said, is one of the most important aspects of photojournalism, as editing journalistic photos ruins validity of the newsworthiness of what is depicted.
"You can't, in a journalistic circumstance, manipulate the picture. The minute you start using Photoshop, that's the end of your credibility. What I try to do is create a 3D scene," he said, using the example of shooting over people's heads at a parade to "get more of a sense of being there."
The two photographers emphasized this and many more strategies of photography during a master class on Tuesday.
Harris's time in North Korea, he said, enabled him to shoot his favorite kind of photographs, where individuals' everyday lives are documented.
"I love doing environmental pictures, pictures of people in their environment. You can work with the person to create the shot … to say something about that person," he said.
However, an important element that Harris said he learned early on in one of the most guarded countries in the world was that photojournalists have to integrate themselves into the area before being able to capture what he called "authentic" photographs.
"If you do this day one in Pyongyang, it's not going to happen," he said.
Photographers, Harris said, are usually not aware of the impact their photographs will have when they are shooting.
"Sometimes everything just comes together," he said. "In reality, we have no idea what's going to happen."
Ut, however, said he knew that capturing the young, bare girl running from a bombing was significant as soon as he snapped the photo.
"I said to myself, that's the best picture I shot," he said.