Worst year at Suffolk?
McKenna can't finish diversity plans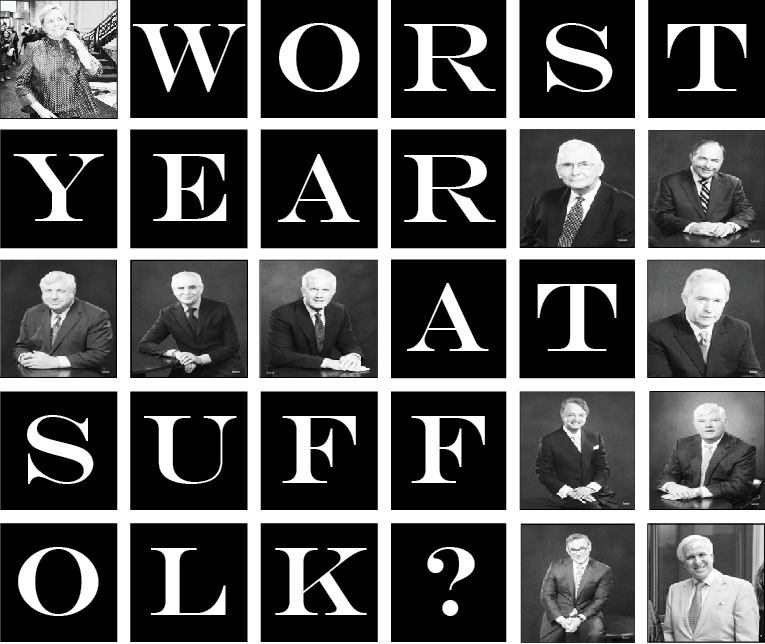 After watching President Margaret McKenna's supporters rally behind her this month, I realized many of them were vested in her efforts to improve an issue close to their hearts, diversity.
Students from dozens of backgrounds from the United States and abroad will spend some of their most formative years studying, expanding their network, and gaining the confidence to support themselves throughout their careers at Suffolk. The university needs stability to foster an environment for these students so they can achieve these goals.
However, the recent administrative changes have left the university unstable and have monopolized McKenna's focus on diversity initiatives that would ultimately help students engage in their surroundings.
Suffolk isn't the first school where McKenna has implemented a plan to improve diversity in higher education. As president of Lesley University, McKenna helped create their Diversity Council in 1993 to, "address diversity issues across six key areas: recruitment and retention, curriculum and instruction, institutional assessment, quality of life, diversity training and development, and student diversity issues," according to Lesley University's website.
With that experience in hand, McKenna announced in a December email to Suffolk community members that she would create a Diversity Task Force to establish among other things, a diversity plan that provides: a strategy to hire a more diverse faculty and staff, provide professional development opportunities for faculty and staff in the area of diversity, and implement a plan to review our curriculum through a diversity lens. The task force will be comprised of students, faculty, staff, and alumni.
In light of McKenna's removal, worries on her ability to carry them out fully would be understandably present given how little time she has had to work on them.
Sheikh "Nash" Nasher, a freshman mathematics and general sociology major, appreciates McKenna's willingness to engage students and make their voices feel heard.
In an interview with the Journal Nasher said, "I feel very proud that I came to Suffolk University. I am the first in my family to make it to college in America," she said. "I'm very involved in the community. So, I saw President Margaret McKenna, in the past seven months she has held her position, being everywhere and talking to students," said Nasher.
"That's what we feel connected to, a leader who is taking care of us and telling us, if you have a problem, come talk to me."
In her email to the Suffolk community, McKenna said, "I look forward to working together to create a more diverse environment that most benefits our students and community." The email shows how dedicated she is to helping Suffolk and its students.
Madelyn Soto, office coordinator of the World Languages and Cultural Studies Department, emphasized that the most important mission of the staff is to serve the students. Soto says McKenna has been the first president in her time to show a commitment to making Suffolk a more diverse campus.
Soto knows firsthand that a diverse university staff can keep students from other cultures engaged at the university. Students come from a variety of backgrounds and countries, and making them feel welcome is beneficial for all.
"For example, I could have a Latina student who just came from Costa Rica, and she might feel more comfortable talking to me because I'm bilingual rather than speaking to someone who only speaks English.
It's a cultural thing," she said. "If students feel comfortable here, they'll remain and grow."
To keep the campus welcoming to all students, McKenna's plans for a Diversity Task Force should be continued in the next few years and long after her imminent departure.
"This is not an issue that will be solved in one or even several semesters," said the email, additionally highlighting the need for a sense of urgency to help the university become more diverse.
Moreover, keeping students engaged and confident will require Suffolk to continually gauge the diversity of our community, and it is essential that our president follows through with that initiative and passes concrete plans onto her successor.
A key focus of that, I think, should be to expand awareness to students who don't have diversity on the forefront of their mind. We have several university offices and student clubs dedicated to spreading the word on this issue, and with a president eager to support their efforts, their message could have a much farther stretch to both the student body and other stakeholders if she starts making changes now.
Although McKenna has only been in office for seven months, simply not enough time to see the full results of her ability to engage students and staff and draw attention to making a more diverse campus. But she has stood up for an important constituency that has often been neglected. In light of this, McKenna needs to be steadfast as the community anxiously awaits her support.