It's more than a game
Hall of Fame coach Edward Leyden's continued success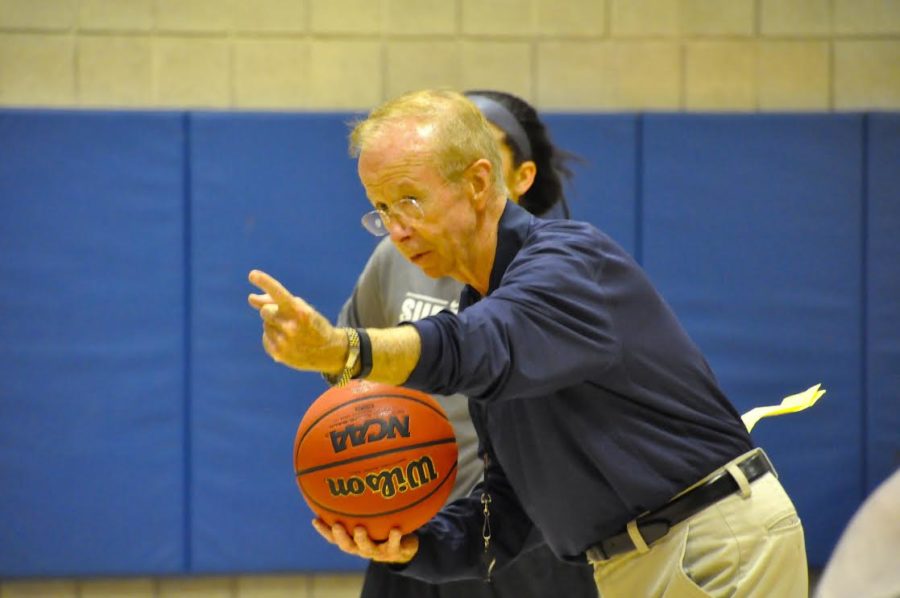 For over twenty-two years Edward Leyden has coached the Suffolk women's basketball team, and has been a vital part to their success.
As Leyden enters the 2015-16 season with a career record of (329-229), he reflects back on how he initially was introduced to the world of coaching. A former teacher at Revere High School, Leyden was presented with a temporary coaching position at a time of need three decades ago.
"I was asked to coach by some students," said Leyden. "I was teaching high school at the time and the high school team had two coaches that quit on them."
From then on he stayed in the realm of coaching, arriving at Suffolk in the early 1990's.
"The students were looking for someone who would coach them and no one would. I thought I would coach them for the rest of the season and go back to my world, and thirty years later I'm still doing it."
He said, "I got the bug and I like it as much now as when I started." After eleven seasons at Revere, Leyden left with three Greater League Boston Titles and two coach of the year awards from the Massachusetts Basketball Coaches Association.
After leaving the Revere basketball program he changed its identity as he amassed a win-loss record of (84-36).
Leyden was on his way to Beacon Hill with a mission to repeat his previous success. Prior to his arrival, the Lady Rams' basketball team held a losing record year after year. The team posted an (85-201) record between the 1980-1994 seasons, prior to Leyden's arrival. From then on things began to look up for the women's basketball team, hitting a double-digit win total during Leyden's second season.
Leyden has been around long enough to see the game of women's basketball evolve. Leyden started his career in the old school era, and has seen the progression and evolution first hand.
"Kids play year round now," Leyden said. "Kids are more athletic. I don't think they're as fundamentally sound, but I think the kids are much more athletic and are also more advanced offensively than maybe fifteen years ago." said Leyden.
With the Lady Rams off to their best four-game start since the 2013-14 season in which they finished 16-10, coach Leyden is very optimistic for the remainder of the season.
"We have our work cut out for us. The teams that we play are very good. We really respect our opponents and it's a very long season. What our hope is that by the end of the season we can make games meaningful, and that we're right in the thick of things," said Leyden.
Coaching at Suffolk for three decades means that Leyden has accumulated many memories. In an interview with the Journal Leyden shared which memory sticks out the most.
"I think beating Emmanuel in 2008 was certainly a highlight," He shared. "We were the eighth seed and we upset the fourth seed — Albertus Magnus, my seventh or eighth season in. It was suppose to be a very easy game for them, and we ended up upsetting them in New Haven. That was a terrific game," said Leyden.
The '07-08 campaign was truly special which is why that team was inducted into the Suffolk Hall of Fame class of 2015.
Being a Hall of Famer is one thing, but being a two-time Hall of Famer in one year is an impressive feat. Along with being inducted by the school he was invited into the New England Basketball Hall of Fame.
"I was surprised and I was humbled," said Leyden "It was a terrific honor, and the recognition was great. I never scored one basket for Suffolk University so really I took it as a team award. For the kids that played for me it was a nice recognition."
Despite all of the recognition of being a Hall of Famer, Leyden is still humbled and down to earth. He takes the added notoriety and recognition to thank his players for the work they've put in on the court each practice and game.
"It's great but you also understand it's the players, because it's a players game. I've been fortunate to be the coach of some kids that were really good basketball players." He said.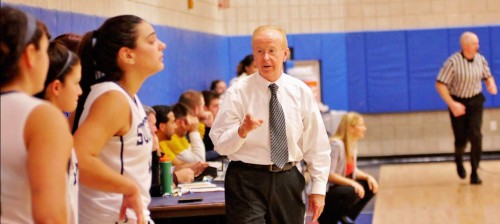 "I did my part if the team had 14 or 15 kids — I did my 1/15th of a part sometimes, and I recognize that it was the kids. I accepted the award representing the team, because I'm a team guy," said Leyden.
When talking about the upcoming season, Leyden spoke about how important starting from scratch is.
"I live in the present. I'm really trying to be a good coach this year. You really have to prove to yourself whether you're a player or a coach, you have to reestablish yourself every year, and I'm really trying to be a good coach this year," said Leyden. "Someday when it's taken away from me, then I'll kind of evaluate things. I'm really trying to establish myself this year as just holding my own doing my 1/15th for our team."
"It's hard to win a game. Other schools recruit. Other schools have tremendous facilities and tremendous academics, and very smart coaches," said Leyden "It's not easy to win a game, so it's very challenging. We have to work harder than other people, and again I've been fortunate to have pretty good players to overcome things and win games."
Leyden continued to stress the importance of his players.
"So far this year it's been all for one and one for all, said Leyden. "[The] kids come to work everyday and bring energy. We've fought like hell for games, so what more can you ask for from kids. Every year we've had teams that have been grounded and solid and have played like teams. We're not into creating divas and superstars, we're trying to build a team."
The team makes Leyden want to return each season and teach the game in a way that'll be beneficial to them. It's the passion for the game and the character of his players that make him want continue to return as the coach.
"The people, the kids. It's really cool to be around people who are invested in the sport and work hard. It's very refreshing, I really consider myself blessed. I'm very fortunate to work with people that love the sport, love the subject and want to be good at it," said Leyden.
Leyden's love for basketball and his players is evident. But all great things must come to an end. Leyden acknowledged this by saying.
"I have no idea, I see myself as a lifer. My health is good, my interest is good, my energy is good. As long as that remains and the school wants me, I love what I do."
Leyden has become a legend on and off the court. Leyden always held his players to the highest standards, but he always focused on one thing throughout his career.   
"The kids are the stars."