How are Native Americans represented in the media? How do fashion companies perpetuate stereotypes of Native people and profit from copying Native designs into their products? And what can be done about the injustices against Native people who persist today?
Dr. Adrienne Keene, a postdoctoral fellow in Native American studies at Brown University and a citizen of the Cherokee Nation, visited Suffolk on Tuesday to break down these complex questions for Suffolk students.
Her lecture in the Donahue Cafe was part of a Speaker Series run by the Office of Diversity Services called, "At Our Intersections: Representation and Identity."
Keene also runs the popular "Native Appropriations" blog, where she covers misrepresentations of Native Americans and contemporary Indigenous peoples' issues.
A major focus of her writing is examining how fashion companies exploit Native cultures by selling products that they pass off as Native-or-Indian-style designs, which Keene said is a disservice to Native culture.
"It's the distilling down of Native culture into things people can buy in stores," she said.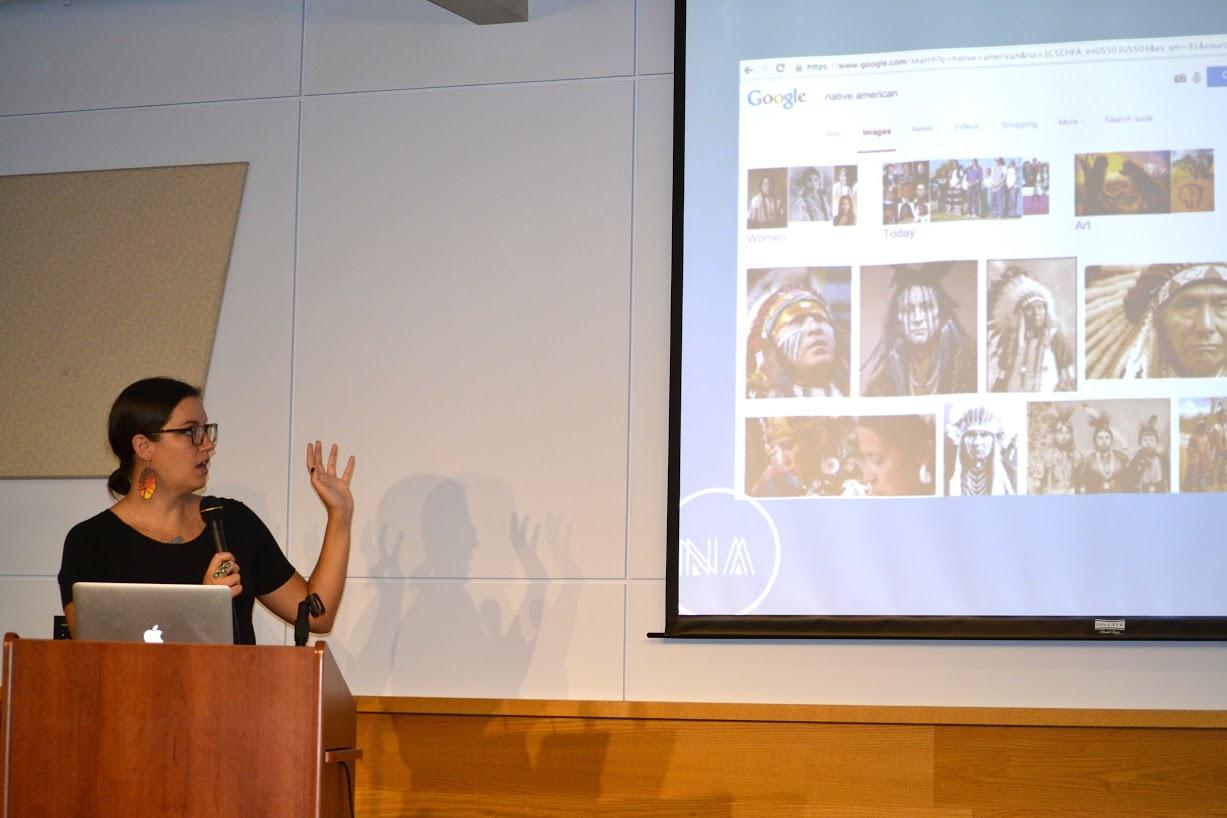 Keene uses her blog to publicize such incidents. While stores don't usually reverse course, she had a particularly positive experience with clothing company Paul Frank.
The company held a controversial Native American-themed party and posted photos of attendees on their social media. Keene's blog post on the incident called them out for misrepresenting Native culture. The media picked it up, and rather than brush off the criticisms, the company reached out to Keene.
Paul Frank's president apologized to Keene and agreed to collaborate with four Native American artists to release products designed by them.
In another incident, Keene confronted Netflix for writing an offensive description of the Disney movie Pocahontas in a blog post that attracted significant attention on social media. In response, the company altered the description to be a more positive reflection of the title character.
"It showed me, truly, the power of social media and how one voice can make change," Keene said of the incident.
Keene also had plenty of ideas for how colleges can be proactive in including Native peoples on campus.
"Ask local Native tribes 'Whose land are we on?' Keene said. "Every single university, every single place in the United States, is on indigenous land. As a university, say 'Whose land do we occupy and how do we build a relationship with that community?'"
Keene said she think students will feel more welcomed on a campus that has already reached out to the Native community.
"As a native student coming into a space, if you see that that connection is established, and that native peoples from the area are welcomed into a space, it does a lot for feeling that your identity is affirmed and respected," she said. She noted that it takes a long time to build such relationships with Native tribes, but it is important in the long run.
Keene also said every level of the organization has to consider how it includes Native students, from recruitment and retention, to the micro-level of how they are represented in different classes.
"Are Native scholars included on the syllabi? Are Native people talked about in present tense, or is it something that is only reserved for that one history class that covers the 1800's?" she said.