Thriving alumnus switches gears
From leading man to humble volunteer, Jacob Athyal is preparing to take a break from his hectic acting schedule to dedicate himself into service work with the Peace Corps.
Athyal '14 has been professionally performing around Boston since his sophomore year. After landing a role in Company One's, "The Elaborate Entrance of Chad Deity," Athyal has booked show after show.
"Company One really needed an athletic Indian for a role, and I love my people to death, but we're not exactly famous when it comes to athletics," Athyal said. "I didn't deserve it; I was spoon-fed."
As he essentially was handed a role in what he said was an extremely successful show, Athyal said it put him in a position to continue working hard and fast.
"We're just in a weird place right now in Boston theater in which we're getting really liberal where people want to hire people of color, but simultaneously not liberal enough to give women roles," he said. As a result, Athyal has been steamrolling the city's theater scene.
"As of right now, I happen to fill this niche that I'm lucky enough to be around for," he said.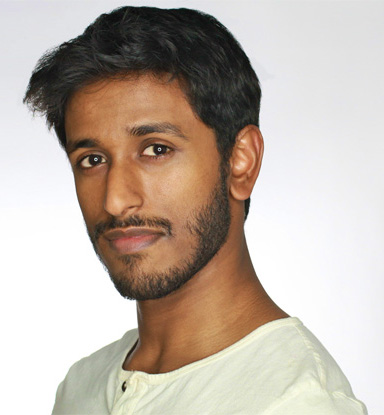 Athyal's love for theater, however, will soon be put on hold for a two-and-a-half year service in the Peace Corps. Though decisions are still up in the air, Athyal said the organization is nodding toward work in Sudan.
"There's something beautiful about Africa," he said, mentioning that his mother's Ugandan roots have always sparked a yearning in him to visit.
The idea to join the Peace Corps came to Athyal from a need to branch out of his comfort zone.
"Any time you think you're comfortable in a time and space, do something that completely pulls the rug from under you," he urged.
Acting, Athyal said, triggered a continuous drive in his life that he quickly realized he needed to slow.
"There's something that's really scary when you stop and realize you're in this whirlpool that can't actually stop," he said.
"I'm at an age right now that I know theater's what I want to do for the rest of my life, but I'm aware that I have the rest of my life to do it."
This pause, Athyal said, will not only be beneficial to his life, but also to his career.
"A lot of times, you can't really be an honest person on stage if you don't know your own self completely and truly. You can either sit and ask questions, or you can go out and try to put yourself in a scenario where you're forced to answer questions," he said.
In tune with this philosophy, Athyal said he is not sure if going back to acting is what he wants to do after his term with the Peace Corps. He said the idea of "throwing the cards in the air and letting them land where they will" is front and foremost in his mind right now.
As he prepares to make some changes, Athyal said he thinks his willingness to communicate is something he can bring from theater to his service.
"If I have anything, it's an enthusiasm to communicate; that's pretty much what acting is, and I don't know what profession that's not useful for," he said.
Athyal emphasized that although he knows he loves theater, he wants to use this opportunity to step back and analyze where he wants to go with his life.
"You can kind of think about where you want to go in life, but one day you're sitting down in your 40s and you have your 'aha' moment of, 'This wasn't where I was supposed to go,'" he said.
Athyal, full of humility, said he is in no place to give advice, but stressed that kindness and hard work are the most important things he learned from Suffolk.
"Theater is inherently a social aspect; it's supposed to be collaboration. You don't want to collaborate with someone who's a pain in the butt," he said.
The biggest issue he has seen has been those who are more concerned with fame than work.
"They don't want to be really good at their craft, they want to be on Ellen," said Athyal.
Leave a Comment
About the Contributor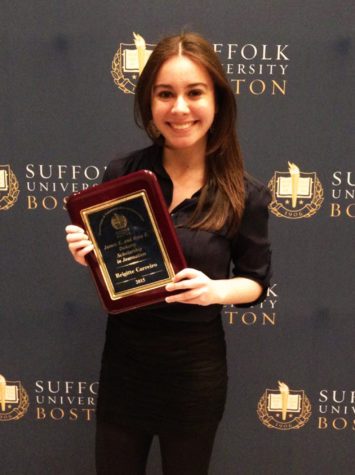 Brigitte Carreiro, News Editor
News Editor for the 2015-2016 year, print journalism major and intern at the Improper Bostonian magazine.