Vermeer exhibit looks closer at social classes
For the first time at the Museum of Fine Arts, two pieces by painter Johannes Vermeer were on display in an exhibition aimed at celebrating Dutch painters and exploring societal distinctions.
"It was an era marked by political change and war, and by great disparity in wealth," presented an introduction to the gallery. "This exhibition – the first of its kind – explores masterpieces from this moment in Dutch history through the lens of social class."
"Class Distinctions: Dutch Painting in the Age of Rembrandt and Vermeer" was a product of five and a half years worth of work by Senior Curator of European Paintings at the MFA Ronni Baer.
"Her husband said, 'Stop calling me Vermeer,'" joked Matthew Teitelbaum, director of the MFA.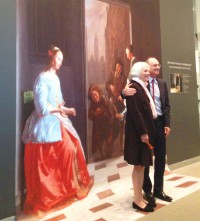 The exhibit came together to include 75 pieces by Dutch artists, including the famous Rembrandt, all lending themselves to a representation of Dutch 17th-century society.
The two Vermeer paintings, "A Lady Writing" and "The Astronomer," were displayed in the grand first room of the exhibit, a room dedicated to the upper class of Dutch culture. Large, ornate frames and a dark gray hue to the walls cast a regal glow, an element that Baer called a way to "evoke grandeur."
Though significantly smaller than most works in the gallery, the Vermeer pieces added an important aspect to the theme of the exhibition: the leisure of the Dutch elite.
"This wall is devoted to the leisure, the pastimes of the elite," said Baer.
"A Lady Writing" presents a young woman, dressed ornately in a satin dress, writing a letter. Pearls and elegant furnishings surround her, even though, as Baer explained, her actions are proof enough that she is high-class.
"The fact that she has time and knowledge [as a woman] to do that is why she is here," said Baer.
Along similar lines, "The Astronomer" is a tribute to the workings of 17th century Dutch scientists, and reflects the ease in which high-class individuals were able to take up extravagant hobbies, astronomy being "an intellectual passion that only elite were allowed to do," as Baer called it.
Vermeer's paintings, Baer said, will most likely create a buzz about the exhibit, drawing in people who may not come in to see an exhibit on Dutch society on their own.
"People are Vermeer-crazy in America," she exclaimed with a laugh.
It was obvious how passionate Baer was about her work, as she circled each room methodically, telling stories about the people and places represented in nearly every painting.
The exhibition was born from a grand idea and meticulous work by Baer. After a colleague presented Baer with an idea about class distinction, she said, Baer jumped right on board, adding her own touch to the plan.
"I loved the idea because I was looking to do a masterpieces of Dutch show, but you have to have a gimmick," she said. "We had to be very deliberate in our negotiations."
Baer added that to see her idea come to life after so long was exciting.
"It worked in print, but it actually worked as a show," she said.
Following the first room in the exhibit centered on high-class, subsequent rooms represented the middle and lower castes of the Netherlands, with the final room portraying where and how these classes would mix.
Marking the end of the exhibit were two large paintings, representations of all classes mingling. A piece by Johannes Lingelbach caught Baer's fancy, as she said she sees it depicting "Amsterdam as the center of the world." The painting created a fitting conclusion to the gallery, a product of her love for Dutch art.