If you want to learn more about the global business environment and international trade strategies of different countries, International Business Club is the perfect place to go.
Three years ago, freshman Erin Beardsley joined the IBC, hoping to gain a better knowledge surrounding different business cultures.
"This club is about bringing together groups of students who are interested in cultural diversity," said Beardsley.
"It's business-based, but certainly not secluded to just international business, and we encourage students from other fields of study to join," she said.
Beardsley is a senior at Suffolk, current president of IBC and hopes to spread further knowledge amongst international business students, both conceptually and practically.
The IBC's focus for this year will include putting together more company tours, hosting different guest speakers, and having trivia nights.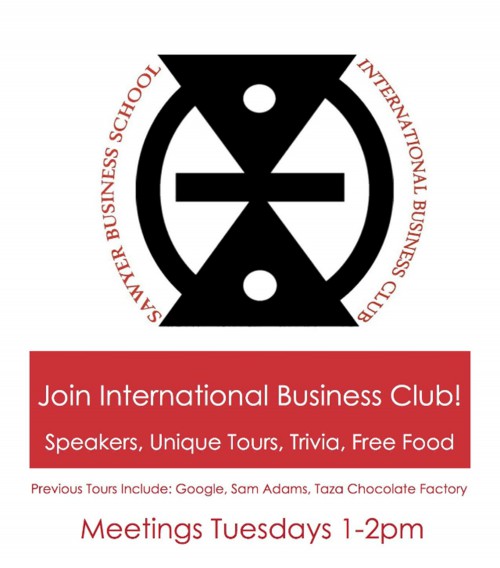 "Our goals for this semester include having five guest speakers come in to talk about global business, maybe specifically people who have worked in Boston and internationally," said Beardsley.
Most recently, the club resumed with new executive board members joining. Other members include junior Brittany Dervan, who is in charge of the marketing and communications services, as well as junior Sandra Valez, who also manages communications and marketing. Senior Nate Giordano serves as the current Vice President of the club, while Senior Laurel Chausse serves as the secretary and treasurer, and Senior Yamilet Gutierrez is the financial planner.
In the past, the club has hosted a multitude of events, featuring Sam Adams Brewery, Google, Taza's Chocolate Factory, Business Etiquette and Bikes Not Bombs, all of which they hope to work with again.
"The Business Etiquette event was really interesting," said Beardsley.  "We had a woman come in to talk to us about what kind of forks to use, what sizes, and which hand to use."
"All cultures differ, so the [business etiquette] event was definitely an important reminder that what may seem major in one country may not be the case in another," added Dervan.
Furthermore, the club is in the process of undergoing several changes.
"When I joined my freshman year, I started off as just a member, then sophomore year, I became part of the executive board and managed all the communications," Beardsley explained. "By junior year, I got more involved and did note-taking for every speaker event, just to provide a synopsis. Then, by the time I became President, we also teamed up with Entrepreneurship club just to encourage more people to get involved and held a couple of events together featuring companies like Samurai Investments and Veolia Transport. We still work with Entrepreneurship Club today and plan on hosting a couple of events together, in addition to possibly partnering with Women in Business."
Every year, Suffolk University welcomes students of various backgrounds and cultures. A large sum of these students are also in the Sawyer Business School, but aren't aware of the IBC.
The club's main purpose is to provide the opportunity to meet other students who want to learn more about the business environment and have the chance to work with professionals. It's a great way to network, as well as receive hands-on experience.
"When I was a freshman, I was able to meet someone who was doing something I wanted to do when I was older," said Beardsley. "I thought it was really cool, just to shake their hand and get a first introduction to how life is outside of college, and working in a professional setting."
Beardsley also recalled a professional opportunity she received through the IBC.
"I got one of my first internships through IBC, just from networking with specific people. It's nice just to have another way to get internships and help people branch out, maybe find a job for right now or after college."
Dervan's father will be a guest speaker, talking about his experience in the international business world, and his work for SAP, a multifunctional software company with existing offices in 130 countries.
"I'm really excited for this year and all the opportunities we'll have," said Dervan.
International Business Club meets Tuesdays at 1 p.m. The first meeting date will be Oct. 6, location to be determined.