Suffolk announces finalists in presidential search
Suffolk University on Monday announced the two finalists for presidency of the university.
A message to Suffolk employees from Head of the Search Committee Mark Sullivan said that Margaret McKenna and Louis E. Caldera are the finalists.
The finalists will visit campus separately next week. On Wednesday, the C. Walsh Theater will hold two open forums with Caldera who will then be available for a meet and greet later in the day. McKenna will visit Thursday, following the same schedule.
Both candidates have experience leading universities. McKenna, currently a professor at Brandeis University, served as president of Lesley University for 22 years, and Caldera formerly led the University of New Mexico as its president.
McKenna has served as a civil rights attorney for the United States Department of Justice, as well as deputy counsel in the White House and undersecretary in the U.S. Department of Education.
Caldera, president of Caldera Associates, was a member of President Barack Obama's transition team, has worked as assistant to the president and director of the White House Military Office after serving for the U.S. Army, and served three terms in the California State Legislature.
The university encourages students to attend forums and to meet the finalists, and promises an opportunity to provide personal feedback.
McKenna has a juris doctor degree from Southern Methodist University and a bachelor of arts degree from Emmanuel College. Caldera has a bachelor of science degree from the U.S. Military Academy, a juris doctor degree from Harvard Law School, and an MBA from Harvard Business School.
This announcement comes after Interim President Norman Smith has led the university since September. Smith joined Suffolk after the abrupt leave of former president James McCarthy.
Last week, Suffolk said there would be three finalists in the presidential search. Only McKenna and Caldera were announced as finalists on Monday.
It was reported by multiple news outlets that Marty Meehan, the former chancellor of UMass Lowell, was a finalist in Suffolk's search. On Friday, Meehan took a position as leader of the UMass system, running all five of its schools.
Suffolk has been in a state of transition for the last few years. The university is selling two buildings on Beacon Hill in a move to centralize the campus. In the fall, Suffolk will be opening a $62 million building on Somerset Street.
Leave a Comment
About the Writer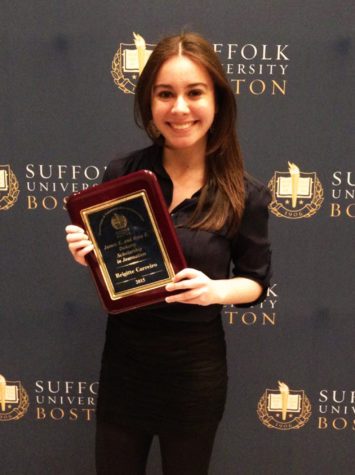 Brigitte Carreiro, News Editor
News Editor for the 2015-2016 year, print journalism major and intern at the Improper Bostonian magazine.