Vicious anonymity tough to regulate on the Internet
A generic news story is uploaded onto a website. You, as a user, read the story and then scroll down to the comments to see what others have to say. To your surprise, people are spewing hatred to each other in the comment section. Or perhaps not to your surprise, you're already in the comments, thinking of how to one-up another commenter with an equally negative comment that often relates to nothing to the article.
Welcome to the Internet.
Last Thursday's Ford Hall Forum panel focused on the topic of anonymity on the Internet. Panelists discussed their general thoughts on vitriolic Internet comments as well as how they think the comments should be regulated.
Panelists agreed that, while steps can be taken to regulate vicious anonymity, it will never go away.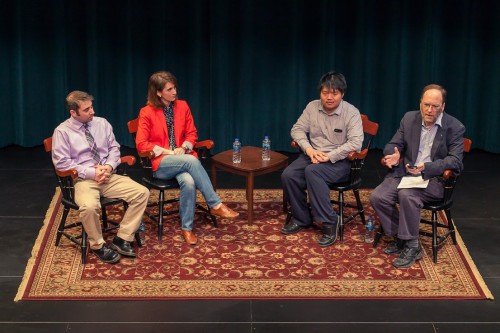 Arthur Chu, who is a blogger at the Daily Beast and Slate and a repeat Jeopardy winner, dominated the panel's conversation with his verboseness, and talked about his experience with Internet bullying.
"A lot of what I can speak to is just the weird, semi-random nature of it," said Chu, who said he experienced racial slurs, and received comments like, "Kill yourself" and "I hope your wife dies," on Twitter after appearing on Jeopardy.
Editor of BostonGlobe.com Jason Tuohey talked about the Globe's process for regulating these kinds of comments. Tuohey said the newspaper's website receives about 1,000 comments a day. The comments are filtered through a contracted third-party that analyzes them and deems them appropriate or not.
"What you do is you try to take steps toward steering the conversation into a positive one," said Tuohey. The Globe blocks about 20 comments per day, and has a set of standards for censoring them, according to Tuohey.
Although he did not specifically state those standards, Tuohey said for stories of personal tragedy, the Globe disables comments completely. They also only let subscribers comment and have tried having commenters link to their Facebook in an effort to promote accountability.
Panelist Sarah Sobieraj, author and associate professor of sociology at Tufts University, said that, employees of third-party companies, such as the one Tuohey mentioned, are sometimes treated for post-traumatic stress disorder after monitoring these kinds of comments on a daily basis.
Sobieraj discussed the effects of Internet bullying on women.
"Just being a woman brings gender-based attacks regardless of what you are speaking about," said Sobieraj during the forum.
Adam Gaffin, founder and editor of Universal Hub, a website dedicated to community news in Greater Boston, moderated the forum.
"Anonymity, as the Supreme Court has said, is a valid expression of the first amendment," said Gaffin. He asked the panel what it was about anonymity that causes such negativity.
Chu responded by saying "people kind of have the idea that you can separate what you do online and what you do in real life. In real life we learn to moderate impulses because of social standards. That doesn't happen online."
Sobieraj added that although it's becoming less and less socially acceptable, racist and sexist feelings haven't disappeared, so those feelings come out online.
All panelists agreed that, despite the nastiness of certain anonymous comments, the government should not have a role in regulating them.
During the question and answer session, audience members' questions primarily centered on accountability. How can we regulate vicious Internet comments? Will it get better or worse? Panelists did not have a clear answer.
One audience member in particular asked if, with the progression of the Internet, people have gotten more vitriolic. Panelists generally agreed that it hasn't gotten worse, but that it's more prevalent just because of the number of people using the Internet.
The power to make the Internet a more positive place lies with its users.
"It's the kind of power that's almost irresistible to weld," said Chu.
Leave a Comment